As you move towards the northern part of Goa, the beach beauty increases gradually with the appearance of green hillocks, scattered rocks, exclusive blue lagoons, and backwaters. Also, the north Goan beaches are featured with increased serenity, clarity, and cleanliness, which attracts plenty of nature lovers and peace-mongers throughout the year, especially the foreign delegates. As a part of the north, Ashwem Beach in Goa reveals no exception to this trend, offering you a truly peaceful and luxurious holiday experience anytime and every time!
Situating at Mandrem village of Pernem district, Ashwem Beach (also known as Ashvem Beach) is an aristocratic holiday gateway in north Goa; with the inclusion of a series of luxury beachfront resorts, Ashvem is one of the most comfortable Goan spots where you can lavishly enjoy your leisure holidays.
**Explore Best Resorts in Ashwem
Things to do in Ashwem Beach in Goa
Ashwem is an ideal destination for spending happy vacations in relaxed mood. You have options to enjoy the serene morning, sea-bathing, colourful sunset, exclusive breakfast-lunch-dinner with wide-angle sea view, and more.
Let's check out the list elaborately.
Enjoy the morning Breeze in Ashwem
Jogging and walking over the soft beach sand are common trends in most of the Goan beaches; Ashwem, one of the cleanest beaches in Goa, also follows the same trend. Early in the morning, you can see several tourists enjoy the fresh morning breeze, keeping themselves fit with some jog and Yoga, especially the foreigners. You can fairly join that fitness party.
If you don't prefer to vex your body on a leisure vacation, you have an alternative option; simply sit on the golden sand or beachside rock and smell the innocence of morning breeze.
Take Breakfast in a premium Beachfront Restaurant
Most of the Beach Resorts in Ashwem offer complimentary breakfast as a part of their booking deal; they provide really high-class buffets in Breakfast, including continental, Chinese, Indian cuisines. The sitting area and restaurants are mostly situated at the beachfront location, offering the wide-angle view of the Arabian sea during your fooding and drinking hours.
So, if you book your stay at one such Beach resort, you'll have a superb breakfast experience with the serenity of Ashwem's morning!
Enjoy sea bath
Owing to the rhythmic waves and flatter appearance of Ashwem Beach, you can enjoy a perfect sea-bathing session at Ashwem. Still, every part of the beach is not safe for bathing, so you need to be a bit careful.
Although the major area of wide-stretched Ashwem Beach offers a call for waterplay, several parts of the Beach consist of big boulders, especially towards the northern-most and southern-most ends. Also, some areas of the northern part are a bit sloppy. That's why the coast guards marked the non-bathing areas with red flags. You should follow those instructive signs to avoid any sort of accident. Otherwise, you should enjoy unlimited sea bath in Ashvem.
Relax and laze around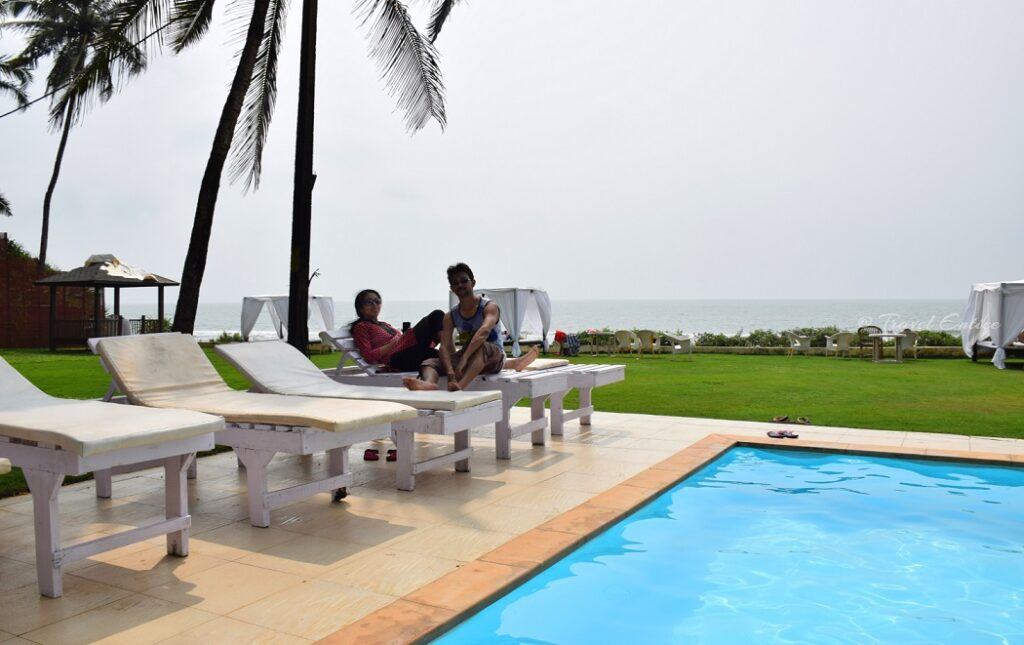 Lazing and relaxing are the specific activities that perfectly define Ashvem holidays; in fact, most Ashwem tourists prefer the same. Although Goa is overwhelmed with multiple spots that offer adventurous activities, Ashvem Beach is not listed among those. It's a dedicated seaside destination to laze and relax under luxurious ambience, revealing the absolute serenity.
It's not necessary to laze at Ashvem for a week-long vacation; there are several exciting spots to discover around where you can easily visit renting a scooty or car from Ashwem. So, it's better to mix up your tour plan to make it memorable.
Take sunbath peacefully
You need a peaceful ambience and a disturbance-free zone for taking sunbath, and Ashwem beach offers you the exact ambience. Being an expensive destination, comparatively wealthy people and foreigners visit and stay at Ashwem Beach; naturally they are well-mannered.
So, you can seamlessly enjoy sunbath at Ashwem Beach in Goa without any hassle; preferably you should choose a less crowded area for taking sun-bath.
Also, several resorts in Ashvem contains beachfront open area including swimming pools; if your booked property have that facility, you can choose the option to enjoy the in-hotel sunbath.
Water sports at Ashwem in Goa
Recently I have noticed some websites are providing false information about the massive availability of watersports and kayaking options in Ashwem (Ashvem). For your information, you'll not get many water sporting options in Ashvem; Rather, you should consider this place as an attractive spot for peaceful holidays. You can laze around, relax, enjoy the waves, and take sunbath peacefully in Ashwem, but don't expect to perform a lot of water sports there.
Some resort owners and local people managed to arrange a few basic-level water sporting facilities around Ashwem Beach. You can try those depending on your interest. If you are carrying your personal inflatables with you, this is definitely a better option; you can float and play while enjoying sea bath.
For experiencing a wide range of watersports, visit Baga Beach, Arambol, and Palolem Beach. Due to having calm and rhythmic waves, Palolem beach is best for Kayaking. You can enjoy kayaking also at Cola Beach in south Goa, but not at the sea. Kayaking at Cola Beach is allowed only within seaside lagoon water. Indeed, it's exciting!
Watch Sunset
Watching the sunset from any Goan beach is so special! At the end of day, you can seat on the golden sand to watch the colourful evening sky giving farewell to the red sun at the edge of the Arabian Sea. What could be a better sight to experience a romantic evening!
Explore local markets in North Goa
Ashvem itself doesn't have a popular market, but some of the nearby destinations are worth visiting for exploring typical Goanese markets that represent the culture of Goa. For your information, Goan products perfectly match the taste of Americans, Europeans, South-East Asians, and of corse, the modern Indian.
A variety of Bohemian clothes, hand-made unique products, metal showpieces, and tattoo parlours are really special in Goan markets.
On a fine day, you can plan a refreshing trip to the following marketplaces.
Anjuna Market
Calangute Market
Mapusa Market
Visit nearby exclusive places
If you are planning to book a longer stay at one of the luxury accommodations of Ashwem and hop around, it's definitely a great idea. Below, I have introduced some popular as well as offbeat North Goan destinations that are worth visiting during your stay in Ashwem.
Places to visit near Ashwem
North Goa is overwhelmed with several beautiful beaches; some are still less explored and thus remain peaceful. From the comfort of Ashvem accommodation, you can easily explore the following destinations.
I'm listing from the northern-most.
Aguada Fort is another interesting spot in north Goa, though not listed above. On a fine day, you can also plan a trip to South Goa or Dudhsagar Waterfalls. South Goa offers a blend of dynamic and peaceful ambience; In fact, a commercial day trip to South Goa worth nothing unless you stay there for a few days. Palolem, Agonda, Cola Beach, Kakolem beach, Cabo de Rama, and Varca Beach are some of the hotspots in South Goa that you shouldn't miss.
Best time to visit Ashwem Beach in Goa
Owing to the tropical territory, winter is the best season for visiting any destination of Goa, especially for the foreign delegates who are arising from colder regions, such as Canada, USA, Russia, UK, or any other north European countries. The peak winter (November to February) is the peak season in Goa; all the prices increase in this season including the living accommodations. The luxury resorts of Ashwem even remain untouchable to the middle-class category in the season of winter.
So, for a pocket-friendly trip to Ashwem, you can plan early or later; that means after or before the peak winter. Based on my personal experience, October and March are not uncomfortable seasons for visiting Ashwem as well as the whole of Goa, especially for the Indian tourists and for those who can tolerate moderate hotness in the daytime. AC accommodations in these seasons definitely make your trip even more comfortable.
So if you are looking for a pocket-friendly trip to Ashvem, it's better to avoid peak Winter (December to February) and plan your trip during September-November and March-April.
Where to stay in Ashwem
For your information, most of the beachfront resorts in Ashwem are a bit expensive, though offer luxurious ambience. If you are planning an ultimate leisure trip to Goa, it's worth booking your stay at Ashvem.
Among several top-class stay options around Ashwem, it is often very confusing to choose the right one. Based on my personal experience, I have created a separate review article introducing the best hotels in Ashwem. You can check the list from the following link.
However, for a pocket-friendly trip to North Goa, you can book your stay at a homestay that's little away from the beach. You'll get several inexpensive homestays near Morjim and Arambol Beach. In Arambol, you'll also get several beach huts at an affordable rent.
Mandrem is another fantastic beach destination near Ashvem; you can book your stay near Mandrem Beach also.
How to Visit Ashvem Beach in Goa
The nearest railway station to Ashvem is Pernem and Tivim; you can reach Ashvem directly from any of these stations by renting a car. Dabolim is the only international airport in Goa, and it's a bit away from Ashwem. Simply book a cab from the airport exit and head towards Ashwem; the approximate travel time is 2.5 hours.
Also, the Beach is easily accessible from any North Goan destination by car or bike. If you are staying at Arambol, Mandrem, or Calangute, you can fairly plan a bike trip to explore Ashwem and other fabulous North Goan Beaches.
Wrapping up
That's all about Ashwem Beach in Goa. I already shared my personal opinion about this peaceful destination, hoping you can plan a fantastic trip to Ashvem as well as to North Goa. You may share your experience and personal opinion in the comment box below. We'll be glad to hear from you.
If you have any further queries, don't hesitate to post your question in the comment box below; I'll be happy to help you.
Have a nice trip!
Please follow, like, and share us:
Dr. Suvankar Das is a scientific advisor by profession, associated with a CRO organization. He pursued his doctoral degree in Chemistry in 2015. Later, he worked as a postdoctoral researcher & scientist in a couple of institutes/companies.
Besides his scientific journey, Dr. Das is also a passionate traveler and travel blogger. He loves to share all his travel experiences with other travelers so that everyone can enjoy hassle-free holidays with their own tour plans.
He believes, the most beautiful thing in this world is the WORLD itself. so there is no way to live like a clock; rather live it like a compass!