Descending from a height of 1017 feet, the four-tiered cascade of milky-white Dudhsagar Waterfall spawns a majestic sight in the middle of Bhagwan Mahaveer Sanctuary and Mollem National Park. The perfect blend of ever-green deep forest, stony streams, songs of shy crickets, and fun-making typical monkeys make the place so special, offering you a great experience of hiking through Westernghat mountain. Although Goa is immensely popular for its beautiful beaches, still, it's much worth visiting Dudhsagar Waterfalls in Goa to experience the undefined hilly beauty of this tiny state.
I'm glad to share my very own experience of touring this breathtaking place, which may help you to plan an ideal trip to Goa including Dudhsagar Waterfalls.
An exciting trip to Dudhsagar Waterfalls in Goa
Before delivering the complete description of an exciting trip to Dudhsagar falls, I love to convey a little message to you — leave your hotel room early in the morning. There are two reasons behind this suggestion:
You can spend a longer time at this beautiful place.
You can avoid the queue.
Your rented car will drop you at the entrance point of Mollem Reserve Forest. Then after you have to book your ticket and wait for the safari Jeep that will take you inside the forest near Dudhsagar falls. If you get late to reach the entry point, you have to be in queue for a long time until a jeep be allotted for you.
Also read: Magnificent Kalacha Beach in Goa
Journey through Mollem Reserve Forest
Upon entering the forest, the jeep passes through the narrow mud road that is surrounded by deep and dense evergreen forest. This way, you have to travel for approximately 1 hour through the hilly path of Westernghat Mountain for reaching the final point. Sometimes wide hilly rivers pass by you, sometimes you have to cross them on the way. Indeed, the river crossing event is really an exciting part of this trip!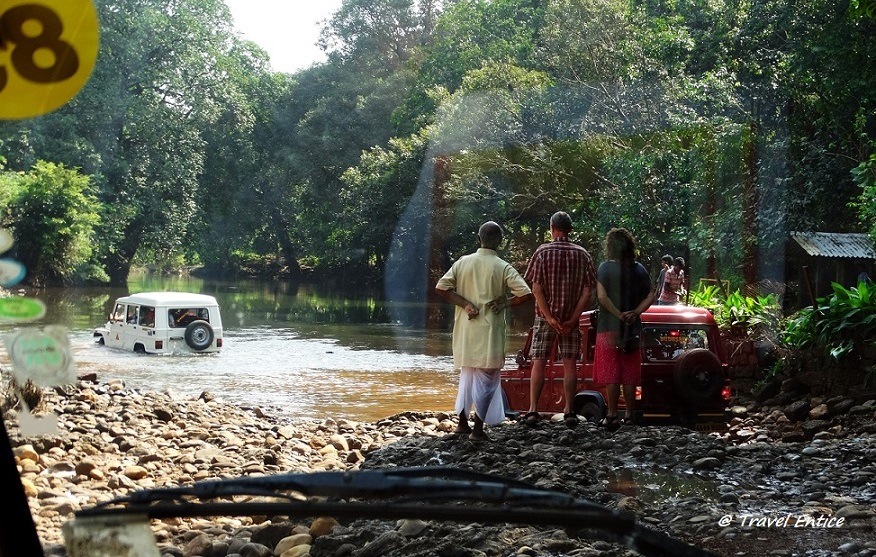 On your way, you'll be passing over such streams twice; one of those is much wider. All the jeeps pass over the rivers very carefully by following the boulder path in the middle. Nevertheless, the jerking and bumping experience gives the ultimate joy of an adventure trip.
The end part of the journey offers some breathtaking landscapes, introducing unknown plants and flowers, whistling birds of Westerghat, and groups of mammoth butterflies.
Plan a trip to: Amazing Cola Beach in Goa
Trek towards Dudhsagar Waterfalls in Goa
Once the jeep drops you to the finals point, you are absolutely free to fly! There is a steep hiking path ahead, mostly downwards. So, it's a time for more adventure.
After hiking about 100 steps downwards, a narrow stream arrives; it hosts high current and slippery edges. So, you have to be a bit careful to cross the waterline. Some forest department staff help you to cross the stream, so don't be much worried. On my trip to Dudhsagar falls, I saw several aged tourists (both Indians and foreigners) crossing the stream fearlessly; my attention froze on one foreign guy, who was carrying his baby in his baby pack while doing such adventure activity!
After this exciting event, a beautiful landscape consisting of tall trees evolves in the eye front. Another narrow stream arises a few steps ahead, but this one is much friendly compared to the first one. You can cross it effortlessly.
The magnificent panoramic view of Dudhsagar Waterfalls comes to your eyesight just after crossing the second stream.
A Related Article: Exotic Beauty of Poovar Island in Kerala
Magnificent Dudhsagar Waterfalls
The four-tier cascade of Dudhsagar Waterfalls offers a truly breathtaking sight across the entire canvas; the special appearance of the Railway bridge over the second tier of the falls makes the view even more unique.
Gazing from the top to bottom the falls seem like an endless stream of pure milk, raining from heaven; from close proximity (nearly bottom of the falls), you can't capture the complete view – Dudhsagar waterfalls holds such an extreme altitude in reality.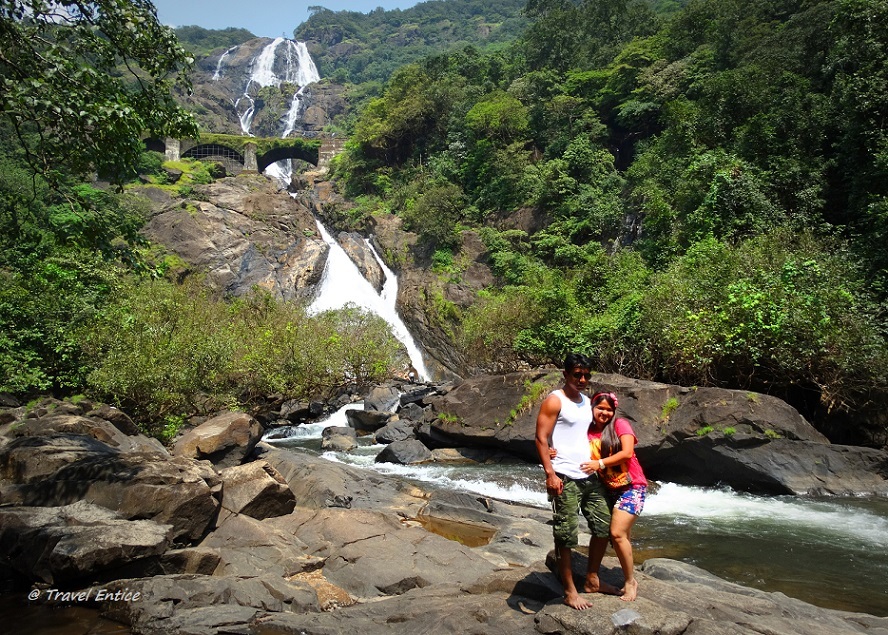 The majestic beauty of Dudhsagar Waterfalls and the rhythmic sound of the tireless shower create an enchanting ambiance all around; you can seamlessly spend long solitary hours sitting on a pool-side rock, simply by watching, listening, and feeling the endless shower.
The final tier of the cascade meets a majestic pool at the bottom, filled with crystal clear mineral water. Indeed, it's a perfect place to swim and take a cool shower. I noticed, each and every foreigner loves to jump in there, getting refreshed, though majority of Indian tourists lag behind in this event. Definitely, there are reasons ̶- the pool water, as well as the hilly atmosphere is cold enough compared to the general Indian climate; on the other hand, India is too hot for the foreigners, especially those who are traveling from Russia, UK, or other north European countries, so they don't want to miss any chance to get refreshed in this natural pool.
Swimming and showering are totally up to you, but how can you stop the splashes of careless water drops! They must moist you all way even if you stand 30 ft away from the shower, offering you a soothing feel of passionate life that you can't ignore eventually.
You may find interesting: Double Decker Root Bridge – An Awesome day trek into the Forest of Cherrapunji
Somersaulting Monkeys of Westernghat
Bhagwan Mahaveer Sanctuary and Mollem National Park are rich with typical Westerghat's wilds, including giant squirrels, bison, monkeys, leopards, deer, unknown birds, pythons, and cobras; but the tourist crowd around Dudhsagar Waterfalls keeps most of them away from the spot.
Among them, only one species is absolutely fearless — the monkeys (Indian macaques); the region of Dudhsagar Waterfalls in Goa becomes their safe home for years, probably because they love the taste of junk foods!
I was gasping the beauty sitting on a poolside big rock, and kept my packs of potato chips on the floor. Oh my goodness! How dare the monkey steal my chips, and directly jump on the tree-top!
Either they beg or they steal your food, but they never forget to return the favor; before you leave the place they must present a typical somersault show that you have never seen at any circus — it's lovely and very funny!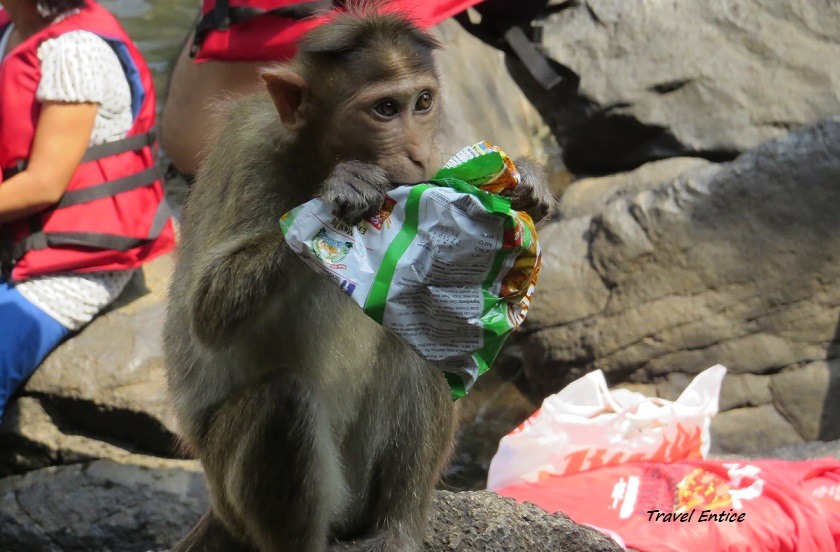 ---
After a complete day full of fun and excitement, the return trip is always sorrowful, but also ever-remembering. Trip to Dudhsagar Waterfalls in Goa is a complete package of adventure and fun, offering you unforgettable memories that you can't erase for lifetime; in fact, return trip becomes compact with the gossip of the day, the ever-green experience to the 5th tallest waterfalls in India. [Note: Dudhsagar waterfalls is the 5th tallest in India and 227th in the world.]
You may like exploring: Kanyakumari [Complete list of Kanyakumari Tourist Places]
How to reach Dudhsagar Waterfalls in Goa
You can visit Dudhsagar Waterfalls from any part of Goa, but Calangute is the most feasible to arrange a trip to Dudhsagar falls. The distance from Calangute to the entrance point of the reserve forest (Kulem) is approximately 75 km; private cars are not allowed to enter the reserve forest. From the entrance point, special safari jeep of the forest department takes you inside.
If you are traveling by your personal car you can reach the spot by following NH-4A.
Also, the Dudhsagar Waterfall is accessible via rail route. The nearest station to the falls is Kulem of South Central Railway. After leaving the train you have to travel another 6 km to reach the spot (Mollem). In case you are traveling to Goa by train that passes through this railway (Amaravati Express), you can see the beautiful falls directly from the train.
As you are already planning a Dudhsagar trip, it's not necessary to mention the nearest airport; still, as a part of this article, I'm just highlighting, Dabolim International Airport is the nearest airport to Dudhsagar Waterfalls in Goa.
Tips to arrange a trip to Dudhsagar Waterfalls in Goa
Calangute is the "tourist capital" of Goa, hosting millions of tourists every year. Almost every tour operator in Calangute offers dedicated day trip to Dudhsagar Waterfalls on a regular basis. So, if the base point of your Goa trip is Calangute, you can easily manage a Dudhsagar trip without any hassle. You may contact your hotel/homestay owner or directly contact the tour operator to arrange a Dudhsagar trip.
Also, you can pre-book your Dudhsagar trip via online booking facility.
As I mentioned, private cars can't enter the prime point of Dudhsagar waterfalls, they will drop you at the entrance point of the reserve forest. From this point, special safari jeep takes you inside. You have to book your ticket prior to your entry.
Apart from Calangute, you'll get a good number of commercial tour operators at Panaji or some other destinations of Central Goa. In case, your base point is some less commercialized, such as Arambol, Palolem, Vagator, Mandrem, or Agonda, you may not get professional tour operators who arrange Dudhsagar trip regularly; in such situation, you should contact your hotel owner/ homestay owner for arranging a Dudhsagar trip.
For your note, finding the route of Dudhsagar may not be the easiest with your personal car, especially if you are traveling for the first time.
When to visit Ddhsagar Waterfalls
October to March is the best time to visit Dughsagar Waterfalls. Don't plan to visit there during monsoon. The roads remain in poor condition in rainy seasons; additionally, the river inside the reserve forest overflows, becoming unsuitable for crossing. Also, monsoon is the mating season for the wilds, so tourist activities remain restricted.
Most preferably you can plan a Dudhsagar trip in November-February.
A related Article: Unexplored Kakolem Beach in Goa — The Virgin Beauty at the Coast of South Goa
Where to stay for a trip to Dudhsagar Waterfalls
You can stay anywhere in Goa starting from Arambol in north to Palolem in the south; however, to my best experience, Calangute is the best option for arranging a Dudhsagar trip easily.
In case you are choosing North Goa as your base point, you may check the following hotels/ resorts/ homestays Arambol or Ashvem for your stay.
Fooding near Dudhsagar Waterfalls
Unfortunately, potato chips and soft drinks are the only options for fooding around Dudhsagar Waterfalls, unless you are willing to travel with your tiffin carrier. Inside the reserve forest, you'll not get any food corners. So, my best suggestion is, don't carry anything except dry foods or junk foods; If possible take a heavy breakfast prior to the trip and take your lunch after return to your hotel (or you may skip the lunch for the day, as we did).
Wrapping up
So, that's all about my personal experience with Dudhsagar waterfalls in Goa. Hope, this will help you create a perfect tour plan for this exciting place.
If you have any further queries, please don't hesitate; just drop your question in the comment box below. I'll be glad to help you out further.
Happy trip!
Please follow, like, and share us:
Dr. Suvankar Das is a scientific advisor by profession, associated with a CRO organization. He pursued his doctoral degree in Chemistry in 2015. Later, he worked as a postdoctoral researcher & scientist in a couple of institutes/companies.
Besides his scientific journey, Dr. Das is also a passionate traveler and travel blogger. He loves to share all his travel experiences with other travelers so that everyone can enjoy hassle-free holidays with their own tour plans.
He believes, the most beautiful thing in this world is the WORLD itself. so there is no way to live like a clock; rather live it like a compass!