Nestled in between two popular South Goan destinations, Agonda and Cavelossim, Cabo de Rama is an unexplored gem of Goa and a perfect offbeat gateway for nomadic travellers. Due to rich historic emergence, Cabo de Rama Fort is the prime attraction around this place; nevertheless, the exclusive panoramic view of the Arabian Sea from the cliff top and the magnificence of ever-serene Cabo de Rama beach are some of the very special things that present you unforgettable memories of life.
I'm delightedly sharing my personal experience in Cabo de Rama, introducing the top-listed things to do around with exclusive image descriptions. Hope this will help you to plan an ever-remembering trip to Cabo de Rama and its surroundings.
Historical Importance of Cabo de Rama Fort
According to Hindu mythology as well as epic Ramayana, Lord Rama, the King of Ajodhya stayed here with his wife Sita and brother Laxman during their 14 years of exile period. In fact, the name of the place was derived from the name of Lord Rama. Till before Portuguese Imperialism, the fort was called Rama Killa by the locality. Later Portugese changed it to Cabo de Rama or Cape of Rama.
However, Cabo de Rama fort gained more attention due to its modern historical importance. In 1679, great Maratha king Chhatrapati Shivaji constructed this fort for keeping a sharp eye over the overseas enemies as well as for protecting his empire.
After his death, Cabo de Rama fort face multiple chaoses between Hindu and Muslim monarchs up to the mid-1700s and was significantly switched hands. In 1763, Raja of Soonda surrendered his territory including Cabo de Rama fort to the Portuguese battalion in return for protection against Hyder Ali of Mysore.
In 1799, after the fall of the king of Mysore, Cabo de Rama became in full control of the Portuguese. Later, Cabo de Rama Fort was converted to prison till 1955.
Things to Do in Cabo de Rama
Although neighbour beaches like Agonda, Palolem, Cavelossim, or even Cola Beach become tourist hotspots, Cabo de Rama is still less explored by the majority of Goa tourists. An exciting day trip to this beautiful place is much worthy, especially if you are hunting for peaceful destinations in Goa; even you can fairly plan a 1-2 days' peaceful trip in Cabo de Rama staying at one of the seaside resorts.
Let me introduce you to the list of things to do in Cabo de Rama.
Visit Cabo de Rama Fort
Carrying rich historical importance, Cabo de Rama fort is undoubtfully the fast and foremost place to visit around this virgin place. The entrance of the fort is thrilling itself; the main gate of the fort is separated from the rest of Goa by a canal, exactly as described in history reader books that we read during our childhood! After passing by the entrance hall, a green garden arises beside your path; Sent Anthony's church stands in the front with the message of peace.
Proceeding a few steps ahead through the green arbour of evergreen trees, you'll reach the seaside viewpoint of the Cabo de Rama fort. Meanwhile, on the way, you can see some years old cannons facing towards the sea, set by the Portuguese battalions for protecting their colonies from the enemy attack.
The seaside steep edge of Cabo de Rama Fort meets a rocky beach far below, widespread towards the right; billowy waves thud the shore nonstop. From the shore-top a breathtaking panoramic view of the Arabian Sea is promptly visible through the rows of coconut trees; you can hike down at the bottom by stepping through the seaside stair-steps, it's about 50 steps of a short hike.
This place is a free zone for wild monkeys and plenty of birds. It's very likely that you can see the monkey families around this place. Don't disturb them, otherwise, they can attack you.
Visit Water cave at Cabo de Rama
Residing just 15 mins walking distance from Cabo de Rama Fort, this water cave is an absolute hidden gem in Goa.
Due to the lack of directory signboards, you may be struggling to find this hidden beauty, but you must enjoy this short hiking trip for discovering the Water cave of Cabo de Rama. You are suggested to search for a hut outside the boundary of Cabo de Rama Fort at the bottom side.
Caution: Reaching the Cave and returning back is not an easy job. If you go, walk slowly; you have to walk through a slippery seaside rocky path. If you be careless, you may fall and roll down anytime. Avoid visiting Cabo de Rama Cave during monsoon.
Experience the Bird's Eye View of Cabo de Rama Beach
Cabo de Rama Beach is one of the most serene beaches in Goa. It's absolutely crowd less, hence, able to keep its virgin beauty alive.
In this part of Goa is sea beaches are surrounded by hilly landscapes; if you go far right to the cliff, you'll reach the topmost viewpoint of Cabo de Rama.
Standing on the cliff-top, you can experience the magnificent panoramic view of Cabo de Rama Beach; milky white waves emit from the pristine blue Arabian Sea, meeting the glittery golden sand restlessly, spinning and sparkling around the sea rocks, while the backdrop is enveloped in lush green, being exclusively surrounded by thousands of coconut trees.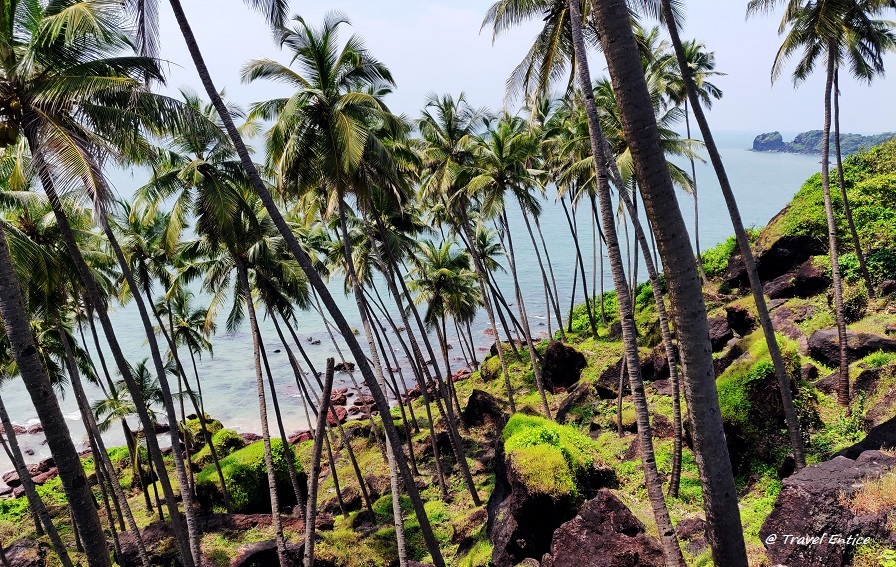 I'd say there are a hundred reasons to snap endless shots for keeping this beautiful frame ever-remembering.
How to reach Cabo de Rama viewpoint: After leaving Cabo de Rama Fort, drive your car/ bike and stop at the seaside hilltop in front of Cape Goa resort, then go far-right by following the hill top mud-path to experience the bird's eye view of Cabo de Rama Beach.
Visit Cabo de Rama Beach
You can drive a little more after crossing the Cabo de Rama cliff-top viewpoint, then the road ends. For reaching Cabo de Rama Beach, you have to hike downwards from this point by following the natural rocky steps that lead you down to the beach from the cliff.
As you hike down, the front view changes quickly from rocks to an open sea view. With crystal clear water, fine beach sand, and sweet shade of thousands coconut trees, Cabo de Rama Beach presents an ever-peaceful ambience, far beyond other Goa beaches full of tourist jam.
For the time you can fix yourself on the sunny sand or under the coco-Shade, get wet into the clean sea, swim in the beachside lagoon, or have some snacks and drinks at the beach sacks; Cabo de Rama Beach really can offer you a complete day full of fun and excitement!
Visit Shiva waterfall
With an amazing 270o view, Shiva Waterfall is another hidden place at Cab de Ram, especially for the away tourists. The place is equipped with a small waterfall and infinitive pool that meets the sea far below.
In a dry season (Jan-Feb) you may not see the waterfall, you can see only the view. However, only for experiencing the view, there are other worthy places to visit around. So, you shouldn't plan to visit Shiva falls in winter.
As per my personal opinion; this is not the right place for families or couples. Part of this place becomes garbage of plastic and beer bottles. Hope, you can realize my point. Also, this place is well-known by the local tourists and people; you may find a crowd of young bachelors there. As an away tourist, I suggest visiting there, only if you are in a group, maybe a group of boys or couples.
Watch Sunset from Cabo de Rama Sunset Point
At the end of day, you can experience the beautiful sunset from the rock cliff sunset point of Cabo de Rama or sit in a seaside restaurant. Also, the water cave of Cabo de Rama is another remarkable place to watch the beautiful sunset from, though I don't recommend staying there till evening.
The best option: If you plan to stay at any of the sea view cliff-step resorts of Cabo de Rama, you can experience the beauty even better right from your suite, or from the resort restaurant.
Foods and Restaurant in Cabo de Rama
I suggest, take your lunch at one of the cliff-step resort's restaurants, watching the beauty of pristine blue. Firstly, you'll get a splendid atmosphere there, secondly, you can taste high-quality foods.
Tasting kingfish, black pomfret, king crab, and lobster is worthy at any place of Goa, including Cabo de Rama. Reputed restaurants cost you higher, while unorganized beach sacks offer similar dishes at a much lower cost. Definitely, the quality of taste varies, but not the freshness.
In case, you are spending your full day at Cabo de Rama Beach, you may spend your day eating snacks and coconut water from the beach sacks.
Where to stay at cabo de Rama?
At the entrance of Cabo de Rama, there are some top-class sea-facing resorts, grown-up at the cliff steps (The Cape Resort, Red Crab Eco Resort, etc.). You may book your premium stay at any of those. Alternatively, you may stay at the clifftop around Cabo de Rama beach; Cabo Serai is one of the premium stay options in that part.
However, resorts in Cabo de Rama are very expensive. Rather, you can stay at a nearby location such as Agonda, Palolem, or Cavelossim and visit Cabo de Rama by renting a scooty or Car.
How to visit Cabo de Rama?
It's simple! Rent a car or bike from your base point in South Goa and follow the Google map. Not all the points of Cabo de Rama are on the Google Map database, so don't hesitate to ask others.
Cavelossim and Agonda are the nearest popular beaches near Cabo de Rama. It takes about 25-30 minutes to reach Cabo de Rama fort from any of these places. On your way to Cabo de Rama, you can see some fantastic landscapes; don't forget to stop there to have some quick snaps.
For your note, Dabolim Airport is the nearest airport to Cabo de Rama and Madgaon and Vasko da Gama are the two nearest railway stations.
Other places to visit near Cabo de Rama Fort & Beach
Wrapping up…
I gladly shared my personal experience in Cabo de Rama fort, beach and surroundings. Hope this will help you to plan a perfect Goa trip including Cabo de Rama.
If you still have any further queries, don't hesitate, just post your question in the comment box below. I'll be glad to help you further.
Social sharing is always highly appreciated.
Have a nice trip to Goa as well as Cabo de Rama!
Please follow, like, and share us:
Dr. Suvankar Das is a scientific advisor by profession, associated with a CRO organization. He pursued his doctoral degree in Chemistry in 2015. Later, he worked as a postdoctoral researcher & scientist in a couple of institutes/companies.
Besides his scientific journey, Dr. Das is also a passionate traveler and travel blogger. He loves to share all his travel experiences with other travelers so that everyone can enjoy hassle-free holidays with their own tour plans.
He believes, the most beautiful thing in this world is the WORLD itself. so there is no way to live like a clock; rather live it like a compass!