The influence of Chapora Fort in Goa tourism is well proven by the attention of thousands of tourists every year; also, the direct involvement of the Bollywood film industry for shooting purposes proves the uniqueness of this place.
Engulfed in pristine blue of the Arabian Sea and riverside lush green forest, Chapora fort is an enduring historical monument at the bank of Chapora River. Although reaching the top is a bit laborious job, the excellence of 360o bird's eye view from the fort-roof expunges all the fatigues in seconds. So, if you are planning to spend your next Goa trip at any North Goan destinations (like Calangute, Vagator, Ashvem, Morjim, or Arambol) attending Chapora Fort is much worthy.
Sharing my personal experience, I'd love to describe why, when, and how should you visit this mind-blowing destination. Let's cheer up and have a virtual trip to Chapora Fort in Goa before you plan your trip.
Historical Importance of Chapora Fort in Goa
Being listed among the top 3 forts in Goa, Chapora fort is unique based on its long history of exchanging ownerships (the other two significant forts in Goa are Cabo de Rama fort and Aguada fort).
In 1672 king Adil shah (Shahpura of Bijapur) established the fort to protect his kingdom from Marathas. Later Desai's of Sankahali occupied it.
In 1683, Sambaji, the son of Shivaji conquered the fort, defeating king Sikandar, the grandson of Adil Shah. Notably, in the same year, Prince Akbar made an alignment with Marathas to make the fort his basecamp.
During Maratha reign, Portuguese soldiers tried to occupy the fort multiple times, but was been defeated and surrendered to the legendary Maratha battalion due to their excellent battling skills.
The Portuguese rulers could finally conquer the fort in 1717, but in 1739 Bhonsle's soldiers occupied it. However, Portuguese soldiers regained in 1741.
The fort was handed over to the Government of India in 1961 at the end of Portuguese reign in Goa.
You may like: Pondicherry – Explore Paradise Beach to Auroville and the unexplored history
Beautiful moments at Chapora Fort
I have visited all three top-listed forts in Goa; Chapora, Cabo de Rama, and Aguada fort. Considering the beauty of the surroundings, Cabo-de-Rama is definitely the best fort destination in Goa, but based on the fort's beauty and the views from the fort, Chapora fort is my favourite.
Chapora Fort is also directly connected to the Bollywood Film industry; Several scenes of the famous Bollywood movie "Dil Chahta Hai" were shooted at Chapora Fort in Goa. For the same reason, the fort is also known as Dil Chahta Hai Fort.
Steep hiking through rough patches is mandatory to reach the fort's main gate, which doesn't offer a comfortable experience, especially to the elders. However, once you successfully reach the top, the mind-blowing bird's eye view from the fort-roof erase all your tiredness immediately.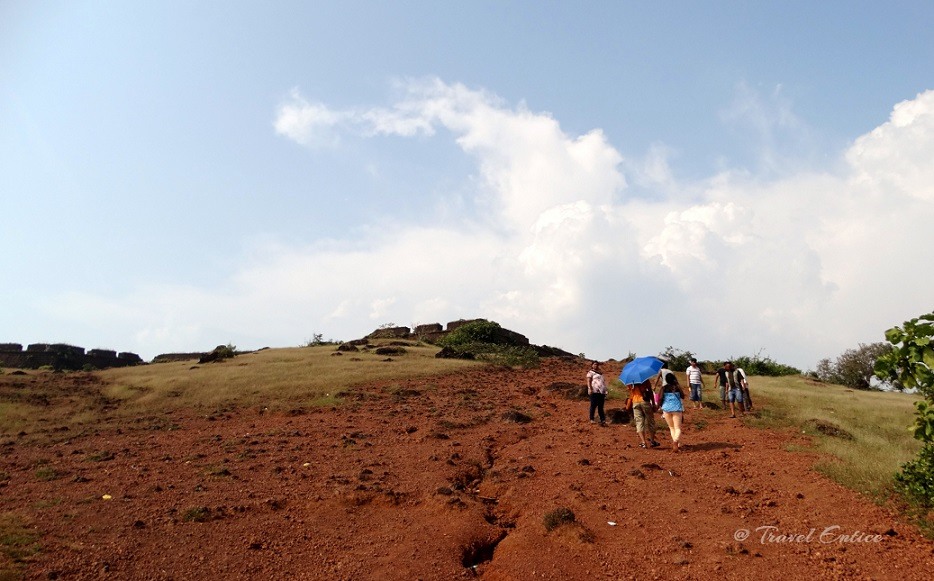 Upon crossing the ancient brick-built main entrance, the widespread green-land of the fort roof ceases your vision. A narrow mud path directs you to the edge of the fort; plenty of goats graze grow up all over the space, creating an eye-soothing green carpet on the fort roof. The wind of Arabian Sea rocks and cradles them in a rhythmic manner, and non-stop. A few cashew bushes and shrubs grow up here and there near the edge of the fort, shaking their heads as well with the wind.
The steep slope of the fort walls meet the ground far below, offering a 360o majestic view from the top; each side of the edge presents different sights – Vagator Beach at left-most, Dream beach in the front, Chapora Beach and the confluence of Chapora River at right, and Green-covered wide-spread Chapora River at the back-side.
The ancient architecture of Chapora Fort is almost destroyed due to lack of proper maintenance; only a few signs of the barracks exist presently, though the vast area Chapora Fort was once filled with housings, plenty of barracks, st. Anthony's church, tunnels, and several other defensive architectures. Nowadays, it's a worthy place to feel the serene and peaceful ambience of the place, as well as to experience the majestic bird's eye view of the surrounding. Indeed, it's a perfect place for couples to spend romantic hours away from the crowded city centre.
Related Article: An Exciting Trip to Dudhsagar Waterfalls in Goa: Must Visit!
Other places to visit near Chapora fort
North Goa is rich with several back-to-back spots, so, you can fairly plan to cover multiple neighbour spots along with Chapora Fort. Take a look below where you can visit near Chapora Fort.
Vagator Beach
Anjuna Beach
Baga Beach
Aguada Fort
Calangute
Morjim Beach
If you are ready to travel far north, you can explore Ashvem, Mandrem, Arambol, Keri, and Kalacha Beaches. However, these are a little away from Chapora Fort, so it'd be better if you plan to stay at any of these places and explore the surroundings.
Related: Cabo de Rama Fort and Beach: Reveal the Extreme Serenity of Unexplored Goa
How to visit Chapora Fort in Goa
Vagator Beach is the nearest popular Beach to Chapora Fort. However, you can easily access the fort from any part of North Goa.
Calangute is the tourist capital of Goa. Due to the availability of plenty of hotels, restaurants, and well-established communication facilities, most tourists consider Calangute as the base point of their tour, and cover the entire north and central Goa by hiring bikes or cabs. So, if you choose to stay at Calangute, just rent a bike from one of the roadside bike stands and visit Chapora Fort and other nearby spots freely. Also, you can rent a hood-less jeep if you are fascinated by safari style.
Apart from Calangute or Vagator, you can also easily access Chapora Fort from Mapusa, Baga, Morjim, Mandrem, Ashvem, or Arambol.
If you love rock climbing, you may also trek towards Chapora Fort starting from Vagator. This is a unique option but much suitable for adventure hackers.
When to visit Chapora Fort
Winter is the best season to hike towards Chapora fort, though it's not mandatory to visit Goa in winter. Except during hot summer, you can visit Goa any time of the year; in summer, Goa remains very hot, so better to avoid summer holidays in Goa.
In case, you travel there during September-November or March-April, it's better to plan a Chapora trip in the late afternoon or early in the morning. This planning will help you to avoid the hot sun of mid-noon, and you can trek there seamlessly.
Spending 2 hours on the hilltop is enough to explore the beauty of Chapora Fort and snap sufficient selfies. So, you may plan your trip accordingly.
You may like: Magnificent Kalacha Beach in Goa
Where to stay near Chapora Fort in Goa
You can stay anywhere among Calangute, Baga, Morjim, Mandrem, Ashvem, or Arambol to access Chapora Fort easily. Check out the following links to find the best hotels and resorts around.
Accommodation details of other nearby places are coming soon. We provide the best information after thorough scrutiny, so it's takes a time to pass the reviewers' boards.
Tips: Essential Accessories for Chapora Fort trip
Wear comfortable and lightweight clothes as you have to hike through the hilly path of Chapora. Cotton t-shirt and half/three-quarter pant are most preferred.
Avoid carrying heavy luggage.
Must take sufficient water.
Preferably take sunglasses and umbrellas.
You may use sunscreen lotion to avoid sunburn.
Take light snacks with you. After crossing the hiking path, you may fill hungry.
Carry cash; this may be needed for purchasing water bottle/snacks from hill-top peddlers.
Foods at Chapora Fort in Goa
There is no fooding option around Chapora Fort except tea, coffee, potato chips, nuts, water etc., that are carried by local peddlers. When they see hiking tourists at Chapora Fort, they immediately reach there and make some sales.
If you are planning to stay there for long hours, you may carry some eatables. Planning a picnic on the Chapora hilltop is not a bad idea, but after finishing you should bag-in all the wastes to keep the place clean.
Wrapping up
Chapora Fort is a must-visit destination in north Goa that you shouldn't ignore, especially if your Goa base situates in Calangute or Vagator. The beauty of the fort roof and the excellence of surroundings perfectly blend with the serene ambience of Chapora Fort, letting you spend quality hours with your dear ones. So, just rent a bike and head on!
If you have any further queries, don't hesitate to ask your question in the comment box below. I'll be very glad to help you.
Happy trip!
Please follow, like, and share us:
Dr. Suvankar Das is a scientific advisor by profession, associated with a CRO organization. He pursued his doctoral degree in Chemistry in 2015. Later, he worked as a postdoctoral researcher & scientist in a couple of institutes/companies.
Besides his scientific journey, Dr. Das is also a passionate traveler and travel blogger. He loves to share all his travel experiences with other travelers so that everyone can enjoy hassle-free holidays with their own tour plans.
He believes, the most beautiful thing in this world is the WORLD itself. so there is no way to live like a clock; rather live it like a compass!