Meghalaya is full of beautiful waterfalls, caves, living root bridges, and amazing green landscapes all around. However, when you are feeling a bit bored by plenty of waterfalls, rain, and caves, Dawki is a perfect gateway to discover nature in a different manner. Let's explore the specialties of Dawki in Meghalaya.
It's unfortunate that the hidden beauty of Dawki is still less explored, because —
The place is situated in a relatively isolated location.
Although some tourists know about Dawki river, the best location for river activities is unknown to them.
Experiencing boat rides on the crystal clear Dawki River, performing Adventure sports into the green nature, and riverside camping are some top things you can enjoy in your Dawki trip. Unfortunately, many tourists miss the charm of Dawki, either due to lack of knowledge or because they fail to uncover suitable hotels in Dawki.
The evergreen beauty of Cherrapunji is definitely my top choice among all destinations in Meghalaya, but Dawki is also awesome by its own beauty; this place is my #2nd favorite in Meghalaya.
Dawki River: The Prime attraction of Dawki in Meghalaya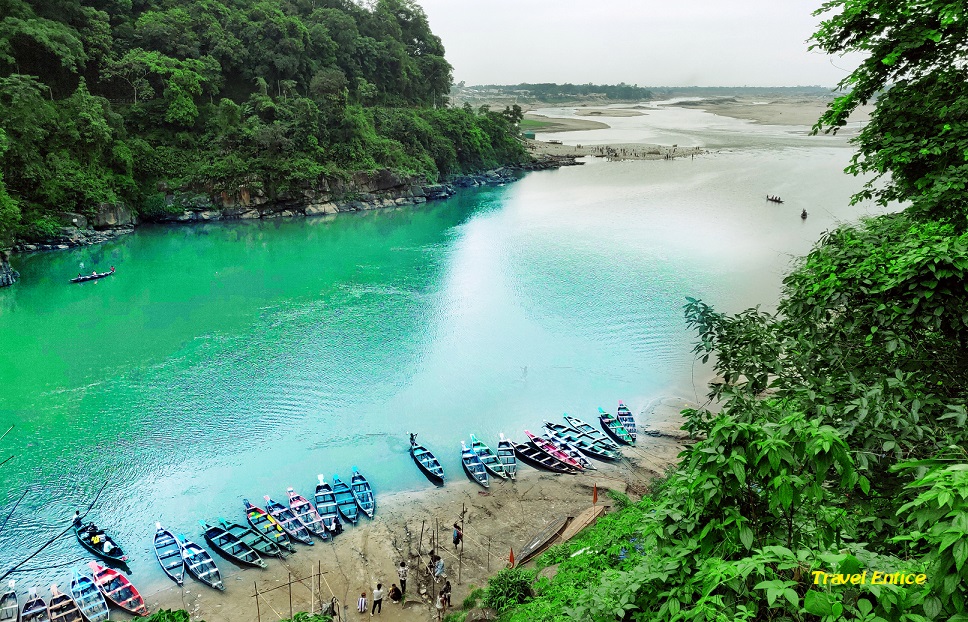 Dawki is a small town situated in West Jaintia Hills district of Meghalaya, India, lies on India-Bangladesh border, and grown up on the bank of Dawki River.
The town itself is not so well-decorated; all the tourist attraction is mainly centered by beautiful Dawki River.
In India, you'll not find another river with such crystal clear water that your vision can reach up to the bottom of the water. The beauty of the place has been increased by the inclusion of riverside waterfalls, evergreen hilly forests, and a couple of man-made hanging bridges. Overall, it's a serene place where every nature lover should reach out.
Related Article: 19 Best Places to Visit in Shillong
Things to do in Dawki
Visiting Northeastern India is always exciting especially if you love the smell of pollution-free pure nature. There are thousands of tourist destinations in the rest of India that remain overpopulated throughout the year, but most of the places in Northeast are still less explored and serine; and it's definitely good news for nature lovers who prefer to avoid the unwanted crowd during their vacation.
In northeast India, Meghalaya is the major attraction for domestic and international tourists, while Shillong and Cherrapunji are the two most popular tourist destinations in Meghalaya. However, the hidden beauty of Dawki is still less explored, because —
The place is situated in a relatively isolated location.
Although some tourists know about Dawki river, the best spots for river activities are unknown to them.
Some tourists fail to find a suitable hotel in Dawki.
I personally feel, the enchanting nature of Dawki shouldn't be missed under any circumstances in a Meghalaya trip.
So let's explore how you can enjoy Dawki in Meghalaya.
Related Article: 10 Best Hotels in Shillong
Enjoy the boat ride and reach out to Indo-Bangla Border
At the entrance of Dawki, you'll find the commerial boat riding spot. If you can't locate the exact place by Google Map, tell your car driver to stop at the boat riding spot.
(You can also first check in to your hotel and get back there later, but according to the best tour plan, I'll suggest doing this boating activity when you are entering Dawki.)
You have to hike downward approx. 100 steps from the main road because the river is far below while the river banks are very steep and high.
The source of Dawki River situates in the upper hilly region of Meghalaya, and it flows towards the plane land of Bangladesh. When you reach the spot, you'll see the Plane land of Bangladesh on your right and hilly beauty on your left-hand side (see the above image).
The boatmen generally take INR 500-800 per head for a 45-60 minutes boat ride, but the price may be negotiated if your group is larger. The boats are pretty narrow, and they allow up to 4 people on a boat.
Caution for you: The brokers at the top (where you parks your car) may ask for a double amount for arranging your boat. So, you are suggested to stay away from them and contact directly to boatmen below.
The journey is really thrilling. The boat will move slowly over the clear water. You can even count every stone below if you plan your boat riding on a sunny morning of winter. Dawki river is popular for this significance, but if you visit there during late summer or post-monsoon, you may not experience the crystal clear water of Dawki River.
A number of waterfalls meet the river water directly from the steep hilly river banks; the boatmen may take you close to the riverside waterfalls to have some photo snaps; preferably they take you there on your return journey.
First, they will take you to a delta that grown up in the middle of Dawki River. The delta is made of small white stone; you'll see a hanging bridge in your front. You can stay here for 15-20 minutes while having some memorable pictures.
On the return journey, they will take you to the Bangladesh border. The view is not so attractive, but it's definitely thrilling to stand on the border of two countries.
Related Article: Mawlynnong: The Cleanest Village in Asia
Full-day Adventure in Shnonpdeng near Dawki
I don't suggest you staying in Dawki town, because there is nothing more to do except the above-mentioned boat riding.
Instead, you should plan to stay at Shnonpdeng village which is 9 km away from Dawki town. There are a few riverside huts in Shnonpdeng. You can book your stay option there, but don't expect aristocratic arrangements and foods. Except for 1-2 resorts all others are typical village homestays or offer riverside tent accommodations, perfect for adventure lovers.
The river water is more clear in this place, river banks are naturally decorated by the evergreen hills, and the river current is also stronger here.
Shnonpdeng is a perfect gateway for adventure lovers because there are plenty of options for day-long thrilling experiences; the list of adventure sports includes boat riding, river rafting, river snorkeling, zip riding, mountain climbing, and more.
I suggest visiting this place from November to April. After April they wrap up most of the adventure sports due to 2 reasons:
The river water gets unclear in summer due to heavy rain in upper Meghalaya.
In summer and monsoon seasons, the current of Dawki River increases largely which may cause an accident anytime.
However, up to early June, you'll get boat-riding and river rafting options there, but other options may be closed.
It's much more exciting to enjoy boat riding at Spnonpdeng than the Dawki boating spot that I mentioned above; it's mainly due to 3 reasons:
Spnonpdeng is a nomadic and less-crowded place in comparison to the Dawki boat-riding spot.
River water is cleaner here because the river current is faster.
The riverside beauty is just amazing!
The most thrilling part is, the boatmen will take you to the point of a very strong current area which the endpoint of the ride. At this point, the river stream rolls down in a cascade to generate a great current.
It's strongly suggested not to remove your life jacket at this point because the boat can't be stable due to the heavy current. But overall, it's really a thrilling experience that makes your Dawki trip perfect.
After the boat ride, you can enjoy some other activities, such as zip riding, river rafting, or even you can take a bath there in the crystal clear water.
Enjoy full night riverside camp
You need to pre-book the camping facility if you are interested (October to April).
The package of full night riverside camping at Shnonpdeng includes all types of other activities as I mentioned above; mainly the adventure lovers prefer this package for their Dawki trip.
The list of activities available there:
Camping
Boat riding
River rafting
River snorkeling
Zip riding
Mountain climbing
Fishing
Generally, these are 24 hours' packages; the arrangers pick up you from your Dawki hotel or Mawlynong homestay early in the morning and offer you a thrilling day full of adventurous activities, and in the evening they also arrange a campfire for you. After spending the night in the riverside tents they will drop you at your place from where they picked up you.
If you are traveling there with infants, you have to avoid this camping experience, but otherwise, it's worth enjoying it.
Related Article: Best hotels in Dawki
Other places to visit near Dawki in Meghalaya
There are two waterfalls where you may visit during your Dawki trip; both places are situated a little away from the town.
Byrdaw Falls: This one is situated on your way from Mawlynong to Dawki. After parking the car you have to walk 1.5 km to reach the waterfalls.
Borhill Falls: There is an alternative route to reach Mawlynong from Dawki that passes just beside the India-Bangladesh border. Borhill Falls situates beside that road.
How to visit Dawki?
First, you have to reach Shillong because this is the closest city to Guwahati or Shillong airport.
You can reach Dawki from Shillong or Cherrapunji; the distance of Dawki from Shillong is approx. 82 km, while from Cherrapunji you have to travel 85 km. depending on your Meghalaya tour plan, you may decide from where to start. I personally prefer visiting Dawki from Cherrapunji or Mawlynong Village.
Related article: Top 9 Cherrapunji Tourist Places You Shouldn't Skip
Best time to visit Dawki
The tourist season is active there from late September to June, but I'd say November to early April is the best time to visit Dawki.
In winter when Meghalaya remains relatively dry, the water of Dawki River remains extremely clear.
However, if you visit there during full winter, you may miss out several waterfalls in Meghalaya, especially in Cherrapunji. Considering the overall Meghalaya tour plan, the perfect time to visit Meghalaya/Dawki either in October-November or in March-April.
Remember: Sunday is a holiday in Dawki, and most of the activities remain closed on Sunday. So I suggest you to avoid visiting there on Sunday.
Where to Stay in Dawki?
I have seen many tourists fail to find a good hotel in Dawki. Yes, I agree, it is difficult to uncover a suitable stay option nearby, and I personally faced it when I planned my Dawki trip.
I created another article mentioning the best stay options in Dawki. You may check out the following link for the same.
So when are you planning to visit Dawki in Meghalaya?
So, it's time to wrap up.
I tried to keep the article most informative so that you can make the best plan for your Dawki trip. Now it's time to listen from you.
How do you feel about the place, Dawki in Meghalaya?
Yes, one full day and night (24 hours) is good enough for a Dawki trip, so no need to extend it anymore.
Don't hesitate if you have any further query. Just drop your question below in the comment section; I'll get back to you immediately.
Please follow, like, and share us: