You are most welcome to our story of Mawphlang Sacred Forest, truly a must-visit place if you are on a Meghalaya trip.
So it looks like, you have decided to visit Meghalaya on your next vacation, right?
It's great that you decided to visit the world's highest raining region. Are you visiting with family or in a group, or as a solo traveler?
Whatever it is, I just wanted to mention, never miss Mawphlang Sacred Forest if you are on a Meghalaya trip. Many travelers often miss this beautiful place, and directly head towards Cherrapunji from Shillong, mainly due to incomplete knowledge. Even, local tour operators also skip this place in general. So, definitely it's better to visit a place with complete knowledge, as I personally do.
Anyway, it's a great pleasure for me to share my personal experience in Mawphlang. So, without wasting much time, let's start.
---
Where Mawphlang is situated?
---
Yes, this is pretty important to know, because the exact location of Mawphlang will help you to understand how and when you'll manage to visit there. In fact, this will help you to prepare the right tour plan.
Mawphlang is a small village, situated in the East Khasi Hills district of Meghalaya state. I guess you already know, Meghalaya is located in north-eastern India. The main spot in Mawphlang is 27 km away from Shillong on the way to Cherrapunji. However, Cherrapunji is a little far away for Mawphlang that is almost 47 km. The scared forest is situated in a location that is 11 km away from Shillong-Cherrapunji main road, which means you have to move through an interior road (11 km) to reach Mawphlang.
What about the history of the Mawphlang Sacred forest?
Mawphlang is considered to be the hub of the ancient Khasi culture. The word Mawphlang is the summation of two different words, Maw and Phlang, and as a whole, it means "grassy stone".
Local people believe, many years ago ancient tribes in that region used to pray in front of a big rock inside Mawphlang sacred forest, and sacrifice in front of the god was a part of their ritual. This is the probable reason behind calling it a sacred forest.
---
Let's explore Mawphlang
---
Firstly, I must mention the green landscape beside the road towards Mawphlang.
To be honest, so far I have visited many mountains and trails, but the hilly landscape of Meghalaya is something different. The greenery all around really stun you, I bet. And the real beauty starts appearing once you leave the main road to reach Mawphlang village.
After you reach there on the spot, you'll see a huge valley in front of you. You are lucky if it is not a rainy day. But even if it's raining when you reach there, don't panic. Generally, in this part of Meghalaya rain is not very stable, rather it's frequent. Some parts of Cherrapunji, Mawsinram, and Shilong are really very wet throughout the year. But Mawphlang is relatively dry (just in comparison to other mentioned locations).
So, let's forget about the rain and explore the picture of a sunny day (We were lucky enough).
You'll experience a cool breeze into the valley, because it is open over a long long area. Yes, it is a bit breezy and cool, even during summer. Spending some time on the grass in a sunny and breezy environment is not bad at all. A pitch road passes through the valley. If you love to explore new species of plants, Mawphlang is definitely a great place for you. You can discover many different types of natural plants, very tiny, but very beautiful.
On either side of the road, you can see the gate. Just enter the place to explore a statue, and a small stadium (very old but modified by the government). The place is fully empty, so you can have some snaps there to keep the memories.
If you are hungry take your tiffin or lunch at the small stalls just beside the road. You'll mainly get rice, chicken, egg, and noodles there. But, don't expect a good taste, the local Khasi people can not cook tasty foods that you prefer. So, you take food at Mawphlang only if you are hungry, otherwise, you may leave it.
---
Getting into Mawphlang Sacred forest
---
Well, after spending some lazy time enjoying the valley, the cool breeze, and the sunny weather, and also taking some cool snaps, let's move to the forest end of the valley, near the entrance of the sacred forest.
Three stones are decorated there with a stone bench in front of the forest entrance. It is just another photo shooting point.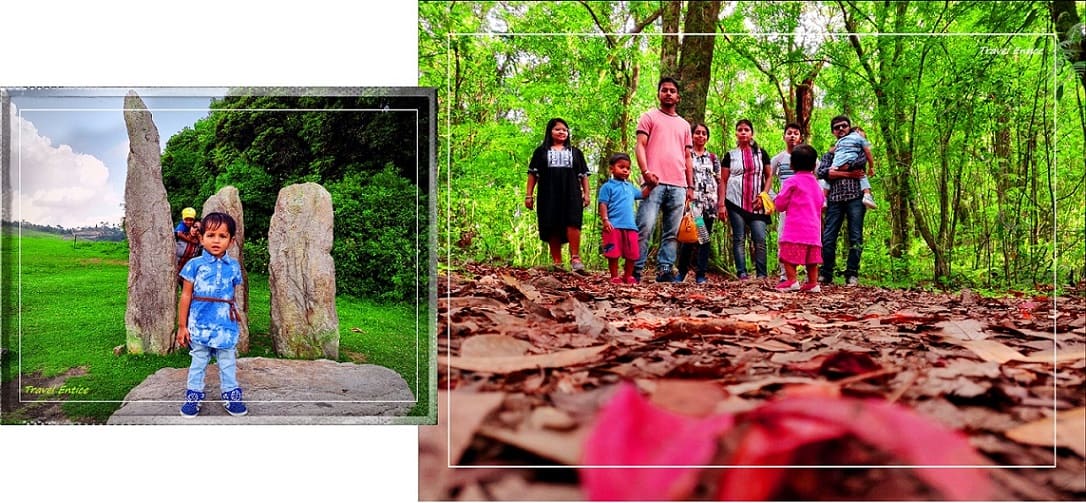 I'd suggest you book a guide for your sacred forest trip, for mainly 3 reasons:
You may be lost there, though a clear mud road is visible inside.
The guides may not allow you to go inside without their assistance; after all, it is their business.
The guides take you the old stories, help you to learn about the plants, and take your group snaps.
They take a minimum rate for your jungle trip. There are two different rates for a long and short hike. It depends on your choice. The rent also depends on the number of people in your group.
After entering the forest, you'll feel amazing inside. Initially, it is not much dense, but as you move inside the density of big trees increases. You can see several plant species there which you never knew before. I am introducing a few of them below.

I find a Yew tree there, in the Sacred forest. Are you familiar with the name Yew tree?
Taxol, which is the most efficient medicine for the treatment of cancer (ovarian, prostate, breast, lung, cervical, and pancreatic cancer), was isolated from the bark of the Yew tree. Actually, I didn't expect a yew tree in this climate.
The old stone-god is still there in place, and also the sacrifice points. The local people or guides suggest you, not to take anything away from the sacred forest, you may experience bad health.
Maybe you don't believe the story, still, it is better not to pick anything because of scientific reasons. In such a forest many unknown species stay in peace, you never know which one is perfect to damage your health.
After 45 minutes of forest trip and lots of photo shooting, we get back from the forest. The guides are very friendly and can speak in pure English. They'll explain everything about the forest when you'll be walking.
---
How to reach Mawphlang
---
Mawphlang is 27 km away from Shillong. So, it is better to book a car from Shillong to visit Mawphlang. The road is very good, and it takes slightly more than 1 hour to reach Mawphlang from Shillong if you don't stop in between.
I'd say it is better to visit Mawphlang sacred forest on your way to Cherrapunji from Shillong.
After reaching the Mawphlang valley, generally, people spend at least 2 hours there on a sunny day. It is a nice place to feel relaxed. So, I'd suggest you plan accordingly.
---
The right time to visit Mawphlang
---
There is no best time to visit Mawphlang. Meghalaya is known as a rainy place. So, keep in mind rain can destroy your tour plan at any time. However, there is nothing to lose because, many people visit Meghalaya mainly to enjoy the greenery into the rain.
I would suggest you not to visit during the season of heavy monsoon, that is June to early September. Winter remains most dry (still, rain falls); Autumn and Spring are not a bad time to visit Mawphlang.
As per the general rules of rain in Meghalaya, I'd say late September to the middle of May is the best time to visit Meghalaya as well as Mawphlang, while November to January is most favorable (though it's very cold and you may miss out many waterfalls in winter due to dryness).
---
It's time to plan
---
So, I explain all my experiences with Mawphlang Sacred Forest. It's your time to decide how to plan.
Are you still having some queries? Just leave your question in the comment box below. If you want to get a full plan for your trip you can send us a query through the "Contact us" button.
And, if you like the article, please don't forget to drop a comment below. One more request, If you find the article helpful, please share it socially; this will not harm you but help us to get some publicity.
Thank you very much for visiting here.
Please follow, like, and share us: