The lush green forest of south-central Andaman becomes a special attraction to tourists worldwide due to the habitat of indigenous as well as the endangered tribe of the land, the Jarwas. On 45 minutes road trip through the deep forest, you may or may not see the ancient Jarwas; this completely depends on your luck, but, the real thrills are waiting for you ahead at Baratang Island, Andaman!
Once you cross the Jarwa reserve forest, mangrove-wrapped Baratang Island (Andaman) welcomes you from either side of the pristine blue backwater; it's a call for revealing the emerald greenery and unseen flora & fauna of the island, and of course, the exclusive Limestone Cave of Baratang.
I'm glad to share my personal experience of a glorious day trip to Baratang Island, exploring the fabulous mangrove forest and magnificent limestone cave, and of course the excitement of the full trip. Below, I have introduced how to visit there, when to plan a trip, where to stay, and several other information. So, stay tuned and read thoroughly, especially if you are willing to plan a glorious Andaman trip in your upcoming vacation.
Explore the Limestone Cave at Baratang Island
Baratang Limestone Cave is not reachable directly by a car or other vehicle; you have to pass through a break journey that includes a road trip, two-time boat trips, and finally a short hiking.
Reaching Baratang Island, Andaman
Baratang is not connected to the main Island by road. After crossing the deep forest of Jarwa reserve land, the road ends at the bank of Baratang backwater that originates from the Bay of Bengal and revolves around Baratang island; unless you are traveling far north (Diglipur, Ross & Smith Island, etc.), you have to leave your car at this spot, just before Middle Strait Jetty. Further, the giant launches are the only way to reach the Island, which will take you to Baratang Jetty.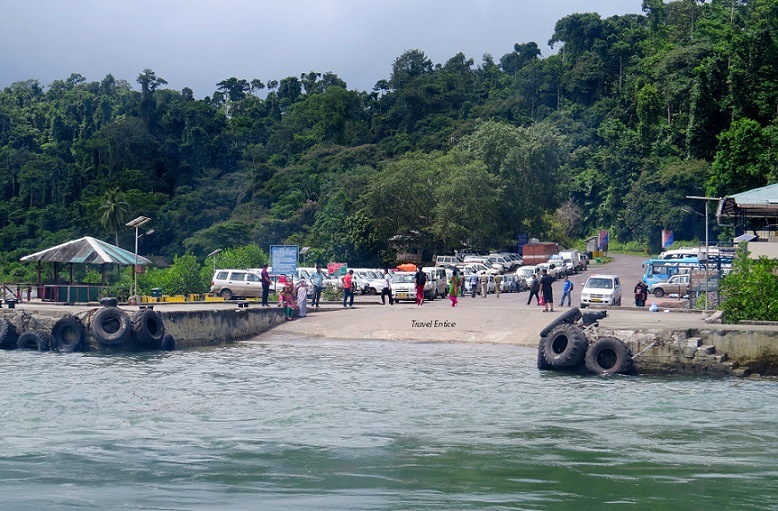 The giant launches are well-capable to carry multiple vehicles together with human passengers, including cars, buses, and even loaded trucks. Tourists'/ passengers'/ goods' vehicles, which travel towards central and north Andaman, cross the deep and wide backwater riding these launches, and this is the only way to get connected to central and north Andaman. As a tourist, this journey was pretty interesting to me, as I never crossed a river together with big buses and Tata Sumo in past!
Thrilling Journey through the Mangrove creeks
After reaching Baratang Jetty, you have to book your tickets for your next boat ride; this time for reaching Baratang Limestone Cave. Preferably, you should book the speed boats which carry 6-8 tourists at a time. These boats take about 15-20 minutes to reach Baratang Cave Jetty.
The real thrill starts from the moment when you step onto the speed boat. It travels fast through the middle of the deep river, sometimes comes closer to the Mangrove creeks to offer you the joy, and sometimes races with the neighbor boat, thrilling you all the way.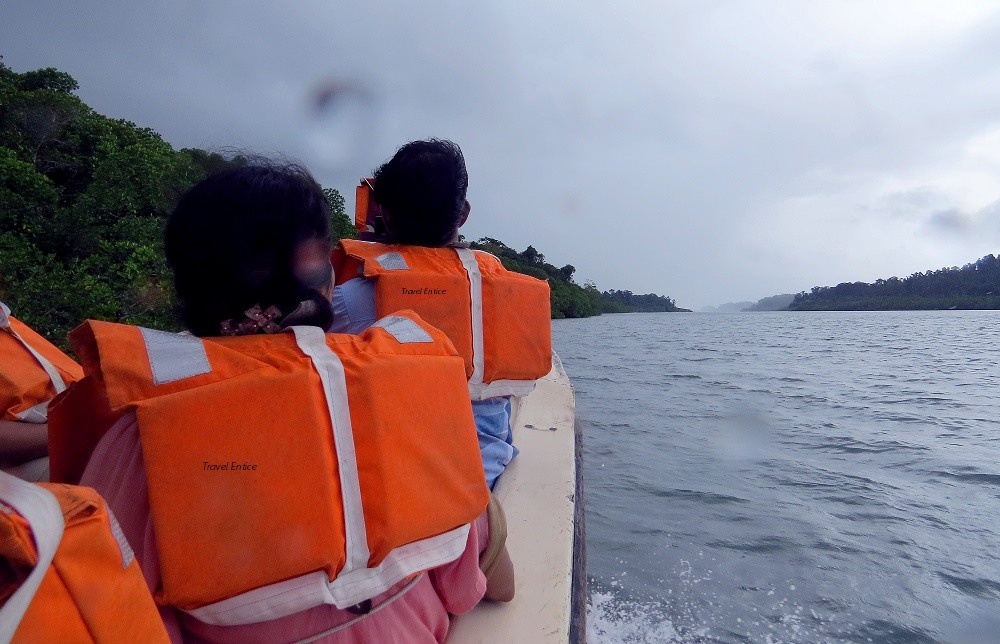 At a point, the boat takes a sharp turn, entering the deep forest of mangroves; riding through this serpentine water path offers the ultimate adventure of the trip. Certainly, you may feel it's a wrong turn into the forest, but the well-structured water path covered by the deepest mangrove forest takes you to the wooden jetty of Baratang Cave. Indeed, it's amazing!
You can experience similar boat rides at Poovar Island in Kerala and in the Delta of Sundarban (West Bengal). Notably, I personally find, Poovar Island's Mangrove forest is the best compared to others.
Note: During peak tourist seasons, you may have to stand in a long queue because of the scarcity of boats; so to avoid this delay, you should book your ticket quickly after reaching Baratang Jetty.
Hike towards the Limestone Cave of Baratang
Once you land on the well-designed wooden bridge, you can smell the taste of typical Andaman village. From this point you have to hike approx. 2 km for reaching Baratang Limestone Cave.
On the way you have to cross steep stairs and small hillocks, and sometime through the green plain land surrounded by paddy fields and bamboo trees. Aged people may experience little difficulties in passing the hillocks, though it's manageable with the help of their younger partners.
When you reach closer to the cave, a few giant hillocks appear around you; these are nothing but the outer shell of the Limestone Cave. Now, it's time to explore nature's amazing sculptures inside the limestone Cave of Baratang.
Amazing Natural Sculptures inside Baratang Limestone Cave
Although the outer shell of the cave appears to be a giant hill, the inner space is much narrow, especially the entrance of the Limestone Cave. At a time, it can accept up to 20 people inside; presence of excess people makes the cave overcrowded.
Due to decades-long sedimentation of calcium carbonate (Limestone), the inside part of the cave became mostly occupied; maybe, within next few decades, the sedimentation layers will touch the ground level and make the cave unsuitable to enter inside.
The show of nature's wonder starts right from the entrance of the cave. As you move inside, beautifully textured walls make you stunned; somewhere limestone sculptures hang with the shape of a lotus, elsewhere they appear like elephant, Lord Ganesha, jellyfish, and more!
Negatives of Baratang Limestone Cave
Baratang Limestone Cave lacks electric lights, so you have to travel in dark inside. The guide men hold torch to show you the limestone sculptures; alternatively, you have to switch on your smartphone torch to watch them. I must say this is a big drawback. Due to the lack of lights, you can't see the sculptures clearly, especially when the cave becomes overcrowded.
Some other limestone caves across India, such as Boracaves (Vizag) or Mawsmai Cave (Cherrapunji), are well-maintained by the corresponding state government authorities, also these are well-fitted with many lights inside. Compared to those, the Baratang Limestone cave is less-maintained, and also much smaller.
However, this shouldn't be the reason to skip this fantastic day trip. The trip to the Limestone cave of Baratang Island is a complete day package, which represents several excitements together, that includes traveling through the Mangrove creek, exploring the limestone cave, a peaceful hiking adventure, watching Jarwas on road, and more.
---
After exploring the cave you have nothing to do more in this place; take a cup of tea or juice from the neighborhood shop and hike back towards Baratang Cave jetty, and then sail back to Baratang main Jetty.
You must be hungry after lots of hikes throughout the day, so before you return to your Port Blair hotel, take your lunch at a restaurant near Baratang Jetty.
Next, you have to ride the giant launch again for the return trip. After reaching Middle Strait Jetty, you may have to stand in queue because private cars are not allowed to travel through the Jarwa forest anytime of the day. The forest department of Andaman allows the vehicles 4 times in a day to enter the road across the forest (2 times for the upwards journey and another 2 times for the return journey). So if you complete your trip before time, you may have to wait until the checkpost clearance is done.
Nevertheless, this waiting time can be very interesting, if you hold the right strand; let's see how!
[Note: If you plan to travel Ross and Smith Island, you don't need to cross the backwater again on the same day, rather you have to move towards far north; it's a 3 days' program in general.]
Discover Colorful Crabs near Baratang
During afternoon session, the water level decreases due to low tide; as a result part of the riverbank converts to bare mudland which conversely becomes the playground for colourful crabs. If you stand on riverside bamboo-made resting huts and focus on the mudland, you can see plenty of moving crabs there; some are busy in hunting, some erupt bubbles from the mouth, and others are happy to fight and run.
We discovered six different crab species there; some corresponding photos are given in the gallery below. If you watch more thoroughly, you can discover more.
---
Finaly, the checkpost opens on time; it's time to return after spending an exciting day.
To be honest, the returning path is a bit boring, and this is usual. It's takes about 3 hours to reach port Blair; it's expected that you are tired after such a engaging Day trip, so you can fairly sleep down inside car.
---
Other Things to Do in & around Baratang Island, Andaman
The day trip to Baratang Limestone Cave is very engaging itself; inclusion of boat riding, mangrove exploring, hiking across the small hillocks, and finally uncovering the beautiful limestone cave, it's a complete package full of fun and excitement. Apart from these, Baratang doesn't offer many more things to do, which you may enjoy better.
Still, there are some other things to do, which I'm highlighting below.
Watching Jarwas
Yes, this is a demanding thing for every Andaman tourist and you can see them during your trip to Baratang because you must have to cross the forest for reaching Baratang Island, Andaman.
In the early morning, after checkpost clearance, 100+ vehicles travel in a row. None of them are allowed to stop in the middle, or even slow down the car; each have to drive at 40km/hour speed continuously. Photography and offering food to the Jarawas are strictly prohibited. You are a lucky fellow if you can see a single Jarwa on the road.
We were fortunate enough to see only one Jarwa man during up journey and two lady jarwas when we were returning. On the same day, many other fellow tourists couldn't see even a single, which is very unfortunate.
Visiting Mud Volcano at Baratang
Eight mud volcanos are present across Baratang Islands, though all are not so popular due to long-distance and inaccessible locations. The most popular one resides approx. 8 km away from Baratang Jetty. You have to hire a car/jeep to visit there (rent approx.INR 200 per person). Also, you have to start very early in the morning from Port Blair to cover both mud volcano and limestone cave on the same day.
Just, for your note, although the name "Mud Volcano" seems like an interesting thing, there is not much to see except dry mud all around. If you are a lucky fellow, you may experience the bubbling piles of mud, but this sight is very rare.
Baludera beach at Baratang island, Andaman
The final attraction of Baratang is Baludera beach. It's 8 km away from the Jetty, so again you have to rent a car to visit there.
Definitely, it's a serene place, but the number of beautiful beaches you'll see across the Andaman Islands, you may not like this one much. If you have already attended Swaraj Dweep/ Swaraj Island (formerly known as Havelock Island) or Neill Island, or even N.S.C. Bose Island or Wandoor Beach, you'll probably not like this one.
However, for tasting different places and atmospheres, some tourists plan to stay at Baludera beach and explore Baratang Island completely, which is not a bad idea at all.
How to Visit Limestone Cave at Baratang Island, Andaman
Above, I already discussed the last part of the trip, the journey from Baratang Jetty to Baratang Limestone Cave. In fact, it's the most exciting part of the trip.
Now let me introduce the former part.
Travel to Baratang Island from Port Blair by Road
Expecting, your probable starting point is Port Blair, you have to book a trip to Baratang Island any day. If you are traveling Andaman and Nicobar Islands on your own tour plan, you can book this trip by yourself or through the hotel authorities. In case, you are traveling to Andaman according to your tour operator's plan, they'll arrange everything for you; you just seat and enjoy.
First, you have to reach Jirkatang, and wait there until the gate opens to enter the forest road. The checkpost clearance is done twice a day for the upwards journey, at 6 A.M and 9 A.M; so you are strictly suggested to start the journey early in the morning, preferably at 4 A.M or 7 A.M. The distance from Port Blair to Jirkatang is 42 km, which takes approx 1 hour 20 minutes to reach, but considering any traffic jam or else, it's better to start early. Once the checkpoint becomes close you are not allowed to cross the forest under any circumstances.
The next 1.5 hours pass with the excitement to watch Jarwa people (the details discussed above already).
After crossing the forest, you'll reach the Middle Strait Jetty, which is your endpoint. Next, you have to travel via launch, speed boat, followed by foot as I mentioned above.
* You may also avail government Bus services for visiting Baratang. The buses towards north Andaman start from the Bus Terminus near Aberdeen Bazaar, Port Blair, every day from 5:30 AM and 11:00 AM.
**Direct Ferry Service from port Blair to Andaman was expected to start in 2019; but due to the COVID-19 pandemic, the process has been postponed.
#Nearest Airport to Baratang Island, Andaman: Veer Savarkar International Airport
Where to stay for A Baratang Trip
Most tourists travel Baratang from Port Blair; that means they stay at Port Blair and book a Baratang day trip onward. We also did the same, which is definitely exciting.
In such case, you have to book your stay at Port Blair, either by yourself or via your tour operator (in case you are traveling to Andaman with a tour operator).
For your information, most of the hotels/resorts in Andaman are situated in two areas of the island;
Near the airport
Around Rajiv Gandhi Water Sports complex.
Tour operators, who arrange your stay near the latter place, will demand almost 3 times more money for the excuse of premium hotels; the resorts around Rajiv Gandhi Sports Complex are comparatively aristocratic and expensive, but you can get them at reasonable rent if you book by yourself online; also, you can save a lot of money avoiding the so-called premium tour operators.
However, both categories of tour operators arrange a similar tour plan. The only expense that differs is the accommodation.
So, if you prefer a pocket-friendly trip to Andaman, either plans your trip by yourself or contact the former categories' of tour operators who arrange low-budget hotels for you. On your Andaman trip, you'll spend very limited time inside the hotel, so it's not mandatory to stay in a 5-star hotel, unless it's your honeymoon trip.
Recently, we have already figured out the best 10 hotels/resorts in Port Blair. Further scrutinies are ongoing presently.
Our article introducing the 10 best hotels/resorts in Port Blair is upcoming soon.
If you are planning the whole trip by yourself, this list may be helpful to you. Planning a trip is a bit hectic but more enjoyable than tour operators' route plans! Also, you help people to plan the best trips to any Indian destinations that we personally covered.
Wrapping up
So, back to the mainstream before I wrap up; it's all about Limestone Cave at Baratang Island, Andaman.
If you belong from India, it's very likely that you already visited some other limestone caves or archaeological caves in India, that includes Bora Caves (Vishakhapatnam), Amarnath Cave (Jammu & Kashmir), Mawsmai Cave (Cherrapunji), Badami Caves (Karnataka), Elephanta Caves (Maharashtra), Arwah Cave (Cherrapunji), Tabo Caves (Himachal Pradesh), Karla Caves (Lonavala), and many others. Notably, all these caves are top-listed because they are well-maintained by the corresponding state government authorities.
Compared to the above caves, Baratang Limestone cave is much less maintained; lights are absent inside, as I mentioned above, but still, it holds its naturality. Also, it's much smaller than the top-listed caves in India, still, it's beautiful without any manmade architecture.
Also, it's a complete day trip that congregates several adventurous moments together; traveling through the Mangrove creeks, experiencing the limestone cave, watching Jar was on road, exploring unseen wild lives, hiking adventures across the hillocks, and more. So, I must say, never skip visiting Baratang Island on your Andaman trip; if you skip it, you are also excluding an exciting day from your trip.
If you have any further queries, don't hesitate to drop your questions in the comment box below. I'll be glad to help you accordingly.
Have a Great Andaman trip!
Please follow, like, and share us:
Dr. Suvankar Das is a scientific advisor by profession, associated with a CRO organization. He pursued his doctoral degree in Chemistry in 2015. Later, he worked as a postdoctoral researcher & scientist in a couple of institutes/companies.
Besides his scientific journey, Dr. Das is also a passionate traveler and travel blogger. He loves to share all his travel experiences with other travelers so that everyone can enjoy hassle-free holidays with their own tour plans.
He believes, the most beautiful thing in this world is the WORLD itself. so there is no way to live like a clock; rather live it like a compass!