When I'm writing this article, the hot summer is arriving fast in India and people are searching for the best places to visit in the summer in India to get some relief.
Forgive me, it's not only in India but the hottest season is coming to the whole northern hemisphere. In some places, summer is very pleasant, but a greater number of countries will be suffocating by the wicked paw of the summer within just a few days. So definitely, most people are searching now for a pleasant summer holiday destination.
Anyway, in this article I'm not gonna explore a world-summer-trips; if you are searching for a cool place in India to travel during this summer, you are most welcome.
India in Summer: the Scenario
A huge part of India remains too hot during the summer because the tropic of cancer (northern tropic) passes through the middle of the nation. The months of May and June are the hottest season when the sun arrives right on the top of the northern tropic. The strong, dusty, hot, and dry wind (the Loo) blows over Rajasthan, Gujarat, Delhi, Maharashtra, Madhya Pradesh, Bihar, and several other states from April to June, while the sea beaches in the southern part of India remains hot and humid. So definitely, these are not the right places for a pleasant summer vacation in India.
If you are an Indian traveler, the above facts are probably well-known to you already; but these are important information to the foreign travelers visiting India during summer.
The great Himalayan mountain range spreads from the north to north-eastern India; this is the most ideal place to hide in during hot Indian summer. The vast Himalayan territory in the north offers a pleasant holiday experience by presenting extreme scenic beauty at every turn.
But, don't underestimate the southern part of India; The Nilgiri range in the southern part offers a number of beautiful hill stations. Of course, you should not expect a chilling cold in the south, but you'll get well-assured pleasant weather and green beauty.
So, let's explore the best places to visit in the summer in India; you'll get a chance to choose thereafter!
Best Places to Visit in the Summer in India
In the vast Himalayan range, there are too many places to visit in summer. In addition, you have the option to visit hill stations in the southern region of India. The list is really long; so in this article, I prefer highlighting the top 10 very selectively.
LADAKH
Are you looking for a thrilling vacation this summer?
Are you willing to be a witness of heaven in the earth?
If both answers are 'YES', then Ladakh is the ultimate choice for you.
Ladakh is a sparsely populated, a high altitude cold desert in Jammu and Kashmir, India. The remote mountain beauty, snow desert, bare hills, and Tibetan culture are the major attraction of Ladakh. The beautiful landscapes represent amazing contrast of clear blue sky and high altitude blue water lakes surrounded by snow-capped bare mountains; the stunning scenario will let you fill nothing less than the heaven, I assure you.
For the tourists, the few roads to Ladakh remains closed and covered by snow during winter; only Indian Amry can use those roads. Summer is the best time to visit Ladakh; in fact, Ladakh is the best summer destination in India. Ladakh is a dream destination for every biker and hiker.
Top places to visit in Ladakh
Sangam Point at Leh: You'll get here an amazing view of the meeting of warm water Indus river and chilled water Zanskar river.
Pangong Lake: This glacial lake is 150 km long, spread over India and China, located at an altitude of 4350 m. You need to cover 5 hours of driving distance from Leh.
Nubra Valley: 150 km long Nubra valley is a must visit place in Ladakh, offers you a lot of sightseeing, beautiful landscapes, and adventures.
Magnetic Hill: You'll experience the unique optical illusion there, an unbelievable creation by nature.
Tso Moriri: A small lake situated 250 km away from Leh, fed by melted snow from the mountains around the place.
Zanskar valley: The amazing valley is situated between the Great Himalayan range and the Zanskar mountain range, a low populated Buddhists land. Zanskar river flows between the valley which gets frozen during winter.
Khardunga La: One of the highest altitude pass in India (18,500 feet), with great scenic beauty.
Tso Kar Lake: This is one of the highest altitude saltwater lakes in Ladakh. This is also known as white water lake due to the salt sediment all around the lake. If you are a bird lover/ photographer this is a must visit place for you because the area is rich with birds and wilds. Dark-necked cranes come here to lay eggs.
Hemis National Park: Area of this high altitude national park 600 sq ft and known for many uncommon Himalayan species such as bharal, snow panther, etc.
Drass Valley: After Siberia, this place is the second highest and the coldest inhabited area in the world. In summer, the valley becomes totally green and get filled with colorful flowers.
More Things to do in Ladakh
Visit Royal Leh Palace, Shanti Stupa, Shey Monastery, Spituk Gompa, Leh Post Office (highest post office in the world) at Leh.
Experience the beauty of blue water of Pangong lake with a majestic mountain view at the background.
Plan your camping around Pangong Lake or Tso Kar lake, and spend the night under the clear sky full of millions of stars and Milkyway.
Visit monasteries: Lamayuru Monastery, Alchi Monastery (oldest monastery in Ladakh), Diskit monastery (Nubra Valley), Hemis monastery, Thiksey monastery.
Trek to Markha Valley, River Zanskar/ Chadar Trek (for winter)
Enjoy river rafting to Indus river.
Try camel and yak safari.
Attend festivals: Hemis Festival, Losar Festival, Ladakh Festival, Monastery Festival.
How to reach Ladakh
There are several ways to reach Ladakh.
By Air: You can fly directly from Delhi to Leh airport to reach Ladakh, and this is the easiest way.
By Road from Manali: You can rent a four-wheeler of a bike to reach Ladakh from Manali; by road, distance is 474 km.
By Road from Srinagar: Srinagar to Leh distance is 434 km by road. You can rent a car to reach there with a night halt in the middle.
SHIMLA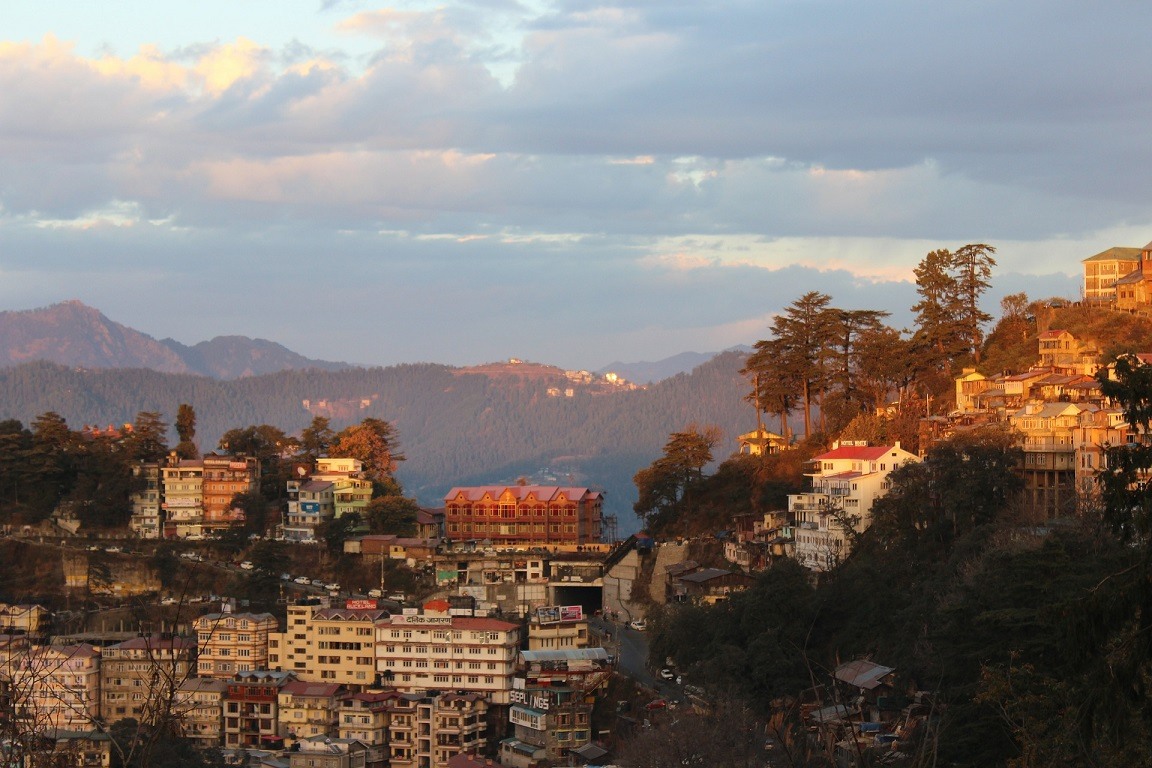 Shimla is a beautiful town in Himachal Pradesh, India, and also the capital of the state. It was the place of ultimate leisure for the British people before the independence of India.
If you visit Shimla during winter you'll experience an amazing chilled environment, little snow-covered landscapes, and also the snowfall if you are a lucky person. However, to get relief from hot summer and spend a few days away from the busy schedule of the polluted cities, Shimla is one of the best places in India.
Well arranged buildings in the steps of the hills, clean roads everywhere, viewpoints here and there, heritage British pattern houses, Snow capped mountains in the backdrop… overall, Shimla city is really well decorated. Your stay in Shimla in summer will solve the purpose absolutely well.
I must suggest you reach Shimla by toy train starting from Kalka. The journey takes a long time, but a truly memorable one.
Besides Enjoying the pleasant environment of the Shimla city, you have many options for sightseeing in Shimla.
Places to visit in Shimla
Kufri: Kufri is 19 km away from Shimla, and known as Switzerland of east. You have to visit there in winter to feel like Switzerland, and experience sports activities on the snow. In summer Kufri offers very pleasant weather with excellent views of green valley and mountain, but you'll not get snow.
Green Valley: A very popular spot for experiencing a lush green valley with a mountain backdrop and perfect for photography.
Jakhoo Hill: If you reach there, you are at the highest point of the city (2455 m) surrounded by alpine tree. There is a Hanuman temple (Jakho temple) at the top. If you love to spend some calm and peaceful hours, this is a perfect place for you.
Chail: To enjoy the summer camp with the majestic beauty of deodar forests you must visit there. Chail is 45 km away from Shimla and an ultimate place to escape from hot summer. However, if you visit there in winter, you have is a great chance to experience snowfall.
Shaily Peak: You'll get here a magnificent view of the lush green forest and the peak; you can go for a trek if you are fit enough.
More things to do in Shimla

Shimla Church

Shimla Mall is one of the most popular places to visit, you can enjoy your evening there, and can have some selfies and photographs in front of the Christ church, and spend some time in the nearby viewpoint.

You can visit Lakkar Bazaar, Scandal Point, Jakhoo hill, Kamna Devi Temple.
You can visit Kiala Forest which is the residence of Himalayan wild animals.
Visit Viceregal Lodge, this was the summer residence of Indian Viceroy during the British era in India (1888-1946).
Himalayan Bird Park, Himalayan Nature Park, Manjathal Sanctuary, Shimla Reserve Forest Sanctuary are some other places to meet the wilds.
Annandale, Kuthar Fort, Hawa Ghar, Summer Hill are some nice sightseeing in Shimla.
You can visit Chadwick Waterfall, just 7 km away from the city.
You can visit Shimla Kali Bari Temple, and also try your lunch and dinner there. They serve very nice Bengali food within a very reasonable price.
Naldehra golf course is a nice place to visit in the afternoon.
How to reach Shimla
You can reach there in three ways.
By Railways: Kalka is the nearest broad gauge railways station from Shimla. You can take a car from there. Alternatively, you can ride the Kalka-Shimla toy train to reach Shimla. The journey takes a long time but enjoyable too, and I personally prefer this route when you are on a family trip.
By Air: You can land at Chandigarh airport and ride a car to reach Shimla (115 km).
By Road: Delhi to Shimla road distance is almost 340 km. You can follow this road route too, preferably if you are riding your personal car.
MANALI
If you are planning to visit Shimla, you must extend this to Manali. Alternatively, if you have a short vacation, you can plan a 3-4 days trip to Manali for a pleasant breath into the fresh air.
Without any confusion, Manali is one of the best places to visit in the summer in India, and also the most popular honeymoon destination. Beautiful green landscapes in every direction, snow-capped mountains, banks of the river Beas, overall a decent gateway for romance and adventure.
Manali is not only a popular summer destination, but tourists visit there throughout the year. You can go there to enjoy the chilled weather of winter too, but avoid the rainy season.
Places to visit in Manali
Rohtang Pass: 51 km away from Manali, Rohtang pass is the most exciting and popular place to visit from Manali. This area remains covered by snow throughout the year and offers you a lot of activities over the white snow. You need Indian army clearance before reaching the place, so you must keep your ID card and contact to the local tour operators before a visit there. During winter the road often remains closed and slippery due to snowfall, even you may have to stop before you reach the main point, but don't worry you'll get a chance to play in snow wherever you jeep stops.
Solang Valley: Solang valley is situated in between Solang village and Beas kund, one of the most beautiful places in Manali. This is a perfect place to play with the snow, especially in winter. In summer, you'll experience the beautiful landscape of the valley with mountain dropback. The place is only 13 km away from Manali town.
Chandrakhani Pass: Get ready for an easy and magnificent trek towards the pass through the villages and the green forest.
Hadimba Temple: This is a very old temple constructed in 1553, and dedicated to goddess Hidimba (wife of Bheema in "Mahabharata'). The temple is surrounded by ceder forest and looks beautiful anytime.
Jogni Waterfalls: This place is a must visit place in Manali to experience the breathtaking scenic beauty from the top of the waterfalls. Though you can reach there by car directly, you have an option to trek there to enjoy the beautiful scenery of pine forest and several streams on the way.
Bhrigu Lake: If you'll not visit this glacial lake, you'll definitely miss something extraordinary. The 'pool of god' located at 14000 ft and filled with crystal clear water with a shadow of the blue sky, and surrounded by snowy mountains. To be witness to this magnificent view, you can start your trek from Gulaba village.
Neheru Kund: This kund is fed by the water of Bhrigu lake and one of the most popular tourist destination in Manali.
Vashisht Kund: Experience natural hot spring here.
Arjun Cave: In search of a calm environment away from the town you can visit this serene place to experience wonderful natural rock formation. The cave has been named in the honor of Legend Arjuna (epic of Mahabharata). Nearby, you can visit Kunt Bhayo Lake and the Kunto Matha Temple which are beautiful too in their own way.
Hampta Pass: If you are searching for a low difficulty trek through the beautiful valley, you must attend the trekking trip towards Hampta Pass. On the way, Mt. Deotibba and Mt. Indraasan will be visible to you.
Old Manali: You can enter the old world of Manali by crossing the Manaslu river bridge. The ever enchanting green nature and calm environment of old Manali will drift you to a different world.
Kullu: Enjoy the landscapes in Kullu. You can shop rags and sweaters in Kullu, which are famous.
Naggar Village: Nagger was the old capital of Kullu. Besides the beautiful views, the place is rich by historical significance. You must visit the Naggar castle there.
More things to do in Manali
The helicopter ride over the white mountain is an awesome experience in Manali. If you can afford the cost, you must try this crazy trip.
You can visit Manu Temple, The Manali Gompa, Himalayan Nyingmapa Buddhist Temple.
Manali Castle is a popular place to visit in Manali.
Gulaba is a must visit the spot, you have to reach there if you are planning to trek towards Bhrigu Lake.
You can visit Rahalla Falls and Van Vihar National Park.
How to reach Manali
By Air: You can reach Bhuntar airport by flight, which is the nearest airport to Manali (50 km).
By Road from Delhi: Many people prefer overnight bus journey from Delhi to Manali (546 km).
By Road from Chandigarh: You can reach Chandigarh railway station and ride a car (291 km). However, Una is the closest railway station from Manali (245 km).
By Road from Shimla: Many people prefer to combine Shimla and Manali trip. You can take a car from Shimla to reach Manali, it'll take 8-9 hours.
LAHAUL and SPITI
Similar to Ladakh this is another cold desert which green valley, situated in Himachal Pradesh. The terrain of Spiti is diversified by bare mountains, snow-covered glacier, green valley, emerald waterfalls, clear blue sky, Buddhist monasteries, and small significant villages. You just need to pick up your camera and lost in nature.
The place remains uncrowded and a perfect place for nature and adventure lovers. You'll uncover here cool Tibetan culture and food habits, which are interesting too.
In winter few routes remain covered by snow, but April to November is a perfect time the visit Spiti.
Places to visit in Lahaul and Spiti
Pin Valley National Park: This is a must visit place in your Lahaul-Spiti trip, the land of Himalayan wilds. The Pin river flows through the green valley to separate Lahaul and Spiti valley, while snow-capped mountains in the backdrop offer a gorgeous sight.
Lahaul Valley: This is place offers you one of the most splendid views in your tip to Lahaul and Spiti. Under the clear blue sky, Bhaga river flows through the green valley, while snow-capped mountains pose in the backdrop.
Suraj Taal: This is the 3rd highest altitude lake in India and 21st highest in the world, situated in the Manali-Leh road. The lake is fed by spiritual blue water, while surrounded by amazing snow-capped bare mountains, overall an outstanding view.
Kunzum Pass: This is one of the most beautiful places in Spiti valley, offers you a magnificent panoramic view of Bara Shigri Glacier, the barren mountains, Spiti river, and the bare hills of Spiti Valley.
Key Monastery: This the biggest and oldest monastery in Himachal Pradesh situated in the mountain feet within the so-called cold desert of Spiti. Your visit in June July will let you experience a beautiful festival here.
Chandrataal: The majestic beauty of the lake will definitely stun you. If you are an adventure lover, you can trek from Batal over the gray mountain to reach the lake and proceed for one night camp beside the lake under the clear sky full of stars and Milkyway.
Baralcha Pass: Gain a lifetime achievement to see Pir Panjal, Zanskar and the Great Himalayas mountain range from this spot. Bare hills everywhere at a 16000 ft of height produce an amazing beauty; you can't believe unless you reach there.
More thongs to do in Lahaul and Spiti
Komik: Must visit the highest village in the world, so beautifully decorated.
Don't miss the Dhankar lake and Dhankar Monastery nearby at the rocky cliff.
Visit a thousand years old Tabo Monastery.
Visit Kibber Wildlife Sanctuary which is the land of ibex, blue sheep, red fox, snow leopards, wolves, and beautiful hilly flowers.
Bikers are encouraged to visit Loser near Indo-china border, the unexplored place in the Himalaya.
How to reach Lahaul and Spiti
By Air: You can land to Bhunter Airport in Kullu, then by road via Manali.
By Rail: Chandigarh is the nearest railway station. Then by road via Manali or Shimla.
By Road: From Manali, via Rohtang Pass, you have to spend 6-8 h to reach.
MUSSOORIE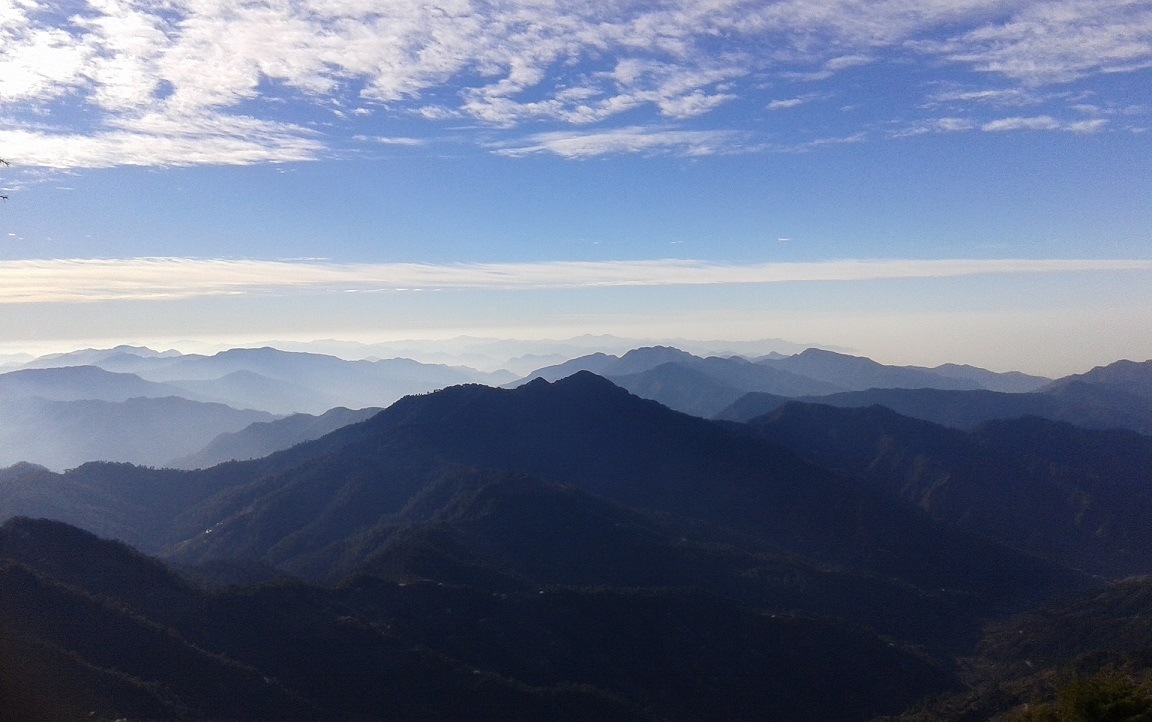 Apart from the snow-capped mountain, Mussoorie offers you a lush green spectacular hilly landscape and known as the queen of hills. Since from the British era in India Mussoorie is a very popular summer destination in India.
March to November is the perfect season to visit this place, but you should avoid the season if winter due to monsoon and extremely cold weather.
The place is full of waterfalls, hilly landscapes, and green valleys, and thus you have options to relax, trek and feel the serene beauty.
Indian cricket legend Sachin Tendulkar admires Mussoorie as one his favorite place to spend a vacation with family.
Places to visit in Mussoorie
Kempty Falls: The scenic waterfalls divide into 5 streams when comes down from a mountain cliff and a very popular place to visit in Mussoorie. But, the place may be crowded.
Mossy Falls: Enjoy this beautiful cascade waterfalls, preferably early in the morning.
Jharipani Falls: Beside the waterfalls, you'll get a splendid view of Shivalik Range and Doon Valley.
Lake Mist: You can enjoy there with your family for a few hours while boating and relaxing.
Lal Tibba: Enjoy sunrise and sunset in the red hill.
Gun Hill: The second highest peak in Mussoorie.
Dhanaulti: A nice place to experience lush green Gharowal Himalaya and spend lazy time with the enchanting nature.
More things to do in Mussoorie
Nag Tibba Trek: This is a two days long easy trek towards the peak at 9,915 feet. From the top of the peak, you can see a majestic landscape which includes Bandarpoonch peak, the Gangotri group of peaks, Changabang, Doon Valley and Kedarnath peak.
Visit Mussoorie Adventure Park.
You can visit Happy Valley, Benog Wildlife Sanctuary, Bhatta falls, Mussoorie lake.
Enjoy your walk through Camel's Back Road.
Have an evening walk at Mall road.
How to reach Mussoorie
By Air from Dehradun: You can land to Jolly Grant Airport in Dehradun which is 54 km away from Mussoorie.
By Rail from Dehradun: Dehradun is the nearest railway station and 33 km away from Mussoorie by road.
AULI
If you are looking for an unconventional location this summer Auli is one of the best options for you. Auli is situated at Uttarakhand and one of the highest hill stations in India, surrounded by tall mountains, and thus offers you some breathtaking view all around the place.
Places to visit in Auli
Chattrakund: Crystal clear water of the lake, pine forests on the road, bare mountain range far away, overall you'll have an amazing experience there.
Chenab Lake: Just like the above one Chenab lake is among the must-visit places in Auli. You shall miss the unparallel beauty of nature if you do not visit this place.

Nanda Devi Peak view: You have a chance to get a great view of Nandadevi peak (7,817m) and the amazing biodiversity at the Nandadevi national park.
Trishul Peak: You can visit the summit point of Trishul peak (23940 ft), one of the most challenging peaks to climb.
Auli Rope-way trip: This is a must do the trip in Auli, ride the second longest cable car in India. The ropeway connects the hill stations of Joshimath and Auli and offers you a breathtaking view Garhwal Ranges of Himalayas.
Vishnuprayag: If you like to visualize the beautiful meeting point of Alaknanda and Dahuliganga, go to Vishnuprayag. The beauty of this holy place is outstanding in a word.
Gurso Bugyal: You can enjoy a 3 km adventurous trek to Gurso Bugyal and be the witness to a majestic view of Nanda Devi, Trishul and Dron mountain at a time around you.
More things to do in Auli
Enjoy your stay in Joshimath town.
Auli Ski Resort is a great option for you, though, in peak summer, you may not get sufficient snow for ski.
You can visit Auli artificial lake.
How to reach Auli
By Air: Jolly Grant airport of Dehradun is the nearest airport to Auli. You have to cover a 149 km distance further by car.
By rail: Haridwar, Dehradun, and Rishikesh are three nearest railway station from Auli. Further, you need to rent a car to reach Auli.
GANGTOK
In the eastern region of India Gangtok is a beautiful Place in the lap of Himalaya. Gangtok is the capital of Sikkim, the cleanest and only organic (farming) state in India.
In the lap of the Himalaya the city of Gangtok and the surroundings grown beautifully in its own right. You can explore the extreme beauty of the Sikkim as well as the eastern Himalaya starting from Gangtok.
This is a highly popular destination for the people in the eastern region of India. Bengali people from neighbor state West Bengal visit there in a larger mass during summer and Autumn vacation every year.
Places to visit in Gangtok
Tsomgo Lake: This is one of the most popular spots near Gangtok (40 km), a high altitude lake situated at 12310 ft. In a sunny morning, you'll experience the clear blue water lake surrounded by rocky hills and a chilled wind. Yak ride is a common activity at Tsomgo.
Nathu La Pass: After visiting Tsomgo lake you need to drive upward to reach Nathula Pass at Indo-China border. This is a must visit place in your trip to Gangtok to explore snow-covered magnificent landscapes in every turn and every odd corner and historical silk route. If you are lucky enough you can experience snowfall too. You need to have the permit from the Indian Army to visit Nathu La Pass.
Baba Harbhajan Singh Memorial Temple: This temple is dedicated to major of Indian army Late Harbhajan Singh who martyred during Indo-China war, and soldiers believe his soul saved them in Nathula Pass during the war and still saving them at that point.
Seven Sister Water Falls: Don't miss it! The combined force of seven streams offers a wonderful sight.
Ganesh Tok: This temple normally gets included in Gangtok sightseeing and a must-visit place to explore the view of the Himalayan range in all direction from the top.
Tashi Viewpoint: This is close to Ganesh Tok and offers you a view of the Himalayan mountain range from an alternate direction.
Mahatma Gandhi Marg: M.G. Marg is the best place to spend your evening in Gangtok and shopping local handcrafts.
In Sikkim, there are few more places likeYungtham, Gurudongmar, Pelling, Zuluk, Kupup, etc. which offer you extreme beauty, but all are 100-200 km away from Gangtok and you need to stay in those places for 2-3 days. We suggest you to must visit at least 1-2 spots among those to fulfill your Gangtok trip.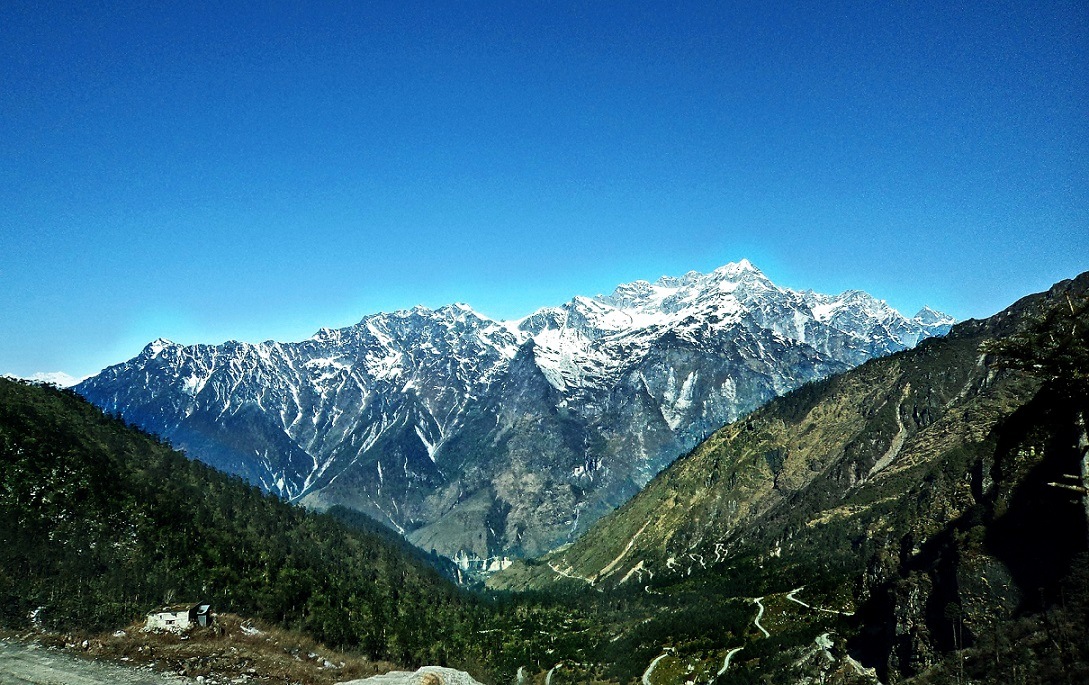 More things to do in Gangtok
During your outing for Gangtok sightseeing you can visit Phodong Monastery, Tashiding Monastery, Rumtek Monastery, Ban Jhakri Falls, Do Drul Chorten Stupa, Flower Exhibition Centre.
You can Visit Himalayan Zoological Park, Fambong La Wildlife Sanctuary.
Kanchenjunga National Park is a point where trekkers start trek towards Mt. Kanchanjungha. You can visit there.
How to reach Gangtok
By Air: Very recently Pakyong Airport near Gangtok has started to serve, but still not very regular. You have a better option to reach Bagdogra airport which is 124 km away from Gangtok; you need to rent a car and ride for 3.5 hours.
By Train: New Jalpaiguli (NJP) is the nearest railway station to Gangtok, and you need to ride a rental car for 3.5 hours to reach Gangtok.
---
So far you have some idea about the North Indian summer destinations. Now let's move towards the south in search of some best places to visit in the summer in India.
I know you are wondering, how south India can provide some pleasant experience in hot summer where no snow-covered Himalaya is present!
India is versatile in a real sense, and offers you some pleasant hill stations in the south too, even though tropic of cancer passed through the middle.
---
MUNNAR
Munnar is located at Kerala and situated at 5200 ft above from sea level in the Western Ghat mountain range. The beauty of landscapes is fulfilled by the introduction of widespread tea and spice plantation everywhere in Munnar. This is one of the most popular hill stations in south India where thousands of Indian and foreign tourists visit every year to experience lush greenery, cool weather, and well-decorated tea plantations.
How will you feel if a wide range of valley, then the next valley and again the next valley, every valley get covered by beautiful purple-blue flowers?
Yes, such a thing happens in Munnar once in every 12 years when beautiful Neelakurinji flower (Strobilanthes kunthianus) blossoms. Recently in the monsoon (July-September) of 2018 Munnar was decorated by nature's gift Neelakurinji; thousands of traveler from every corner of the world visited Munnar to capture the magnificent view. You must remember the next season, 2030, and don't miss it.
Places to visit in Munnar
Attukal waterfall: In the season of monsoon this becomes the best waterfall in Munnar. However, it is nice in summer too. You can take a bath at the pool below the waterfalls.
Pothamedu viewpoint: Take a breathtaking view of the valley covered by a green velvet of tea, coffee, cardamom, and pepper plantation.
Chokramudi Peak: You can go for an easy morning trek to this isolated peak (7200 ft) and enjoy the wonderful view from the top.
Kuthumkal Waterfalls: this one is a must visit waterfalls, the best among all the waterfalls in Munnar.
Mattupetty Dam and Photo Point: Visit the Dam to click some photo. On the way to Mattupetty, you'll get a point filled with tea plantation, the place is known as Photo Point.
Top station: This is a part of Kannan Devan hill and offers you a splendid view of the green valley from the far top. When Neelakurinji blooms, the valley looks really magnificent from this point.
Meesapulimala: Reach the highest peak of Munnar (8000 ft) and watch the white clouds float below under your eyes. This is a must visit place if you are traveling to Munnar. You can witness the blossomed Rhododendron flowers if you visit in the season.
Chinnakanal Waterfalls: Enjoy this beautiful waterfall which is situated 20km away from Munnar and beside Munnar-Thekkady highway. Take a bath and spend some lazy hours there.
Anamudi: You can trek to Anamudi peak which is the highest peak of south India. You need permission from Eravikulam National Park authorities.
More things to do in Munnar
You can visit TATA Tea Museum, Blossom Park, Carmelagiri Elephant Park, Mattupetti Indo-Swiss Farm.
If you are a wildlife lover there are options like Eravikulam National Park, Chinnar Wildlife Sanctuary for you.
Shouting at Echo Point is a nice experience.
There are few more waterfalls, such as Nyayamakad Waterfalls, Pallivasal Falls, Cheeyappara Waterfalls, Lakkom Water Falls.
The view of Lockhart Gap is very nice. You can visit there too.
Enjoy a few hours at Kundala Lake.
How to reach Munnar
By air: Kochi Airport is the nearest one to Munnar, You need to have another 125 km car ride to reach Munnar from Kochi airport.
By Train: Reach Ernakulam Railway station and then towards Munnar by car.
COONOOR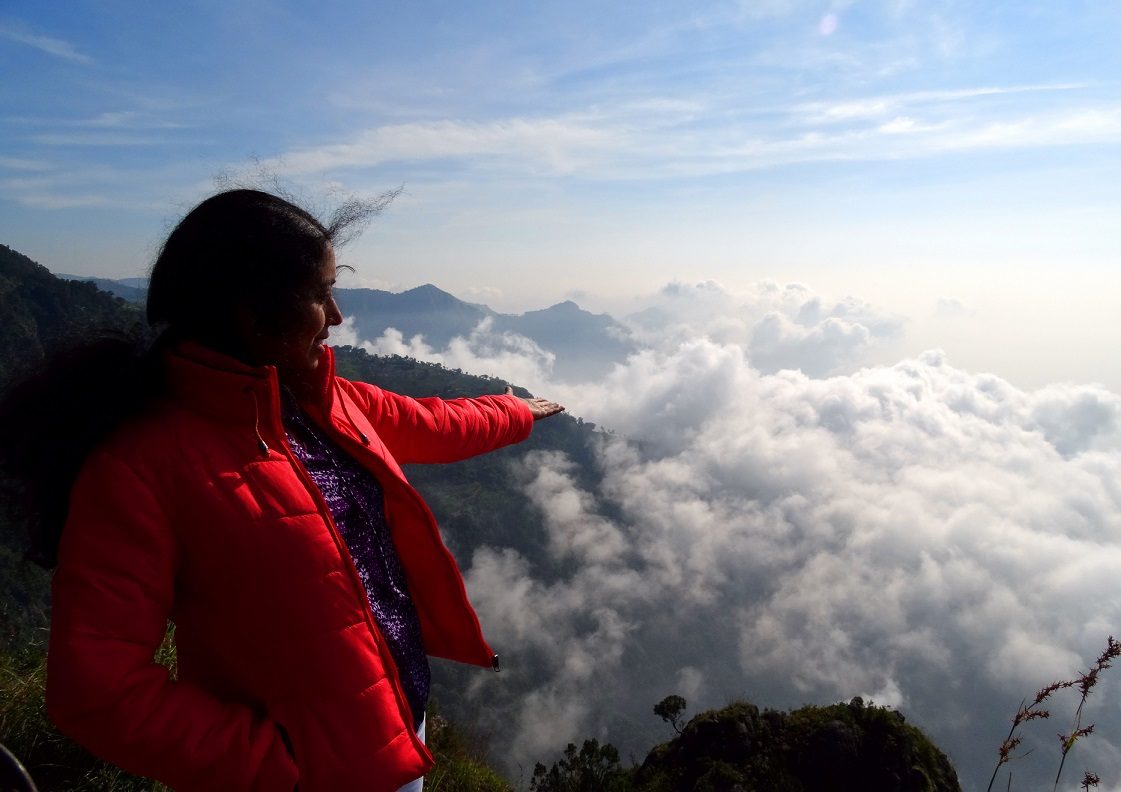 Coonoor, a little hill station in Nilgiri range, offers you a fantastic short trip, maybe in the weekend or on your way towards Ooty. You'll get magnificent lush green landscape full of tea gardens, along with a calm and pollution free environment.
Apart from posing in front of the tea garden, you have a few more things to do in Coonoor.
Places to visit in Coonoor
Dolphin Nose: Visit there in the early sunny morning when the crowd is less. You'll get there a decent view of the valley, while the other three sides are surrounded by green mountains. From the viewpoint, you can see a stream far below and the Catherine waterfalls in a mountain far away.
Lamb's Rock: Visit this place just after Dolphin Nose in the early morning. The morning clouds will pass by you when you'll stand by the edge of the rock. Magnificent view of the valley and the floating cloud below your eyes will make your morning really charming.
Catherine Falls: In the next, you can visit Catherine falls, which comes down from a great height.
Hidden Valley: You can enjoy a half day to this mysterious rain forest.
Other things to do in Coonoor
Visit Law's Falls to spend a lazy hour or for a picnic.
High Fields Tea Factory is a nice place to click some photos into the tea garden.
Enjoy Sim's Park botanical garden in a lazy afternoon.
How to reach Coonoor
By air: Bangalore is the nearest Airport. You can reach Ooty from Bangalore by car (3 hours).
By train: Yashvantpuram is the nearest railway station, you need to ride a rental can to reach Ooty from the railway station.
OOTY

Ooty is really among the best place to visit in the summer in India, especially to enjoy pleasant weather, neither hot not too cool. Ooty is just 18 km away from Coonoor. So you must visit both places at a time.
You can enjoy the joyride on the toy train to visit Ooty from Coonoor, but be careful, you must book a first class train ticket. Otherwise, you go by car.
In Ooty, you'll get mountains, lakes, green landscapes, tea plantations, waterfalls everything at a place, which is sufficient to drift you in a different world.
Places to visit in Ooty
Doddabetta Peak: This is the highest peak of the Nilgiri range and the most popular place in Ooty. You can see the widespread green valley from this point.
Emerald forest and Lake: Don't miss this must-visit forest. Otherwise, you'll miss some magnificent landscapes and wildlife territory of the Nilgiri. Into the forest, a special government jeep will take you to the end, near Upper Bhavani Lake while you can note the change of the landscape during your journey. Upon return from the forest, you can spend some time beside Emerald lake while watching the activities of Nilgiri wild cow.
Avalanche Lake: You can visit this lake on the way to Emerald. This is beautiful too.
Tiger Hill: This is a viewpoint where you can see the view of the green tea valley and the lakes from the top.
Pykara Waterfalls: Pykara waterfalls is one of the best photogenic falls I have seen so far. The widespread streamline flows stepwise and finally creates a decent force in the waterfalls. Green pine forest stands beside, on the bank of the flowing stream.
Pykara Lake: Pykara waterfalls is connected to the lake. You can drive away to the other side to enjoy the boat riding into the green water of Pykara lake while watching the amazing beauty of the lakeside.
Needle View Hill point: This place is far away from the main city, but worth to visit there and trek to the top. You'll get a magnificent view from the top.
Ooty Lake: Ooty lake is situated into the town and quiet crowdy place. You can spend a lazy afternoon there and have some boat ride.
More things to do in Ooty
Ooty Botanical Garden and Rose Garden are a nice place to visit in the afternoon session.
You can visit some nearby points such as Pine forest, Shooting Point, Kamraj Sagar Dam, St Stephen's Church, and Kalhatty Waterfalls.
If you love wild lives you can visit Mudumalai National Park and Mukurthi National Park.
Try a joyride to Nilgiri Mountain Railway, either from Coonoor to Ooty or vice versa.
How to reach Ooty
By air: Bangalore is the nearest Airport. You can reach Ooty from Bangalore by car (3 hours).
By train: Yashvantpuram is the nearest railway station, you need to rent a can to reach Ooty from the railway station.
Conclusive Remarks
So far you get some idea about 10 best places to visit in the summer in India. Every place is unique in its own right, and offer you magnificent views and very pleasant experience, I assure you from my own experience. You just choose your favorite place and book for that at earliest… summer is on the doorstep.
There are much more commercial and offbeat summer destinations in India. We are working on that area in several groups and you'll get more similar idea very soon. Just keep watching on MTA (My Travel Accessories).
Related Article: Cola Beach in Goa
To explore the best suitcase for your trip CLICK HERE.
So far if you find the article useful please SHARE this. To share just press the share button below.
If you like the article or if you have some suggestions or queries, please post a comment in the comment box below. We'll get back to you soon.
Related Article: Things to Do in Pondicherry
Thank you for your visit here in MTA.
Please follow, like, and share us: