Whether you are planning for a honeymoon trip or an adventure trip in the north, it is worthy to search for the best places to visit in Northern Europe. Exploring the northern light is truly amazing; and, it is more romantic when you are experiencing such a spectacular view with your newly married life partner.
However, not only the northern lights but the combination of breathtaking landscapes and amazing calmness in the north made the region a perfect gateway for the honeymoon couples. On the other hand, spectacular curves in the mountain, deep and serene forest, hiking paths through the green valley, blue and cold Atlantic… I don't think there is any adventure lover in this world who can deny the call from the north.
There are tons of beautiful places in northern Europe and hundreds of reasons to explore them all. Despite the reason behind your search, I am delightfully introducing the best listing for the best places to visit in Northern Europe in this article.
Maybe, the highlighted destinations in this article are a bit focused to guide the newly married honeymoon couples, but eventually, those are the top locations in the north and anyone who loves nature will be enjoying each of them.
Let's start with the northernmost.
Iceland
Iceland is a remote island situated in the northernmost part of Europe, close to southern Greenland at the junction of North Atlantic and Arctic Oceans. The country is having a lot of magnificent destinations for honeymoon couples as well as the adventure lovers.
Being very close to the arctic region, Iceland is one of the best places to experience the northern light. Besides, Ice caves, curved canyons green valley, black sand beaches, cold ocean, mountain peaks, geysers (rare experience!), geothermal pools, whale watching tour… there are tons of top attractions in Iceland.
Best places to see the northern lights in Iceland
Grótta, Öskjuhlið, Vík, þingvellir National Park and Ásbyrgi Canyon are the top places in Iceland to experience. However, you can't see the aurora throughout the year because the darkness is required for the visibility of the northern light. Being very close to the north pole, there is no darkness in Iceland from mid-April to mid-August, so no visibility of Northern lights in these seasons.
Northern Lights season in Iceland: Late August to mid-April
Northern Lights peak season:

September and March
(Sometimes northern light may be visible from other places in Iceland also.)
The list of amazing places in Iceland is pretty long. Let's first figure out a list of the top honeymoon destinations.
Landmannalaugar
With magnificent canyons and green valley, Landmannalaugar is one of the most scenic hiking trails in Iceland. The highlands are also famous for the natural hot springs.
Climbing to Mt. Blahnjukur here is pretty adventurous, but not a perfect pick for your honeymoon trip, rather honeymoon couples are suggested to try this another time when you visit Iceland.
Jokulsarlon
Adventure lover to newly married, no one should miss the Jokulsarlon Glacier Lagoon. Watching the slow-moving floating icebergs from the deck of your tour boat is obviously a lifetime achievement. In addition, if you are another lucky guy, you may experience the ever-exciting sight of an iceberg breaking off a glacier and crashing into the blue sea. Feel how amazing is that!
Reykjavik
Different than other crowded capitals Reykjavik is a scenic, colorful and systematic city in Iceland. As a honeymoon couple, you may choose to stay here for the easy and hassle-free access to the nearby sights.
Thingvellir National Park
If you are planning to stay at Reykjavik, you should plan a day trip to Thingvellir National Park which is surrounded by mountains on three sides, full of valley cliffs, fissures, and lakes.  You may also experience here the demonstration of volcanic activities.
Golden Circle Route
Starting from Reykjavik, you may arrange a day-long trip to the Golden Circle Route to explore historic sites, quaint villages, geysers, and waterfalls.
Geysers are of course the biggest attraction in this region as you'll find this amazing thing only in a few other places in the world. You may visit Strokkur geyser where you'll see the eruption in every 6-10 minutes.
Gullfoss is the most popular stop in this trip where you'll experience the Golden Falls tumbling through the Hvita river canyon as well as experience the Geysir hot springs.
Blue Lagoon
Although the Blue Lagoon is a man-made lake, they introduced superheated seawater vented from a nearby lava flow into this lake. In addition, the geothermal hot spring is known to be rich with silica and other minerals that offer several health benefits. This place is one of the most popular tourist spots in Iceland.
Husavik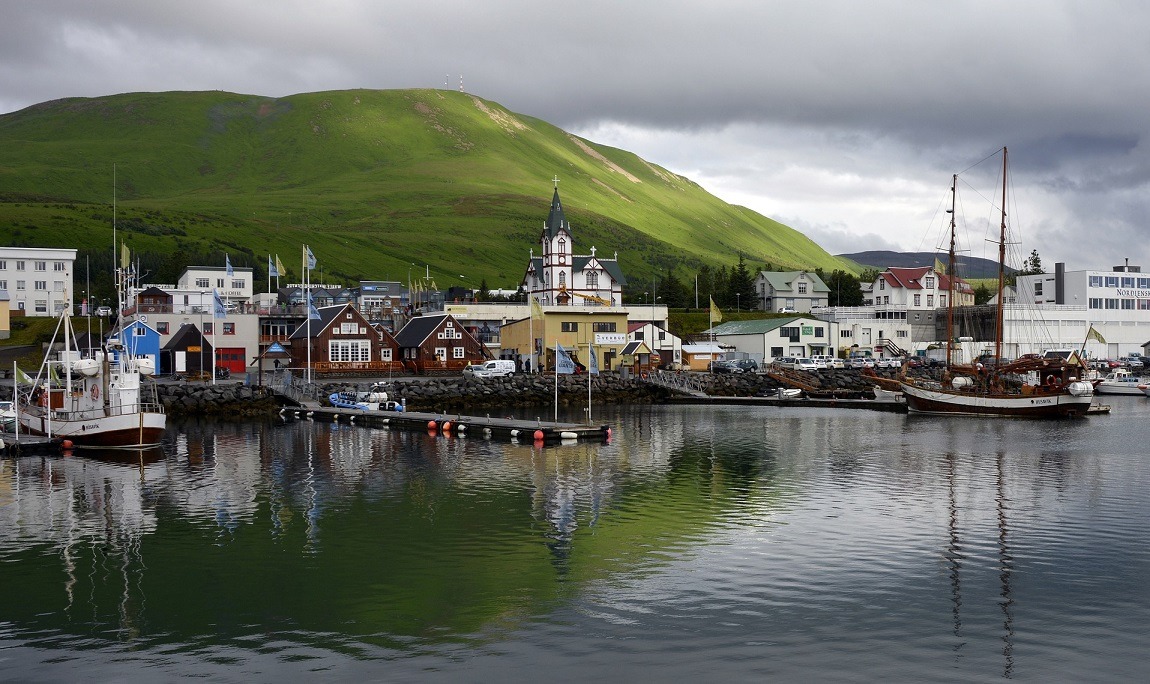 Husavic is a tiny fishing village in Iceland, that is well known for spotting humpback and blue whales, minke, white-beaked dolphin and harbor porpoise. The small harbor village is worthy to spend there for 1-2 nights on your trip.
Myvatn
Years back this place was formed by the river of hot lava. A forest of pillars, caves and rock formations made this place unique and scenic. However, not only the honeymoon couples but Myvatn is a popular destination for the bird lovers, as you'll discover hundreds of bird species in this region.
Vatnajokull National Park
Yet another excitement on your honeymoon trip! The largest glacier in Europe captures a vast place of the country; you may visit there to experience the beauty of nature, but an adventure lover may climb the Vatnajokull glacier to explore more. However, the sight of Dettifoss – one of the most powerful waterfalls in the world, is obviously an unmissable sight for the travelers.
Vestrahorn Mountain, Hornstrandir, Hallgrimskirkja, Dyrhólaey, Kirkjufellsfoss Waterfall, etc. are some other awesome places in Iceland. Some of those are great picks for adventure lovers.
Faroe Islands
Not many people know about these small islands situated between Iceland and the main terrain of Europe, but the enchanting natural beauty made these islands the perfect destination for the honeymoon couples.
You may be astonished to know, in the Faroe Islands the population of sheep outnumbered the human population in a 2:1 ratio. The low population density and less tourist crowd on this island let you spend quality time with your better half in the lap of nature; in fact, every honeymoon couple loves such calm and serene nature in their first exciting trip.
Island hopping, a road trip across the islands, short hiking, enjoying breathtaking views and Faroese food, you have a lot of things to do in the Faroe Islands.
Best time to see the northern lights in the Faroe Islands
Northern light is a relatively rare phenomenon in the Faroe Islands, and most importantly not so many people visit there in winter just to experience Northern light. But if you are lucky you may even get it in August. The best season to experience northern Lights season in the Faroe Islands is November to February.
So let's explore the top places to visit in the Faroe Islands on your honeymoon trip.
You may choose to stay at Tórshavn or Tjørnuvík and travel the other places by road or by boat.
Múlafossur Waterfall
Why you shouldn't miss Múlafossur Waterfall?
A busy waterline from the nearby lakes falls directly from the clifftop into the ocean 60m (200ft) below, offering you breathe taking view; and the flow is continuous, it never stopped for a long long time.  
Trælanípa
To explore one of nature's greatest wonders, you must visit Trælanípa where you'll experience an overwhelmingly beautiful sight – a lake above the sea. The steep cliffs, blue sea and the sweetwater lake above the cliff generate an optical illusion of higher elevation of the lake than actually it is.
Bøssdalafossur Waterfall and Geituskorardrangur
Upon hiking a little more from Trælanípa you'll find another stunning waterfall where the stream directly falls into the ocean again. You'll find Geituskorardrangur after a little more hike where a vertical sea stack producing an iconic view by rising 116 meters out of the ocean.
Saksun
Saksun is a must-visit place if you really want an escape from busy city life. Lush green fields, blue ocean, soaring peaks and the calmness of Saksun offer a perfect escape for the honeymoon couples.
Hvíthamar
Standing on the top while watching the clouds and the Atlantic ocean far below – It's my effort to explained the reasons to get lost in heaven by the breathtaking view at Hvíthamar: however, you may feel it thousand times better when you reach out there.
Kalsoy Island
Steep peaks, rugged valleys and vast water far below, a 45 minutes short hiking to Kallur Lighthouse, the topmost spot of the Kalsoy Island may offer you a pleasant view. To feel an enchanting nature with you better half, you shouldn't miss the place.
Koltur island, Eysturoy Island, Lake Sørvágsvatn, remote village of Gjógv, Ásmundarstakkur, Vestmanna Sea Cliffs, etc. are some other exciting as well as romantic places you may visit in the Faroe Islands during your trip.
Norway
Needless to say, the Land of the Midnight Sun is a gifted place for the backpackers as well as the honeymoon couples. Mountains, glaciers, coastal beauty, the northern light, and the midnight sun, trip to Norway is waiting for you with so many excitements and romance.
Best places to see the northern lights in Iceland
Tromsø, Narvik, Bodø, Alta, Svalbard, Lyngenfjord, Lofoten Islands, Varanger, Helgeland and Vesterålen Islands are the top places in Norway to experience Northern light.
You know, Norway is the country of the midnight sun. Although summer is the best time to experience the midnight sun in Norway, the same is the poorest season to see the northern lights. So, if you are willing to experience the northern lights, never visit Norway in the summer.
Northern Lights season in Norway: September to April
Northern Lights peak season: October, February, March
(Sometimes northern light may be visible from other places in Iceland also.)
Top honeymoon destinations in Norway are listed below.
Oslo
One of the biggest attractions is Oslo is Ekebergparken Sculpture Park. Besides Winter Park, Crazy museums, are some must-visit places in the city of Olso.
Scenic Roadtrip is worthy to include in the Olso tour plan. Don't miss walking along the Akerselva River with your better half. In the beautiful afternoon in Olso, walking through the wooden houses also offers a romantic feeling to the new couples.
The Stavanger Region
This is the culinary region of Norway diverse in nature.
The Stavanger Region offers you an amazing holiday experience that includes steep mountains, deep fjords, plenty of wild lives and fresh foods. The region is full of seafood like crabs, muscles, prawns, lobster, and also a lot of fresh vegetables. So no tension about the best fooding option for the travelers but a lot of scopes to feel the excitements there.
Geirangerfjord Region
It's awesome to enjoy one of the most beautiful fjords in the world with your loving ones. In Geirangerfjord you can enjoy the scenic outdoor restaurants with a mind-blowing view far below, visit farms on the steep cliff sides, and watching spectacular waterfalls (must visit The Seven Sisters). Geirangerfjord Region is a very perfect gateway for the honeymoon couples to spend romantic moments close to nature.
Bergen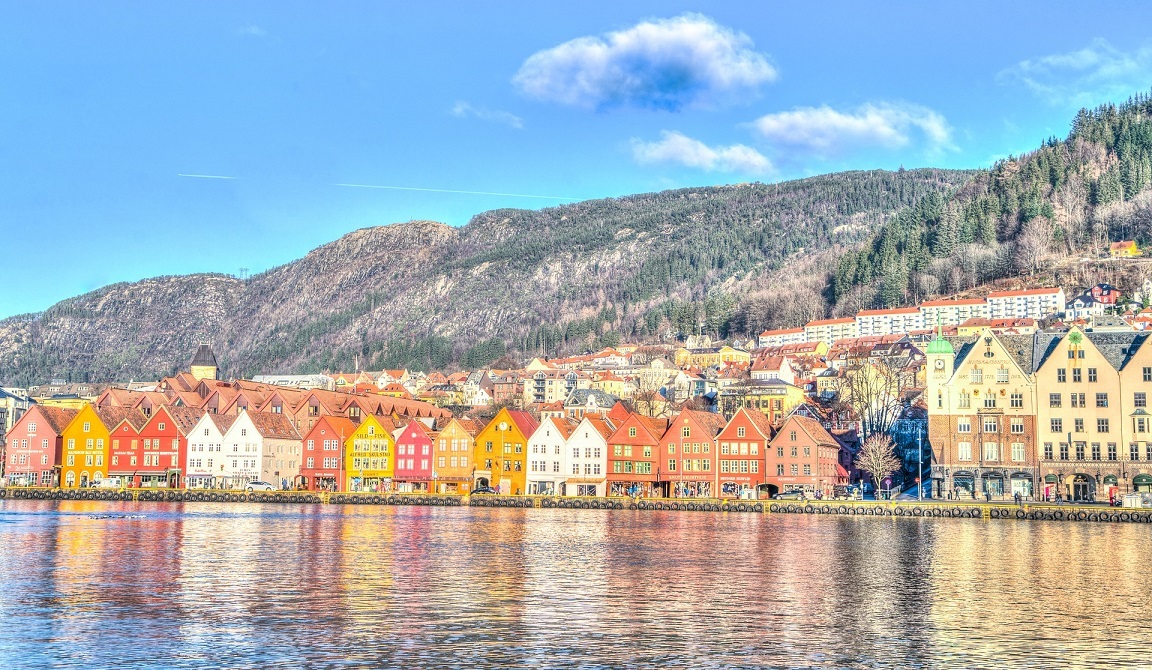 Bergen, the city of the seven mountains is a UNESCO world heritage city and awesome honeymoon destination full of beautiful sights and lots of activities.
You may climb Mount Fløyen for the best panoramic views of the city center. However, standing on the topmost peak, Ulriken (visit by car cable – 643 m) you may enjoy a breathtaking view of sea, islands, mountains, and fjords — the wider range of Bergen city and the surroundings.
You may also enjoy Fjord Cruise, Bergen Railway (one of the world's most beautiful train journeys), Old Bergen Museum, Bergen Fish Market, Bergen Aquarium, etc.
Overall, Bergen is a perfect honeymoon gateway with an ideal combination of nature, culture and exciting urban life.
Trondheim
More than one thousand years old Trondheim city was discovered by a Viking king, and it worth visiting there for the honeymoon couples due to inclusion of multiple activities.
You can enjoy fishing and bathing at Baklidammen, Brænnebukta, Djupvika, Hansbakkfjæra, enjoy splendid mountain view from Bosbergheia, Burmaklippen Gråbergan, Ilabekken; do some activities like jogging, walking or skiing at Damhaugen, Elgsethytta, Driftsveien, Elster Park, Gråkallen Gråkallen, Grønnlia, and Lavollen Skistua.
Public arts in the streets of Trondheim are pretty scenic. You may have a walk through Bakklandet which is famous for its old and colorful wooden homes, and cyclists, and you must not miss taking some photos from Gamle Bybroa.
Norway welcomes all the travelers with so many beautiful places and so many exciting activities.
Sweden
Sweden, the fourth largest country in Europe that offers the charm of three different climates in different regions, warmer oceanic in the south, humid in central and colder in the northern part. Up to 18 hours of day time in summer offers you extra time for outdoor activities on your trip.
Best places to see the northern lights in Sweden
Abisko National Park, Kiruna, Luleå, Jukkasjärvi, Jokkmokk, Tärendö, Porjus are the best places in Sweden to experience Northern light.
Visibility of the northern light is relatively less frequent than Norway, Iceland or Finland. In the season of winter and spring, there are higher possibilities to watch the Northern lights in Sweden.
Northern Lights season in Norway: December to March
Northern Lights peak season: December and March
The best destinations for honeymoon couples in Sweden are —
Jukkasjärvi
Staying in the Ice hotel and driving through Ice are the two most exciting things to do in Jukkasjärvi. The permanent construction of the ice bars, ice suits, and ice galleries will increase the excitements of your honeymoon trip for sure.
Gotland Island
Gotland, the largest island in Sweden is known as the heaven of the countries. Places such as Fårö, Visby, Lummelunda Cave, Iron Age Village provide you a perfect city break and unforgettable honeymoon experience.
Stockholm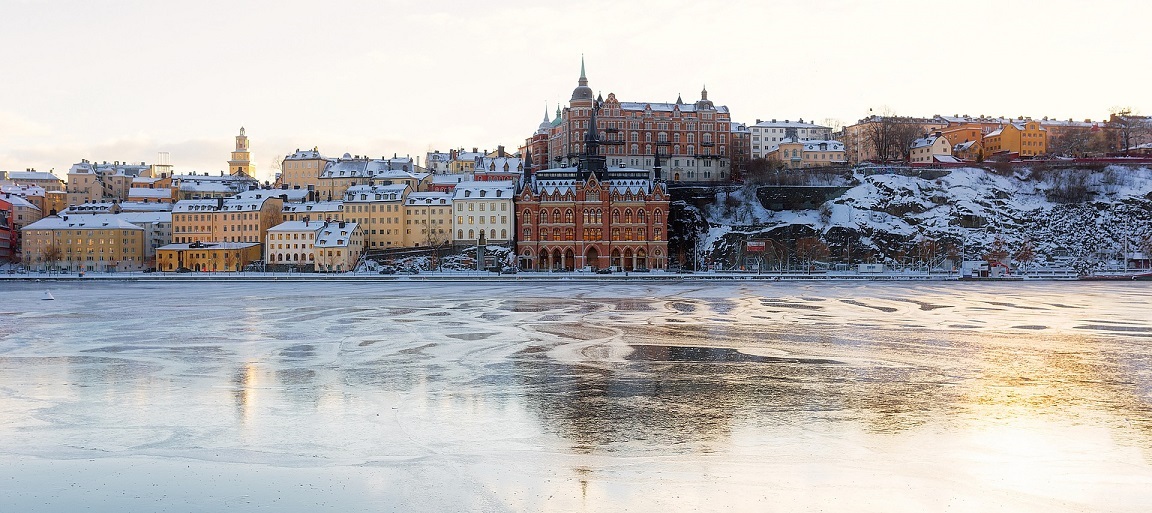 Spending a few days in one of the most inclusive and welcoming cities in the world is just awesome. The combination of centuries-old history and closeness to nature in Stockholm includes some extra charm on your honeymoon trip.
Finland
In the northern region of Europe, Finland is another beautiful country, peaceful and calm, rich in natural beauty, fresh air all around and a perfect gateway for romantic travelers.
Cross-country skiing, snowshoeing in Lapland, discovering national parks by canoeing and hiking, hiking through big archipelago trail, trip to Sweden with icebreaker cruise, ice-fishing, snowmobile safaris, kayaking from Savotta, experiencing the northern lights, etc. are some awesome activities you may experience in your honeymoon trip to Finland.
Best places to see the northern lights in Finland
Northern Lapland region in Finland is one of the top places to experience Aurora in Europe. You may book a glass Igloo in Lapland to watch the night sky as well as amazing northern lights.
Rovaniemi, Kemi, Nellim, Saariselkä, Inari, Ivalo,, Pyhä-Luosto National Park, Utsjoki, Kittilä, Muonio, Oulanka National Park are some of the best places in Finland to experience Northern light.
If the weather is fine, the night sky is clear you can see the northern light here any lucky day between November to February. Chrismas holiday season is a popular tourist season in Finland and most of the tourists expect to experience the dancing night lights at least once in their trip, and most of the time the night sky of Finland fulfills their expectations.
Northern Lights season in Norway: September to March
Northern Lights peak season: November to February
Let's explore the top honeymoon destinations in Finland.
Lapland region
Not only the honeymoon couples but Lapland is for every traveler in the world to enjoy the true taste of a "Winter Wonderland." You may visit as a couple, a family or friends group, Lapland trip is ever-attracting for anyone. However, the Christmas holidays are the most popular tourist season in Lapland.
Skiing on the snow, Igloo fantasia, mini Skidoo, Santa meeting, experiencing aurora (Lapland offers one of the best views of northern light), etc. are the most popular tourist attractions in Lapland.
Within Lapland, you should visit Riisitunturi National Park, Saana fell, Otsamo, Santa's Cabin, Päähkänä, Pallas, Pyhä-Nattanen, Kuninkaanlaavu to enjoy the real taste of the region.
Saariselkä
While visiting Lapland, you can't miss the northernmost Ski Resort in Finland, Saariselkä which is the center for winter activities in Lapland. Along the ski trails, you'll experience huts, shelters and breathtaking natural views.
In this region, you may book a guided tour to spot the northern light, you may need to work hard and wait long to discover the aurora, but it's obviously a lifetime achievement.
Finally, spending nights in a glass Igloo is absolutely romantic for the new couples, so don't ever miss it especially if you are on a honeymoon trip.
Lakeland Region
Full of big and small lakes Finnish Lakeland is divided in 5 parts, North and south Savonia, North Karelia, Central Finland, and Pirkanmaa. Although in winter they all turn to the frozen snowfield, the Lakeland region remains full of tourists in the summer.
Nuuksio National Park, Lake Saimaa, Koli National Park, Helsinki, Etelä-Konnevesi National Park, Repovesi National Park, ice-covered Päijänne National Park, etc. are some top places in this region you should visit.
Bear and bird watching trips in Eastern Lakeland and Lightkayaking are some of the best activities for the nature and adventure lovers. As a honeymoon couple, you must not miss the romantic Lakeside stay in Tampere.
Savonlinna
Savonlinna is situated within Lakeland's largest lake system (Saimaa Lakes), and it is worth mentioning the place with special attention. Steamboat Cruise through the lake, Getting lost in Olavinlinna Castle, Tasting the Local Craft Beers, Exploring the Kuikonniemen Fortress, Visiting World's Largest Wooden Church (Kerimäki Church), Spotting the Saimaa Seal, Hiking and Kayaking through Linnansaari National Park, there are so many things to do in Savonlinna.
A special note for the honeymoon couples: Don't forget to book a Lakeside Cabin for enjoying romantic morning and evening with a calm and silent nature.
Let's Wrap it up
Northern Europe is the ultimate place to explore the northern light, amazing cliffs, blue ocean, and many other uncovered experiences. If you love a cool climate, cliffs-valley-ocean all together, breathe taking sights all around, green cities, and calm and silent nature, you may definitely choose any of the above-listed countries for your best travel experience; in fact, you can choose multiple countries together if you can manage a longer holiday.
If you are planning to merge your trip into two countries. you can include Sweden with your Norway or Finland trip. You may even merge all the three counties together if you have the option in hand, but I must suggest you, don't make a busy tour plan for a honeymoon trip. Just stay well in a place, enjoy it in full, fill the song of the nature and then move elsewhere. (However, there are no such bindings for the adventure lovers.)
Northern Europe is vast, and we have chosen topmost 5 countries to introduce the best places to visit in northern Europe.
Estonia, Latvia, Denmark, etc. are few other north Europian countries having decent natural and cultural beauties, but when you are dealing with the "BEST" places to visit in northern Europe, only the above-mentioned nations may be considered.
However, we couldn't ignore the beauty of the others, and that's the reason we made our next articles exploring them.
If you have any further queries, just post your question in the comment box below. I'll be more than happy to help you.
If you find this article helpful please share it socially to let others know.
Please follow, like, and share us: