I personally love traveling, no matter it's an adventurous hiking and leisure trip, but my inherent love for the deep blue will never end; the rhythmic beauty of nonstop waves always drives me to a world of fantasy. However, it's difficult for me to sacrifice my beach fun due to the lack of the right equipment or accessories. In the early days, I often suffered from an unorganized backpack; so, I started creating a perfect packing list for beach vacation that upgraded year by year.
Needs of Packing List for Beach Vacation
Like myself or yourself, every day thousands of people are heading towards the blue paradise; few love spending relaxed hours during the endless summer, few are deeply attracted to water adventures.
Whatever it is, I personally feel, anyone loves hassle-free beach holidays, though most people become extra busy just before the trip.
There are definite reasons: when the office boss grants your vacation, but he wants you to finish all works before leaving; eventually 9-5 converts to 9-9, every day you are tried when reaching home, no time to pack up your tour luggage. Lack of organized plan leaves your trip hassle-full instead.
I also faced the same issue in my early days. I had to pack my luggage quickly and randomly, and every time I used to miss something essentials; eventually, I had to pay a high cost to purchase the required ones (you know, shop owners in the tourist spots generally don't show any mercy to the tourists).
Later, I started creating my Packing List. After every trip, I updated the list by adding or subtracting accessories and increasing/reducing clothes; nowadays I just print out a copy of the list, follow it, and finish my pack-up within 1 hour!
I felt, such a packing list for beach vacation can help you also fill the backpack quickly, and well-organized. You can download the packing list anytime, but apart from that check the category-wise discussion below, maybe you can add something to the list of your choice.
Clothes – His and Her
Right cloth for a specific occasion is the first thing you need to consider. You should not make your luggage bulky and heavy by adding clothes randomly.
Light t-shirts, half sleeve cotton shirts, shorts, maxi dresses, 3/4 pants, pajamas, bikini sets, light jeans, etc., should be the ideal clothes for a beach vacation. Apart from these basic ones, you may some special types of clothes which might be useful for longer beach trips (i.e., suppose you plan to travel through Maldives for 1 month or more during your summer holiday).
Quick-drying fabrics
This type of fabric is an excellent pick for your trip to the coastal region. Water activities are common very on a beach trip. Quick-drying clothes are ideal to wear during water-play; a fully wet quick-drying cloth becomes 100% dry and ready to wear again within a few hours.
Temperature regulating fabrics
Merino wool and Hemp are two wonderful lightweight fabrics that keep you cool in a hot climate and also provide you warm feelings in cold environment. Moreover, they have anti-bacterial properties that keep your body odorless (bad odor that arises due to bacteria). If you are on a long trip, it's worth considering two sets of such clothes in your backpack.
Rashguard swimsuit
Rashguard swimsuits offer you UV protection; moreover, they protect you from the rash caused by surfing or water sports. I recommended keeping at least one rash guard swimsuit in your backpack if you love waterplay in seawater.
Shorts or 3/4 pants
A pair of shorts (for him & her) and 3/4 pants with multi-pocket (for him) are the most common as well as useful clothes for a beach vacation; you should not forget these if your destination is ocean side.
Bikini/Swimsuit
During your beach trip, you may be willing to spend in seawater for hours every day. Not only for swimming, but swimsuits/bikinis are often used for several other activities that include sea surfing, kite surfing, sun-bath, or even for playing beach volley; so before my reminder, probably you have already included it in your backpack.
Swimsuits are lightweight and take minimum space in your backpack. You can easily take 3 sets of them so that you can get one in fully dry condition anytime. If you can arrange quick-drying swimsuits, it's even better.
Swimsuit cover-up
After spending a long time in the water, it is not healthy to stay bare-skin with your wet swimsuit. Sea winds are not good for wet skin. Rather, it is healthy (and also stylish) to wear a swimsuit cover-up and let the body dry. It's an optional beach accessory you may consider in your backpack.
Beach towel
Needless to mention about towel as anyone keeps a towel for any trip, especially those who avoid using the towels provided by hotels. However, I'll mention about special quick-drying towels that are very popular nowadays. These are lightweight, quick absorbent, and compact.
Sundress (for her)
If you are in the beach during summer you must have a pair of casual sundress which offer you ultimate relax as well as feminine look. These are lightweight, made of light cotton and loose fit.
Maxidress (for her)
I have a special affection for beautiful beachside evenings, maybe simple moments on the sand or a great sea-side gossip, or enjoying a light candlelight dinner, every beachside evening is special to me; and my special choice for those special moments… Bohemian maxi dresses. I hope, you'd also like the same to feel free and achieve an attractive look!
Loose-fitting pants
On the beachside, anyone prefers wearing loose-fitting pants rather than skin-fit tight jeans. So, you must not forget to include a pair of lightweight and comfortable loose-fit pants (or maybe pajamas). It's pretty relaxing!
Related Article: Amazing Cola Beach in Goa
Feet Care Accessories – His and Her
Most people ignore or forget the following accessories, but feel upset after reaching the spot. So, must remember to include…
Flip flops
Flip flops or sandals are the most comfortable footwear on the sea beach; if you forgot to bring this on your beach trip and you must have to buy a pair from a local shop at a high cost; also, in a tourist place, you may not find your band or the most comfortable sandal that perfectly fit your feet. So, never forget it.
Water shoes
If you got the habit to run and jog in the early morning, a pair of sports water shoes may help you jog over the wet sea beach. Also, they'll protect your feet from the hidden particles (shells, sharp stone) in the beach sand.
Water-resistant socks
You may carry 1-2 pairs of water-resistant shocks; it's not mandatory but definitely useful. You can spend long hassle-free hours even if sea waves splash on your feet. However, keep in mind, water-resistant does not mean 100% waterproof, but in a wet environment, they are safer than normal ones.
Related Article: Honeymoon Tour Planner – A brief guide
Sun Protection
Hot sun appears to be hotter on the sea beach, and comes with bare UV rays. Sun protection equipment is mandatory on the sea beach.
Sunglasses
It is recommended to consider only high-quality sunglasses for your beach trip because UV rays are not healthy at all for your eyes. On the beachside due to having a widespread sandy surface, sunray reflects intensely, and so do the UV-rays. High-quality glasses protect your eyes from UV rays properly.
Sun Hat
A stylish sun hat is a nice pick for your beach trip. For a long trip, I recommend picking a foldable hat that will take minimum space in your backpack.
Sunscreen lotion
Use good quality sunscreen lotion to protect your skin from UV rays and also to avoid massive skin burning.
Beach Umbrella
On the beachside umbrellas are not so useful due to heavy wind, but you can carry an umbrella for sightseeing on your beach vacation.
Beach tents
For a long trip, it may not be possible to carry a beach tent, because you have to keep an eye on your luggage weight. But for a weekend trip to the nearby coastal area, beach tents are a great pick. You can easily carry it in your car. If you own a closed tent and if you are traveling to a nomadic beach destination, don't miss spending your camping night in your tent under the sky full of stars; it's definitely an amazing experience.
For a long trip, you may consider a lightweight canopy and beach mat.
Beach tents for babies
This is a must-have item for a weekend trip if you have an infant with you. UV rays are too dangerous for infant skin. To protect your baby from UV-ray, hot sun, sea breeze, Baby Beach Tent is a perfect pick. However, it also offers a safe place for the baby's nap and feed.
Get details here: Beach Tents for Babies – Keep UV ray away from little baby
Toiletries
There are a few important items that people often forget to include before trips. Few luxury hotels provide some of these, but not all; if you are planning to visit a nomadic destination or a wooden beach villa, you have to manage all of these by yourself. So, never forget to include these items…
Toothbrush
Toothpaste
Body wash / Soap
Shampoo
Conditioner
Facewash
Shaving cream/gel
Razor
Wipe to remove makeup
Get a dedicated toiletry organizer to keep these well-organized throughout your beach holiday.
Related Article: Best Places to Visit in Northern Europe
Cosmetics and Related Accessories – mostly for Her
Hi, fellow travelers, You need to include the following essentials for any trip.
Handwash (Must include For his and her)
A pair/pack of Mask (Must include For his and her)
Face moisturizer
Deodorant (For his and her)
Feminine wash products
Hairbrush/comb (For his and her)
Hair Dryer
Hair ties and hair clips
Hair gel
Safety pins
Insect repellent (For his and her)
Medicated ointment (For All)
Sanitary Napkins
Following cosmetics are not essential, but you may include if, (1) you are interested in wonderful self-photography/ selfies, or (2) wish to attend a party during your trip, or (3) wish to have a different appearance during the beach evenings.
Lipstick
Lip Moisturizer
Nail polish
Nail polish remover
Mascara
Eye liner
Eye shadow and eyebrow pallet
Makeup set
Makeup Brushes
I suggest, don't keep these essentials and optional in 1-2 dedicated makeup organizer bags; these help you in finding the right thing at right time, and stay organized throughout your trip.
Related Article: Lightweight Travel Clothes for Women
Must for people with power glasses
I'm aware of this because my husband wears power glasses. This particular point is applicable to those who use power glasses, if you don't you may skip this.
First, I'm sharing my husband's experiences to let you realize the need of this particular point.
He had the worst experience to lose glasses during a trip to the coastal region. The waves were wicked, and he was bathing in the sea wearing power glasses. A sudden thrust of a wicked wave blow his glasses into the deep sea, and he had to spoil two full days without glasses (wear high power glasses). Luckily, I kept his eye prescription with me, which let him get the new power glasses, but unfortunately received after two days.
Since then, he never forgets to keep at least 2 optical glasses in his backpack when traveling. He also keeps 3 pairs of contact lenses which allow him to use powerless stylish sunglasses. He lost his glass one more time for the same wicked waves, but didn't face any hassle as he had spare glasses as well as contact lenses.
So, if you use power glasses, I suggest you keep the following items in your backpack, especially if you are heading to the coastal destination.
Optical glasses (2 sets)
Contact lenses (at least 2 pairs – preferably use & throw)
Contact lenses case
Contact solution
Prescription of Eye treatment
Related Article: Importance of FUDs for traveling women
Fun and Activities
Scuba and deep-sea diving, snorkeling, surfing are some exciting water games, most people love to enjoy during their trips to coastal destinations.
You'll get most of the following equipment for rent if you visit a specific tourist destination where water sports activities are permitted. However, if you don't prefer to wear the used equipment, you may carry the following.
(For a long trip some of these are not possible to carry, but if you are reaching your destination by your personal car you may easily carry these)
| | |
| --- | --- |
| Wet suits | You can keep a set of wet suits if you love water adventures like surfing and scuba diving. |
| Snorkel Gear | You may include fins, masks, and snorkel gear. These will fit easily in your suitcase. |
| Hammocks | To feel relaxed in the palm beach destinations, you can carry a hammock with you. |
| Floatables | Children or elders, anyone enjoys floating on big floatable stuff and have selfies. These are compact when deplete, so you may carry them easily. |
| Kid toys | If you have kids you should take some toys with you. |
| Kayak | If you are heading to the coast on a weekend trip by your car then you can have a kayak with you. |
Related Article: Pondicherry: Have you ever been there?
Electronics and Related Accessories
Smartphone, Camera, handycam, these are common electronic accessories a traveler carries; What's else in the list?
Dry bag
Not everyone own a drybag, but smart travelers definitely do. You should use it in every beach trip to save your expensive electronics from salt water.
Go pro/Underwater digital camera
My favorite camcorder was destroyed by a splash of salty seawater. Since then, I carry a fully waterproof digital camera for use in the beach area; neither water nor sand can affect my memories. From my personal experience, I strongly suggest considering a waterproof digital camera, especially for your beach trip.
Waterproof phone case
Once again, I am sharing my early days' experiences. On a pleasant afternoon, we went to visit an island just beside the mainland. To visit the island we crossed a tiny water flow that connected the backwater to the sea. Initially, the water level was low enough and we crossed the waterline safely, but in the late evening when we were returning, the high tide increased the water level, almost up to our neck. We were stunned and afraid, though finally swum to get back to the mainland. Our clothes got wet, it's still fine. But more unfortunately, we forgot to put my mobile phone in the dry case; the salty water killed it completely.
To avoid any such situation, you are suggested to keep your mobile inside a waterproof phone case/ dry case during your beach time. I believe, this is a vital accessory for beach trips.
Float strap for the electronic devices
This is another interesting beach accessory that saves your electronics from sinking below to the seawater.
Waterproof Bluetooth Speaker
A Portable Bluetooth speaker is very handy equipment for enjoying any trip, especially when you are in a group. I always carry my speaker with me and it offers a lot of exciting moments during the journey, beach party, campfire, everywhere. It is recommended to have a waterproof Bluetooth speaker, especially for a beach trip and road trip.
Portable power bank
The importance of this gear is known to everyone, this is just a reminder to include it in your backpack.
Related Article: Unexplored Keri beach
Others
Following items are not recommended for long trips but for a beachside picnic or a weekend trip, these are great additions. You can easily carry them in your car.
Portable Cooler
Cooler bag
beach mat
Beach chair
Beach bag
Related Article: Travel luggage and essential accessories – What's in the list?
Checklist
The checklist has been introduced below. You may download and save it for further recheck and update for every trip.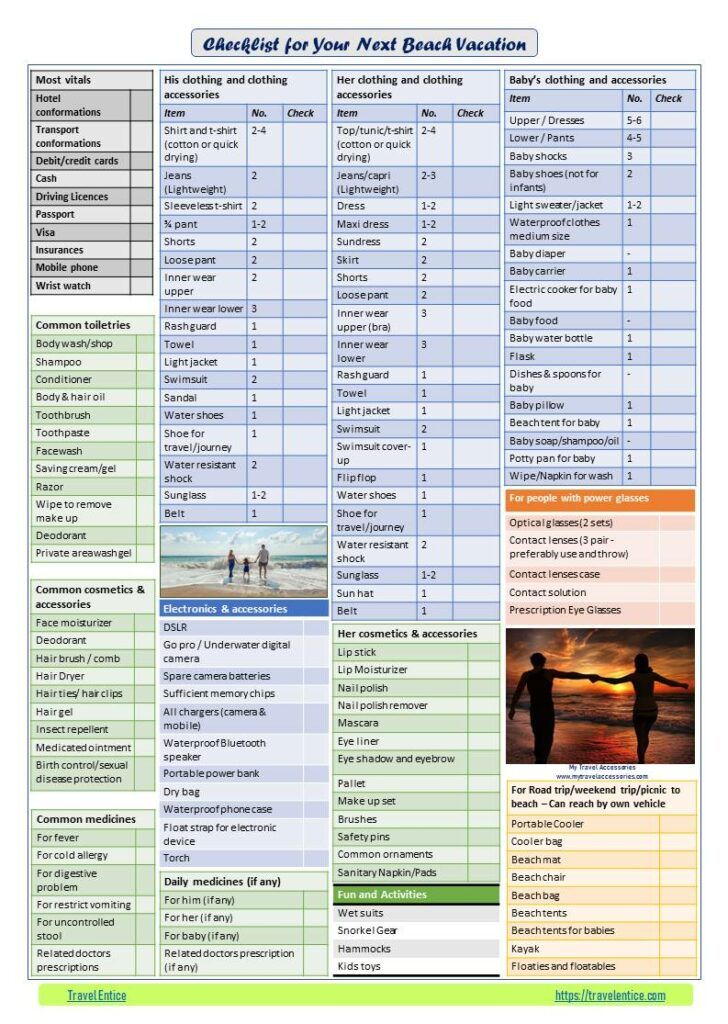 Checklist for a beach vacation – get an idea of what to bring for a beach vacation
Hotel confirmation, transport confirmations, driving licenses, passport, holiday insurance, etc., are some very important documents for your long vacation which need to be remembered always.
You may like the following travel Accessories: Best in the market
Let's wrap up
So, that's all about the packing list for beach vacation. As per my personal experience, these are all you need for a beach trip; definitely, you can add some more things, but be careful, don't make your luggage too heavy. Better, you may reduce some based on your needs.
If you think something important is missed out and needs to be added here, don't hesitate, share your suggestion in the comment box below.
If you find the checklist and article is useful, social sharing is much appreciating.
Have a great trip.
Please follow, like, and share us: