Enveloped in widespread green-land and scattered forest of Palash, Shimul, and Shal, Joychandi Pahar (Hills) is a unique and isolated tourist spot at the western part of Puruliya district, West Bengal. The absolute serenity of the place, peaceful atmosphere, and the scope of short trekking through the evergreen Joichandi hill forest makes it an ideal destination for green seekers and adventure-lovers.
If you are looking to plan an exciting weekend trip in the district of Purulia, definitely include Joychandi Pahar on your travel list. It's a great idea to book your stay at a nearby hill resort for exploring the place and surroundings and enjoying romantic nights into the lap of nature. I'm glad to share my personal experience in this enchanting spot of rahr Bengal; hopefully this will help you to plan a perfect trip to Joichandi pahar.
Joychandi Pahar – A brief introduction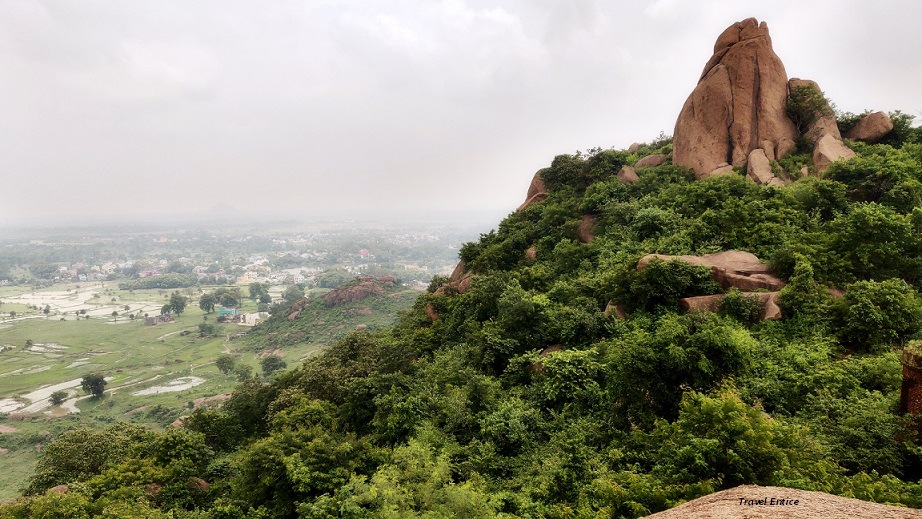 Three major hillocks are raised in the Joychandi hill range, among which Joychandi Pahar drags the major attraction, hoisting the temple of 'Maa Chandi' at its peak.
Location
Joychandi Pahar is located in Purulia district, in the Indian state of West Bengal. It is only 2 km away from the subdivisional town Raghunathpur and 4 km away from Adra town. You can avail all the facilities from the Raghunathpur market.
Geography
Geographically Joychandi Pahar is the lowest part of the Chota Nagpur Plateau. The plateau has been formed by continental uplift during the collision of the Deccan plate with the Eurasian continent, millions years ago. The Joychandi Pahar is located in the Manbhum part of Chota Nagpur Plateau, with an average elevation of 300 metres from sea level. The Manbhum part consists of undulating land with scattered hills. Though Baghmundi and Ajodhya range, Panchkot, and the hills around Jhalda are the prominent ones, the Joychandi Pahar is in your easiest climbing range.
You may love to plan: An Exciting Weekend Trip to Mousuni Island
Exploring Joychandi Pahar (hill) and the Surroundings
From the hilltop, you can watch a bird's eye view of the place, which is simply awesome. With the fresh, pure breeze and eye-soothing wide range of natural beauty, you will really want to stay there for hours to reveal the ultimate peace. Lush green forest over the hills is overwhelmed by its natural beauty, except during the rough summer season.
The trekking
You have to hike around 520 stairs to reach the peak as well as the hilltop temple. If you experience difficulties in climbing upstairs, you may prefer to trek with small halts in between. Hilly trees and bushes border the climbing route, which makes the journey smooth and exciting, even in the moderately hot seasons.
A related Article: An unforgettable trip to Dudhsagar Waterfalls
The Hilltop beauty
All the hillocks stand straight with their mesmerising beauty of large rocks; red laterite soil and lush green vegetations mosaic between them. A large green ground and a mini lake increase the scenic beauty of the hill range. The breath-taking bird's eye view of the surroundings from the very top of Joichandi Pahar (hilltop) really delights you with the success-feelings that you achieve after half an hour of steep hiking.
Undoubtfully, sunrise and sunset events are most precious views from the hilltop, but you have to come back before evening because the forest of Joychandi hill is the happy home of wilds, especially the reptiles!
Festivals
Every last week of December, a fair is organised in the big ground named ' Joychandi Pahar Parjoton Utsav'. Besides the ground, there is a platform known as 'Satyajit Roy Mancho', named after the famous artist Satyajit Roy, who filmed his famous Bengali film "Hirok Rajar Deshe" at this place.
You may like: Double Decker Root Bridge – An Awesome Trekking Experience into the Forest of Cherrapunji
How to Reach Joychandi Pahar?
The nearest station is Joychandi Pahar Junction railway station (station code: JOC), which serves Adra and Raghunathpur town. The station building was rebuilt to give a new look according to Joychandi temple.
You can also come from Adra Railway Junction, or by bus or private car if you are from a nearby location. For West Bengal tourists, private car is the best option to travel freely around Joichandi Pahar.
Where to Stay near Joichandi Pahar?
Most popular staying option is Joychandi Hill Resort; from there you get a spectacular view of the hills across a lake. The resort area is vast, decorated with a well-maintained garden, and consists of many cottages. Also, it has a big well-organized park with many pet birds and a food restaurant adjacent to it. Individual cottages of the resort are placed at different elevation levels to get different scenic views. At the top of the resort, there are sitting arrangements that enhance the joy of your snack time and gossip hours.
Another good stay option is Joychandipahar Youth Hostel (undertaken by the State Youth Department, West Bengal) located at the base of the Joychandi hill.
Online reservation facilities are available for both of the aforesaid accomodations. There are many lodges in the nearest town, Raghunathpur. You can also halt there and enjoy other beautiful spots to discover the hidden gems of the Purulia district.
Related Article: Upper Bhavani Lake and Avalanche Reserve Forest: Explore the hidden gems near Ooty
When to visit Joychandi Pahar
The district of Purulia situates in an extreme climate region of West Bengal; it remains very hot in summer and very cold during winter. You must avoid visiting there during hot summer (April -June) when the scorching heat (40-47 degrees) makes the place very dry; in addition, the hot dry air becomes intolerable in summer.
Winter ( November- January) is the best season to visit Joychandi Pahar.
During monsoon season (July- September) if weather permits, you may become a witness of lush green hills and small streams that welcome you the most.
A little suggestion for you: if you love to experience the serenity and calmness of the place, you should visit there in the offseason, especially avoid the weekends.
Plan you trip to: Heavenly Gurudongmar Lake at Sikkim
Other Spots to visit Near Joychandi Pahar
Apart from Joychandi Pahar, there are many other beautiful places in Purulia district; some of those are even more popular. If you plan a weekend trip staying at Joychandi Hill Resort or any closest stay option, where should you visit?  
Garh Panchkot
Garh Panchkot, a ruined fort at the foothills of Panchet Hill (in Bengali it's known as Panchakot Pahar) situates at Neturia. Garh Panchkot was ruined by Maratha men known as 'Bagri'. There is an ancient temple- Garpanchakot Pancharatna Temple, a witness of many historical events. This is about 27 km away from Joychandi Pahar.
Panchet Dam
From Garpanchakot you may visit the Panchet Dam and reservoir, constructed across the Damodar River at Panchet in Dhanbad district, Jharkhand. You can go to very close vicinity to the Dam, which is very exciting. 
The distance of Garh Panchakot to Panchet Dam is only 16 km. The Dam and Garh Panchakot situate just at the either sides of the Panchakot Pahar, but the curved road makes the distance longer than expected.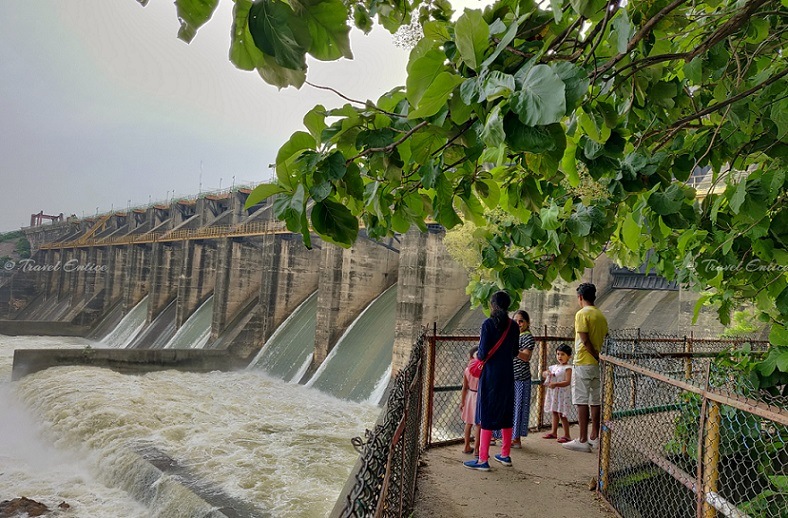 Baranti
Starting from Garh Panchkot you can also visit Baranti, a small tribal village in the Santuri under Raghunathpur subdivision. The distance is approximately 11 km. The place is famous for the widespread Baranti lake. During sunset along with the reflection of Muradi Hill, Baranti lake exposes its ultimate beauty. Baranti is 25 km away from Joychandi Pahar, so you can easily drive to Baranti starting from your stay at Joychandi Hill Resort.
You may like visiting Charkhole: A promising offbeat destinations in North Bengal
Wrapping up
Joychandi Pahar is overwhemed with natural beauty; you can go there for a picnic, rock climbing, forest-dwelling, wildlife photography, and definitely, to enjoy your happy weekend as we did. You can meet the rural cultures of nearby villages; the people are good and helpful. So, why be late? Start packaging and enjoy the place with friends and family, or even plan a solo trip. Joychandi always welcomes you.
If you have any further queries, don't hesitate to post your question in the comment box below. I'll be very happy to help you.
Social sharing is always highly appreciated.
Happy travel!
Please follow, like, and share us:
Ms. Subhra Das is a biology teacher in high school. Besides she is a passionate traveler, science writer, and nature lover.
As a teacher, she never restricts herself to the four walls of the classroom, rather she loves exploring the crude science behind the natural facts that include human and animal health, critical diseases, typical characteristics of wildlife, and mother nature.
Ms. Subhra Das is also a passionate traveler and explorer; she always tries to uncover natural flora and fauna at every destination she travels.