Every year thousands of Indian and foreign tourists visit Sikkim to explore the magnificent mountain beauty of this tiny hilly state in northeast India, but only a few among the huge mass choose to uncover heavenly Gurudongmar Lake at Sikkim. Some of them even do not know this destination, and many more avoid crossing the hurdles; after all, it situates at an altitude of 18000 ft!
Fortunately, in our last Sikkim trip, we chose to experience unbelievably beautiful Gurudongmar and we were overwhelmed by the magnificence. I'm more delighted to share my personal experience so that you can plan your next Sikkim trip most perfectly, by including Gurudonmar.
Geographic Definition of Gurudongmar lake
Situating in northern Sikkim, Gurudongmar Lake is one of the highest altitude lakes (17800 ft) in India. The lake is specifically situated at Kangchengyao range at the extreme north end of Sikkim and very close to the Tibetan Chinese border (approx. 5 km).
The lake is fed by the ever-frozen glacier residing at the backdrop (as visible below). Though the area and the length (> 5 km) of the lake are pretty large, from the specific viewpoint you can see a certain part due to obstruction by the hilly landscapes.
Due to such high altitude, the landscape around the lake is almost treeless, rocky, and dusty. You can compare the plateau with a cold desert. You'll find some tiny plants, rare algae, and fungus around the lake. Breathing problem is a common incident there, experience by several tourists. So, it is suggested to take caution and follow some tricks (discussed below) to avoid any illness.
Local beliefs about Gurudonmar Lake
For local Buddhists, Sikh, and Hindu communities Gurudongmar lake is a spiritual place and they believe the lake water is blessed by magical power to cure any illness and fulfill any wish. As per local Folklore, a part of the lake never gets frozen throughout the year, even in chilled winter when the temperature falls up to -30 °C, which is believed due to the blessings of Guru Padmasambhava. Local devotees carry the sacred water of the holy lake for every reason since then.
A similar story about Sikh Guru Nanak Dev is subsistent there. It is believed that he did a similar thing and converted the lake water as a source of virility and strength.
Towards Gurudongmar
There is only a single route, but several starting points to reach Gurudongmar Lake at Sikkim. The journey is long and not a very comfortable one, but the magnificence of roadside beauty drifts you to the dreamy heaven, offering the unmissable experience you ever had. Splendid Gurudongmar Lake comes at the endpoint. Let's explore right from the beginning.
Singhik, an incridible
starting point…
Most tourists choose Gangtok as the starting point to reach Gurudongmar. You have to cover a very long distance to reach Gurudongmar from Gangtok. The total distance is almost 180 km, and it takes almost 12+ hours on the hilly road if you drive continuously without any break. This is one of the reasons that many people avoid the Gurudongmar trip.
If you start from Gangtok, you'll pass by some small hilly towns and villages, such as Mangan, Singhik, Chungthang, Lachen, and Thangu. Tour operator from Gangtok arranges your stay in Lachen on the first night, which is 110 km away from Gangtok and takes 7-8 hours. Very early morning in the next day they arrange your Gurudonmar trip from Lachen, which is 68 km away and takes almost 4-5 hours on the heavily curved hilly road. After your Gurudongmar trip, they take you directly to Gangtok, you have to face 12+ hours of journey.
To reduced both ways journey, we chose to start from Singhik Instead of Gangtok. You can also start Mangan, a small town near Singhik. There are some nice guesthouses and homestays to spend time in the lap of nature, enjoying the lush green hilly landscape, waterfalls, and excellent view of Kanchanjungha peak on a clear day. Additionally, you need much less time to reach Gurudongmar from these places.
On our trip to Gurudongmar, we halted in Singhik Guesthouse, which is a very peaceful place to stay with some nice local people and amazing views all around. The Kanchanjungha peak is visible right from the rooms of the guesthouse on a clear day. There are lush green mountains, waterfalls, and floating clouds just before you, presenting the ultimate charm of the trip.
Related article you may like: Mawlynnong: The Cleanest Village in Asia
On the way to Lachen
After Singhik, Chungthung is the biggest town on the way, which is known as a junction in north Sikkim. Two routes divide from this point, one towards Lachen and another towards Lachung. The road towards Lachen continues up to Gurudongmar, while you can reach Yumthang valley if you are directed towards Lachung.
If you start your journey from Gangtok in the morning around 8:30-9:00 AM, you'll reach Lachen before evening. From Singhik you can start a bit later, Singhik to Lachen takes only 4 hours.
On the way, you'll experience beautiful lush green hilly landscapes, monasteries, and a number of bridges constructed over the streamy rivers. Near Lachen, you may see little monks are standing to welcome you!
Related Article: Dawki – The River Paradise in Meghalaya
Your stay in Lachen
In Lachen, there are several homestays, your tour operator will pre-book one of those for your night stay. In this high-altitude tiny town, most of the homestays are operated by women, while men are busy in driving, cultivation, and other businesses.
In Lachen, you should not expect the comfort of a star hotel, they are just professional and strict about their rules. This is probably due to their difficult lifestyle in such a high-altitude destination. They'll provide you hot tea, hot water, the meal at night, but everything in a timely manner and also, they prefer to speak less.
The night in Lachen is severely cold, people from a hot climate can realize it more intensely; it's a part of the adventure, and you have admitted yourself in it to uncover something beautiful!
Related Article: The Garden of Caves — Explore the Gem of Meghalaya near Cherrapunji
Lachen to Gurudongmar
Very early in the next morning, far before the sky enlightens, you have to get ready for the upcoming delights. The road towards Gurudongmar (68 km from Lachen) is not very smooth and comfortable; frequent landslides make the roads bumpy, while frequent curves in the high altitude roads can cause vomiting tendency. But watching the beautiful nature outside the window, lets you forget all illness; it's just amazing!
After your car will start from Lachen, you'll start to explore more splendid landscapes all around. You'll experience beautiful sunrise from the back of lush green mountains, evergreen forest filled with tall trees, the valley of green carpet, high current steam far below, magnificent waterfalls, and the splendid view of bloomed Rhododendron throughout the valley (if you visit during the month of April-May).
On a fine morning, the newly blossomed hilly beauty offers you an indifferent look of earth, tending you to stop your car at every turn; but it's a long way to go, no time to stop everywhere.
Amazing Thangu
The first stoppage comes at Thangu, a high-altitude village (approx. 13000 ft) at the far north. The breathtaking landscape of Thangu is very different than all the on-road views; A widespread farmland far below surrounded by green, rocky, and snow-capped mountains! Yaks and horses are moving here and there. Certainly, the increasing altitude reduces the existence of big trees, resulting in the rare appearance of classified tall trees Thangu.
You can take your breakfast in the local shop and take some snaps at this amazing spot for your future memory. Then start your next journey towards Gurudongmar Lake.
Related Article: Top 9 Cherrapunji Tourist Places You Shouldn't Skip
Rapid Change of the Landscape!
As you move upward, the gardens of rhododendron start disappearing with the appearance of smaller plants. After driving a little longer, it's only rocks and dust all around, converting to a cold desert. The drastic change in landscapes is completely unbelievable and mind-blowing! This is a real-life experience to visualize the change and classifications of plant families with increasing height.
The melted glacier near Gurudongmar is one of the originators of River Tista, the prime source of water in Sikkim & North Bengal. In the cold desert, the narrow stream of Tista passes aside the roadside, and follows you up for a long time.
After driving a bit more, the rocky mountains start spreading away, taking you to a high altitude plateau. The pitch-finished black road passes through the plane surface to infinite; signs of green are almost absent, while black, gray, and red hills are visible at a distance.
You can see several training camps of the Indian army on the roadside. At the last check post before Gurudongmar, you have to show the permit and your Identity card. You should note, mobile signals are not available in Gurudongmar. For any unfortunate situation in Gurudongmar, the Indian army is the only option to save you. If you don't return after a certain time they'll visit there to inquire.
Related: 10 Best Unisex Hiking Backpacks
Magnificent view of Gurudongmar Lake at Sikkim
The drive continues through the plateau leaving the check post behind. The mysterious red and green mountains offer you the honor of guard while the black one denotes a warm welcome.
After 45 minutes of quick driving from the check post, you'll reach the ever-awaiting Gurudongmar Lake in Sikkim.
At the first sight, the heavenly beauty will surely stun you for a while. If you visit there in the month of April-May, you'll experience a clear blue sky, crystal clear blue water with the snow-covered mountain, and white glacier at the backdrop, which is pretty dramatic at an altitude of 17600 ft, and of course, unexplainable.
You'll see a temple beside the lake, but no people in this area unless another group of tourists visits there before or after you. On the rocky land around the lake, you'll find some tiny grasses, algae, and fungus. The lake water is crystal clear, rich in minerals, and pollution-free, worth collecting and drinking. As per local folklore, the water of Gurudongmar Lake in Sikkim is blessed by god.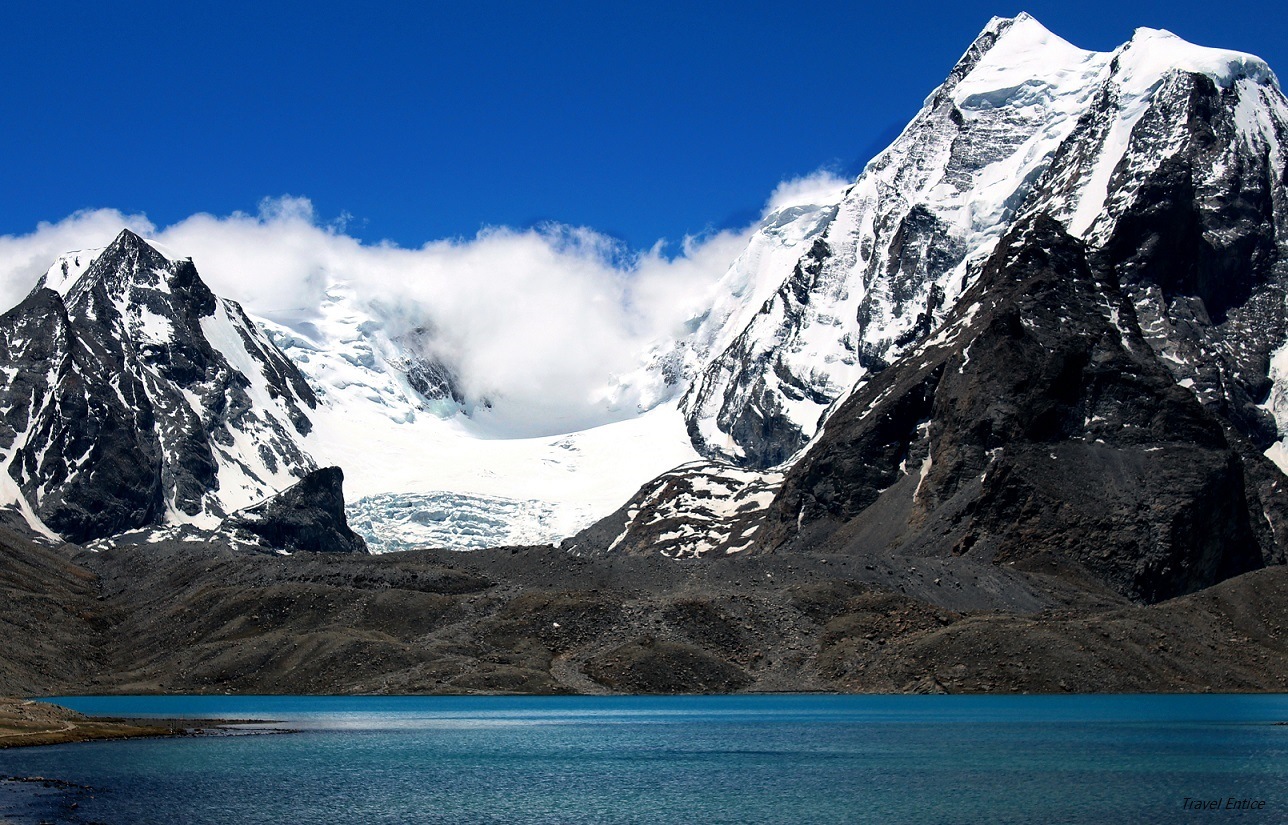 Gurudongmar Lake situates at a very high altitude, and the concentration of oxygen is low there. You can walk around the lake, but walk slowly, don't run. To avoid any unfortunate illness or breathing problem you have to maintain a few things:
Walk slowly, don't run, don't be hurry in excitement.
Don't sit anywhere for a longer time, rather keep walking slowly.
If you feel tired or dizzy, slowly go back to your car and take a nap. You'll be fit once the car leaves the place and moves a little low altitude. If possible, tell a group member to start the car and leave the place quickly.
If you have ever felt a breathing problem in the past, then keep medicine with you.
If you are a patient with heavy breathing problems, avoid visiting Gurudonmar Lake.
You may like: Double Decker Root Bridge – An Awesome Trekking into the Forest of Cherrapunji
Goodbye Gurudongmar
After enjoying the 40-45 minutes, you need to get ready for the return trip. You'll have to run a long way back. Any return journey is very sad and heart-breaking, also, a bit boring, but Gurudongmar is a place that doesn't offer any sort of stay-facility, even up to 30 km back; so, you must have to get back for a sweet sleep after a hard journey.
Tour operators often offer the combined trip to Gurudongmar followed by Yumthang. In that case, you'll be returned to Lachen, and after lunch, you'll be moved towards Lachung.
In our case, we already visited Yumthang earlier, so after our lunch at Lachen, we went back to Singhik.
Explore: More Summer Destinations in India
The Best time to visit Gurudongmar Lake

in Sikkim

Summer is the best time to visit Gurudongmar when you can experience a splendid view of blue lake water with snow-covered mountains and glacier backdrop. The road remains open in the months of March to September. In winter the road gets closed due to heavy snowfall and land sliding. Only the Indian military uses the road throughout the year.

In early March, the lake remains partially covered by snow, and you may not experience the clear blue water, though you'll have the experience to play on the frozen lake. Mid-April to mid-May offers the best view at Gurudongmar Lake in Sikkim. It is better to avoid visiting Gurudongmar in the monsoon season (June to September); the road becomes risky due to frequent landslides and slippery tracks.

Indian tourists are allowed there with permission from the local military office. If you are an Indian you need to keep your Identity card and passport size photo with you. The tour operator will arrange a permit for you.

It's very close to the Indo-China border, so the foreign travelers need special permission from the Ministry of Home Affairs in Delhi, India. So, if you are not a citizen of India, and wish to visit this amazing place, you must arrange your permit prior to your trip.

Related: Enchanting Pondicherry – Explore Paradise Beach to Auroville
How to reach Gurudongmar?
Initially, you have to reach New Jalpaiguri railway station, or Bagdogra Airport, or Pakyong Airport. Then by road, you have to reach Gangtok or any other destination at Sikkim as per your plan. After a night-stay in your first destination, you can head for Gurudongmar via Lachen.
By Air directly in Sikkim: Pakyong Airport is the nearest airport to Gangtok (35 km), but this is a new airport, and flights often get canceled due to bad weather.
By Air via Bagdogra: Bagdogra airport is the next nearest airport to Gangtok. This is almost 123 km away from Gangtok.
By train: You can reach New Jalpaiguri Railway Station, which is the nearest rail station to Sikkim (Gangtok – 119 km).
Where to Start from and Stay?
Previously, I already mentioned several starting point options to reach Gurudongmar. You can start from Gangtok, which is the most common. There are a great number of hotels in Gangtok for your stay. Alternatively, you can choose your stay in Singhik or Mangan.
Gangtok to Gurudongmar via Lachen: Approximate distance is 180 km up to Gurudongmar. The distance up to Lachen is approximately 110 km from Gangtok. There are many hotels and lodges in Gangtok. You can choose anyone among those for your stay. You need to contact a tour operator in Gangtok to book your trip to Gurudongmar Lake. Sometimes the hotel authorities also arrange the trip for you if you request them.
Mangan to Gurudongmar via Lachen: Approximate distance is around 125 km up to Gurudongmar. There are a few resorts and homestays in the small town, Mangan. Munlom Nature Resort is one of the best stay options at Mangan. The hotel or homestay owner will arrange your trip to Gurudongmar Lake upon prior discussions.
Singhik to Gurudongmar via Lachen:
The approximate distance is around 118 km up to Gurudongmar. There are a few homestays and one guesthouse in Singhik. You can book Singhik guest house which is in the middle of the hill and offers you an excellent view of the lush green hilly landscape and floating clouds all around. On a clear day, you can see Kanchangangha mountain range right from your room window. The owner of the guest house and all the workers are very nice behaving. They will arrange everything for your Gurudongmar trip; just inform them prior to your visit.
 A related article you may like: 14 Best Places to visit in Coonoor Hill Station
Let's Wrap up
Gurudongmar Lake at Sikkim is one of the most beautiful places in the eastern Himalayan range. This is also one of the best summer destinations in India. Among cold deserts or high altitude plateau across India, Ladakh and Lahaul-Spiti are most popular; however, you'll get the taste of Ladakh on your trip to Gurudongmar Lake in Sikkim. So, if you reside away from Sikkim and planning for a Sikkim trip, must include the Gurudongmar lake visit list.
If you still need to know anything else about Gurudongmar, post your query in the comment box below; I'll more than happy to help you out.
If you like this article social sharing will be highly appreciated.
Visit Again.
Please follow, like, and share us: