Cola Beach in Goa, a hidden seaside destination in India, amazingly decorated by mother nature with blue ocean, sandy lagoon, green hills, and rows of palm trees. The untouched serenity and splendid landscape of Cola Beach immensely attract nomadic travelers over the world, though still remain less explored and thus able to keep her sweet virginity alive.
If you are searching for spending 1-2 days at a peaceful sea beach in Goa, Cola Beach is undoubtfully one of the best options! There are several other offbeat beaches in Goa, but finding a comfortable stay option might be difficult. However, Cola offers an all-around leisure experience.
In this article, I'm sharing my personal multi-visit experience at Cola beach in Goa, which definitely helps you to map the plan for your own trip.
A Brief Introduction of Cola Beach in Goa
On the western coast of India, Goa is a very popular destination for international as well as Indian Tourists. Goa hosts a huge mass of international guests in the months of December and January every year; in this season almost all the hotels and homestays remain fulfilled by foreign travelers. Every year the overseas gathering starts from 2-3 days prior to Christmas and continues up to the end of January, and Goa glows with the lights of the festival during this season.
Though Christmas and New Year months are the most popular season in Goa, tourists from all over the world continue to visit there throughout the year.
In the southern part of Goa (South Goa), Palolem, Agonda, and Patnem are the three most popular destinations for foreigners. Apart from these well-known spots, tourists and local people uncovered several seaside villages in search of a peaceful stay. Cola beach is one of those offbeat destinations, where the beautiful blue lagoon meets the unstoppable wave of the Arabian sea.
---
Back in 2016, we were planning for an unconventional trip to Goa; so, we listed 5 serine beaches ensuring a very limited crowd, and that was the first time we included Cola Beach in our tour plan with a lot of hope (& scepticism).
We had to work hard to arrange our stay at Cola beach, but in the end, what we explored, was far more than our expectation. The unignorable call of Cola beach forced us to return again and again later in the future that we rarely do for other places.
Cola Beach Highway: A painful escape to meet the Ultimate Glory
Don't be confused with the term "Highway" in the sub-heading; it's just a joke, the actual name is "Cola Beach Road".
When you enter the village road leaving the main highway, probably you can't expect this hilly mud-track reaches a sea beach! After leaving the Palolem highway a greenfield appears behind the old temple. Next, you have to pass through a 2 km bumping road; the tire of your car will be punished by the rock-and-boulders in every step and show will happen to your bum.
Sometimes, drivers from the other parts of Goa deny run over the bumpy track; you have to rent another local car to escape that 2 km hilly path spending INR 500 or even more.
To avoid such a situation, I'd suggest you contact your Cola resort owner for sending a car to pick up you from the starting point.
The tough road may give you enough pain for a while, but the light of hope will flash when you'll see a few foreign travelers gossiping beside the road or riding their scooters and bikes. When we last visited there, the local villagers told, the government has decided to modify the road, though I personally love the natural mud track that offers some adventurous feelings.
---
After 10 minutes of the journey on this road, you'll see the hilly forest on one side of the road (your right side), while the other side is steep, meet a stream far below. The steam is actually the Khola river which converts to the lagoon near the sea beach. In this place, you may come down from your car and have a short walk through the jungle road, while enjoying green nature; in fact, this is far better than experiencing the boulders' kick on the back!
The Cola beach road ends at the point of excitement; beautiful Cola beach is visible far below, decorated by golden sand, blue ocean, green lagoon, and some tent heads here and there.
To reach the beach below, you have to follow the stairs. So, let's go and see.
First Impression after Reaching at Cola Beach in Goa
Once you reach the last stairstep and get a partial view of Cola beach, I bet, you'll forget all pain you gained so far in your recent ride over the bumpy dumpy road. For me, it was a madly feeling; my excitement dragged me to the waves immediately to explore further beauty? and as a result, I got a pair of wet shoes ☹️.
There are some cottages on the left, which are situated 15-20 feet upside from sea level. If you book a cottage there, the overall scenario will be visible from the top, which will amaze you undoubtfully. For me, it was something like 'Love at First Sight'.
See the following Gallery? and experience the beauty of Cola Beach??
After a long journey from north Goa, we reached there in the afternoon; believe me, the wonderful view of Cola beach diminished all the tiredness in seconds, even we forgot about lunch (on-road we didn't waste time for lunch). By default, we turned into a stand-by mode, while experiencing the beauty from the hut balcony. There were only a few foreign tourists, enjoying the lazy afternoon here and there on the sand. Unlike other crowded beaches in Goa, We felt Cola beach was really a peaceful one.
The waves are busy there and continuously thud on the sand. From the top, you can see the vast blue and the golden beach from left to right.
On the left side, there is a beautiful lagoon, which is connected to the sea by a narrow natural canal. The canal remains filled during high tide, but gets partially dried and departed from the sea during low tide. It is excellent to see the meet point of the canal and the sea; saltwater from the sea enters the canal's sweet water when waves thud the beach and again return to the sea, and this stunning sight repeats again and again.
You may have seen lagoon or back-water in many places, but this one is unique. Near the beach the depth of the lagoon is minimum, the water level reaches up to your knee or a little more; but, the lagoon gets deeper as you go inside away from the beach. The water is crystal clear, and you can have some relaxing activities there, such as taking bath on the lagoon, play with an inflatable ball, or even kayaking.
The backside of the beach is decorated with small hills covered by green. Series of palm trees are standing in rows at the bank of lagoon.
With the combination of blue sea, golden sand, crystal clear backwater, green background, and peaceful environment Cola beach in Goa are a real hidden treasure for nomadic travelers.
How to Spend a Full Day at Cola beach in Goa
Let you explain how you can enjoy there a full day at Cola beach.
1. Enjoy The beauty from you hut balcony
Early in the morning, just after you wake up, do nothing but sit for a while at your hut balcony with a cup of tea or coffee. The beautiful view of the blue ocean and golden beach will give you a new charm. On the beach, you can see a few tourists enjoying the morning exercise sessions in a fresh breeze. You can join the joggers if you wish.
After your breakfast, you need to get ready in a light t-shirt/tops, shorts, and slippers; because water may splash on you anytime. You may take a towel, sunglasses, a beach mat, and a beach tent (if available) or canopy to cover the sun. You must take your camera or camera mobile for some clicks below. Don't forget to cover the mobile and the camera with waterproof covers. Sun hats, quick-drying towels, bikini sets, Bluetooth speakers, etc., would be some great accessories to spend a full leisure day on Cola beach.
2. Enjoy the Backwater
Get down to the sand; the narrow canal connected to the backwater is the first thing that will attract you. The waves thud the shore and saltwater enters the canal. It's a perfect place to enjoy the water play because the current of the stream is enough to float you towards the sea, while the strong wave again floats you back to the canal; the game is pretty interesting, especially for the children.
One negative point, you'll get completely wet in this game. So, you may avoid this game if you don't like to get wet early in the morning. But you may snap some memorable photos standing on the stream.
Keep yourself away from the rocks.
Hold your children tight when they are playing this game.
Don't allow the children to sit closer to the sea, the impact of the returning wave is very strong.
3. Enjoy the surroundings
There are more cottages and tents beside the lagoon, which are said to be lagoon view cottages. Both sides of the lagoon are full of greenery, covered with a series of palm trees. You can take a short walk in that direction to feel the green beauty around the lagoon.
4. Do kayaking in the lagoon
Before you dive into the sea, you can experience kayaking in the backwater. besides the lagoon, the kayak owners wait for their customers; you can rent a kayak for 1 hour to surf through the backwater. There is a wooden bridge over the lagoon, go up to that landmark, the depth of the backwater increases after that point. Moreover, during high tide the current of the water flows towards the inside direction, so you have to work hard to get back near the beach if you go too far.
A few tourists float in the lagoon on their personal inflatable floating mats. If you have one such floating mat, you can enjoy the same too.
Just take a look at the following gallery?… A complete diary of the activities in Cola Beach❤️
In the morning session, the population of the beach area increases with time, which is a gathering mainly by foreign tourists. The stay option in Cola beach is limited. The foreign tourists stay at nearby beach huts (Agonda, Palolem, Patnem, etc.) or villages and come for a day trip at Cola beach.
In the daytime, you can notice several activities at Cola beach. People enjoy sunbath, play with inflatable balls or rings, some of them enjoy the wicked waves, a few people just install their beach tents for leisure, few people prefer climbing the green hill beside the beach, and others just relax with a can of beer. A lot of options, you can choose anything to do.
5. Take a bath in the sea
If you like to swim in the ocean, I'd say you must be very careful. Unlike Palolem or Agonda, this one is not a flat sea; the waves are not gentle due to the slope at the edge, they are very wicked especially during high tide. So, if you wish to take a bath in the sea, be watchful and follow every wave.
I'd suggest, just go to the sea, and enjoy the big waves, but do not try to swim there and don't go deeper into the sea. There are careful coast guards at Cola beach, but still, you should be very careful.
On Cola beach, when I was enjoying my sea bath during high tide, a certain wave thudded very strongly on my back as I became unaware for a moment; I almost lost my glasses. The ocean is relatively gentle during low tide, but still, you must stay close to the beach.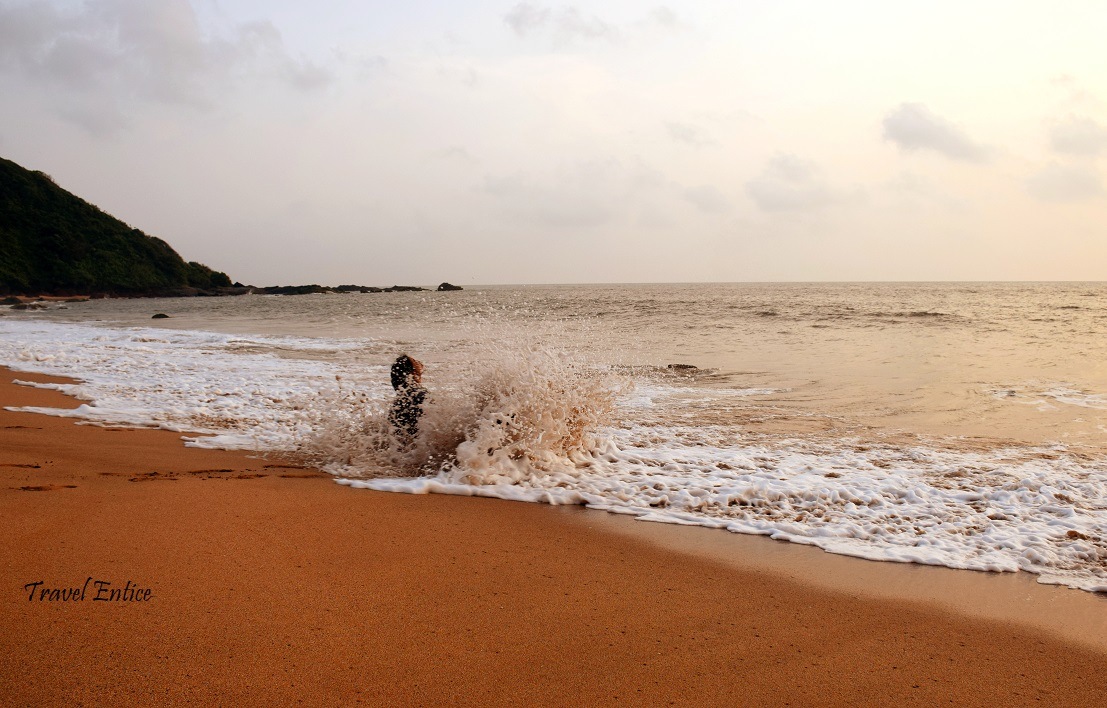 After lunch, you can spend a lazy hour on the beach or on your balcony. Maybe you can take a short rest inside your hut to keep the charm alive for the afternoon session.
Watch the Sunset
In the afternoon, visitors who came from away destinations, start to return back. Cola beach becomes quiet again, only the waves sing in their own rhythm.
Now, the most beautiful thing you can experience is the sunset over the Arabian sea. If you are lucky enough, you can be a witness to the clear sunset view. Sometimes clouds disturb the complete sunset view.
Evening time is relatively cool; for boys t-shirt and shorts are fine, for the girls a light bohemian maxi dress would be perfect to spend a leisure evening.
Try Delicious Seafood at Beachside Restaurant
You should spend the full evening at the beachside restaurant cum bar, enjoying delicious seafood along with some drinks (if you love to) and chill out to the cool breeze of the ocean. Preparations of seafood are very special in the only restaurant of Cola beach, especially crabs, lobsters, kingfishes, and pomfrets.
On the days of the full moon, the Cola beach glows with an unforgettable look. If you visit there during the full moon, you should take a walkout over the glowing sand, that's really amazing. Luckily once we visited there on the day of full moon.
At a glance: Things to do in Cola Beach in Goa
In the early morning, enjoy the beauty of Cola beaches from your hut balcony.
Have a morning walk or jog over the golden sand.
Take your breakfast and get ready in a light t-shirt and shorts/half pants and slippers. Take a waterproof camera case and mobile phone cover with you.
Walkthrough the beach and the backwater, and enjoy the view of the surroundings, the greenery beside the lagoon.
Enjoy the water game in the canal which connects the backwater and the ocean. You'll really enjoy it!
Enjoy kayaking in the backwater.
Take your position on the beach and install your beach tent or any other sun guard (if you have it).
Take your bath in the sea, but must be careful as the waves are not gentle due to the slop at the edge.
Take your lunch and take some rest.
Enjoy the sunset from the cola beach, it's beautiful.
Spend your evening in the beachside bar cum restaurant.
Walk through the glowing Cola beach if the moon shines over.
So, virtually you already spend a full day at Cola beach. Now it's time to take action.
Best time to visit Cola Beach
The month of late October to early March is the best time to visit Cola beach, especially if you are from a cold climate. You will get pleasant weather during these seasons. Let's discuss in detail.
October to March: Temperature varies between 31-19 °C in these months. October and March remain relatively hot and humid. For the people from the colder region, November to February would be the best season. In the months of Christmas and New Year (20th December to 15th March), Goa remains fulfilled with foreign travelers.
April to June: This is summertime in Goa as well as in Cola beach. The temperature reaches up to 38-40 °C in summer here. Additionally, humidity also increases a lot. In these months, day-time remains hot, but the afternoon is pleasant, and you can experience thundershower somedays.
July to September: It is better to avoid Cola beach during the monsoon. July to September is a season of full cloud and rain. The greenery in the lagoon area looks very nice in the rainy season, but the lagoon and the seawater overlaps, and the major area of the sand beach cover-up with water. In addition, the ocean becomes very wicked.
How to reach Cola beach in Goa, India
Goa is an international destination, so, it's very comfortable to reach there. You can reach there by flight, train, or by road.
By air
Dabolim airport is situated in Goa, at the capital Panaji. Many international flights land directly at Dabolim airport. You can search for whether it is available from your country or not.
Don't worry if there is no direct flight. Chhatrapati Shivaji international airport in Mumbai is the nearest airport to Goa. After you land in Mumbai, you have to fly by another connective flight to reach Dabolim Airport in Goa, it takes only 1 hour. Alternatively, you can reach there by train. You need to spend 10-12 hours on the train.
From Dabolim airport, you can take a taxi or rental car to reach Cola beach. To cover the distance (approx. 60 km), you need to spend only 1.15 hours in the car.
So in brief:
You can reach directly to Dabolim Airport in Goa.
You can reach Dabolim Airport via Mumbai International Airport.
You can land at Mumbai International Airport, then reach Madgaon by train.
After you reach Dabolim Airport or Madgaon Railway Station, you have to rent a car to reach Cola beach.
By Train
Train route might be a good option if you are a resident of India, or you come to travel India from a foreign country, and visiting Goa from another destination in India. You may reach Goa by train if you wish to avoid a flight journey. But you must have to reserve a ticket 2-4 months prior to your journey (it all depends upon the season).
There are many direct trains to reach Goa, from several corners of the country. You can also get the train from Mumbai.
Madgaon, Vasco Da Gama, and Thivim are the popular railway stations in Goa; among these, Madgaon is the nearest station to reach Cola beach. To cover the distance from Madgaon to Cola beach (32 km distance) you need approximately 1 h time.
By Road
If you are traveling to Cola beach in Goa from northern/eastern India, I'd suggest avoiding the road trip, because you can reach there by train or flight which are a much better option.
If you love long road trips by your personal car or bike, that's a different matter, but it's better to avoid a rental car or bus, as you already have better options. Distance from Mumbai to Cola beach is 626 km, and need at least 12-13 hours without any stop.
However, if you are willing to visit Cola beach from other places in Goa, then you have to reach there by car or bike. Please see below to know the distance of Cola beaches from some popular destinations in Goa.
Dabolim Airport to Cola beach: Distance 60 km and you need approximately 1 hour 15 minutes time.
Madgaon to Cola beach: Distance 32 km and you need approximately 1 hour to reach.
Calangute to Cola beach: Distance 75 km and you need approximately 2 hours 30 minutes to reach.
Palolem or Canacona to Cola beach: Distance 17 km and you need approximately 45 minutes to reach.
Agonda to Cola beach: Distance 11 km and you need approximately 30 minutes to reach.
Arambol to Cola Beach: Distance 95 km and you need approximately 4 hours to reach.
Morjim to Cola beach: Distance 88 km and you need approximately 3 hours 30 minutes to reach.
Where to Stay in Cola Beach
There are limited places to stay at Cola beach. You have to book early to enjoy your full day-night stay there. For your kind information, you'll not get any star hotel in cola beach. You'll get wooden beach cottages or huts and tents there.
Many tourists visit there for nearby other locations and spend the day time only. I'd say, you should book a cottage or tent for your overnight stay. If you do so you'll not have any hurry, and can relax the full day in a better way. One night stay at Cola beach is sufficient to enjoy in full, though few people like to stay for more than one night. However, after your stay, the next day you can move to your next destination.
Dwarka Eco Beach Resort – You'll get an excellent view of both the sea and the lagoon from this property.
Blue Lagoon Resort – They have several types of properties, such as jungle view, lagoon cum sea view, and premium sea view cottages and bungalows.
Cola Beach Exclusive Tented resort – The tents are situated under the palm tree and offer you a full view of the beach. Additionally, you can enjoy the campfire and other leisure there.
Krishna Paradise Beach Resort – these cottages are a bit away from the beach, and situated at the bank of Khola river. You'll get a great lagoon view from here.
Sea Front Cottages Khola – You'll get an excellent sea view from the top, but the lagoon is not visible from here.
Cola Beach Sunset Bay – They offer you luxury tents for your stay. This is a sea view property, but the lagoon is a little away from this.
Samyama Retreat – The interior of these cottages are nice, but a bit away from the sea beach, and offers you a nice view of the lagoon.
Cola beach in Goa: Conclusive Remarks
I have almost finished my description of the Cola beach in Goa. Now it is your turn to tell me, how do you feel about Cola beach? Ready to go, right?
With full respect to the most popular beautiful coastal destinations in India including other beaches in Goa, Pondicherry, Kanyakumari, Andaman, and many others, I must mention, Cola beach in Goa is unique one in true sense. Within a compact area, nature has decorated this place with her own hand; a deep blue Sea, beautiful lagoon, small hills, lots of greenery, everything combined here to present a perfect tourist gateway.
After all, Cola beach offers you a great option to spend a few days away from the unwanted crowd, into the lap of mother nature.
In Cola beach, you have a lot of things to do throughout a full day which is more than a complete package. If you are planning to visit Goa, you must keep Cola beach on your travel list. I assure you, you'll really enjoy one or two nights' stay at this place.
If you have any further queries, feel free to ask; please drop your question in the comment box below. I'll be more than happy to help you further.
If you like the article, social sharing would be highly appreciated.
Wish you all the very best for your upcoming Goa trip.
Please follow, like, and share us: