When you are looking to buy a new camping and hiking backpack you need to be very careful and I must suggest you should research well to find your perfect fit.
When you are heading for a camping trip, you have to pack your all clothes and accessories into your backpack and you also have to carry the same backpack wherever you go in the next few days. So, as you do with any of your clothes, your camping backpack also needs to be fitted well on your body; otherwise, you may face serious trouble in the midway that may cause shoulder, back, or knee problems immediately or later.
Besides the right fit, you have to pick a backpack with the right volume based on your trip length. So before buying a backpack, you must read the features before placing the order.
I don't want to waste any more time, let's go straight to the step-by-step explanation and uncover how to choose a backpack for hiking and camping.
Related search: Best backpacks for hiking
Backpack capacity as per the trip length
Your first and foremost aim should be to decide your type of trip. This may be a jungle camp, a riverside camp, short hiking through the trails, or a long trek to the mountain. You need to choose the bag size according to your adventure type.
If you are planning to hike through an almost stiff mountain for 6-7 hours, you must be carrying a lightweight backpack that can accommodate all the required stuff. That means you need to consider a high volume backpack that is featured with lightweight characteristics and heavily durable. Backpacks from this class are expensive in general.
If it is easy hiking through the comfortable jungle road, or a day trip towards the trail, weight may not be a big deal. For a day trip, a small backpack is sufficient.
Your next job should be to fix the number of days for your camping trip. Depending upon the length of your trip you need to select the right size and volume of your backpack. Generally, hiking backpacks are classified by the volumetric measurement, and you'll get 30-80 liter backpacks in the market.
Activities vs Volume of backpacks
[stextbox id='info']
Day hiking and Schooling: 15 – 30 Lit
Weekend camping (1-3 days): 30-50 Lit
Multi days Camping (3-5 days): 50-70 Lit
Extended Camping (5+ days): 70+ Lit
[/stextbox]
Now you can easily choose the right volume as per your needs.
Features of the Backpack
Different backpacks come with different features. If you have the right idea about the positives and negatives of all these features, it'll help you to choose the right backpack for you.
The main concern of the backpack features is your comforts, such as rain protection, hydration features, body compatibility, and other essential features, etc.
Frame type
The frame of a backpack decides, which parts of your body will be engaged by the weight of a backpack. Backpacks are made by mainly 3 frame-types. Each of them has certain positives and negatives.
Backpack with Internal Frame:
Internal frames are the most common in the hiking backpack due to their integrated technology. The presence of an internal frame keeps the backpack tightly attached to your body and let you move through uneven terrain with higher stability. Additionally, the weight of the backpack gets dispersed, while load support technology within the frame transfers the majority of the weight to your hip.
Backpack with External Frame:
Backpacks with external frame are relatively less common, but it is good for the travelers who are carrying an extremely heavy and uneven load, such as inflatable kayak, bulky tents, etc. These backpacks offer multiple gear organization options, but less balance.
Frameless backpack:
Frameless backpacks are very lightweight. If you are looking to up and down in a day hiking this is a nice choice for you. Because for a day hike, you do not need to think about all your staff, rather you can keep most of the stuff at your camping site or your homestay, and go for hiking by loading you essential gears within a frameless lightweight backpack.
Are you searching for the best camping backpacks? CLICK HERE.
Padded shoulder strap back panel
Padding at shoulder strap and back panel is essential when you are carrying a heavy load in your back. This is a very common feature in most of the hiking backpacks, but if you miss the pads somehow, you'll face high discomfort. So, I'd suggest you check the padding feature carefully before you order your hiking backpack.
Ventilation
Hiking is a tough job and you must be sweating when you are doing this with a fully loaded backpack having an internal frame. Keeping this fact in mind, many companies include the ventilation feature into their backpacks. This is a suspended mess in the back panel of the backpack to promote airflow in your sweaty backside. This feature may let you feel a bit comfortable while hiking, but nobody can stop sweating on a hiking trip unless it is extremely cold.
Backpack load opening
Most of the backpacks come with a top-loading feature. In the top loading backpacks, you can't access the mass at the lower part of the bag until you reach to your destination. I think it is not a big deal for a hiker, because they organize the backpack accordingly. Still, some backpacks come with a side or lower opening option, so that, you can access the lower part anytime.
Pockets
Multiple pockets are important in your backpack to organize the essentials properly.
Front Pocket: A chain covered front pocket is most useful, mainly to keep urgent gears like a map, extra water bottle, gloves, pen and other loose objects which may be required frequently. Some backpacks come with waterproof front pockets, which are useful to keep your wet clothes.
Hip belt pocket: There is no better place to keep a mobile phone or GPS, than hip belt pocket. I personally like this one very much.
Side pockets are common in the most backpacks. I suggest you not to buy a backpack where side pockets are missing, because these are highly useful for easy access to the water bottle and keeping sandals and wet gears.
Lid pocket: This is optional but the presence of a top lid pocket will help you to organize your loose stuff in a better way.
Compartment for a sleeping bag: At the bottom of your backpack you may get a pocket dedicated for your sleeping bag. If you are carrying a sleeping bag with you this one is an essential pocket for you. Otherwise, you can utilize this one for other purposes.
Hydration compatibility
Side pockets are good for keeping water bottles, but drinking directly from backpack reservoir is another good option to keep yourself hydrated while hiking. Most of the backpacks come with an internal hydration reservoir sleeve where you can keep a foldable hydration reservoir which may be connected to a siping tube. The siping tube remains attached to your shoulder strap and you just grab the tube and start drinking whenever you are thirsty on the road.
Get the best hydration compatible hiking backpacks HERE. 
Raincover feature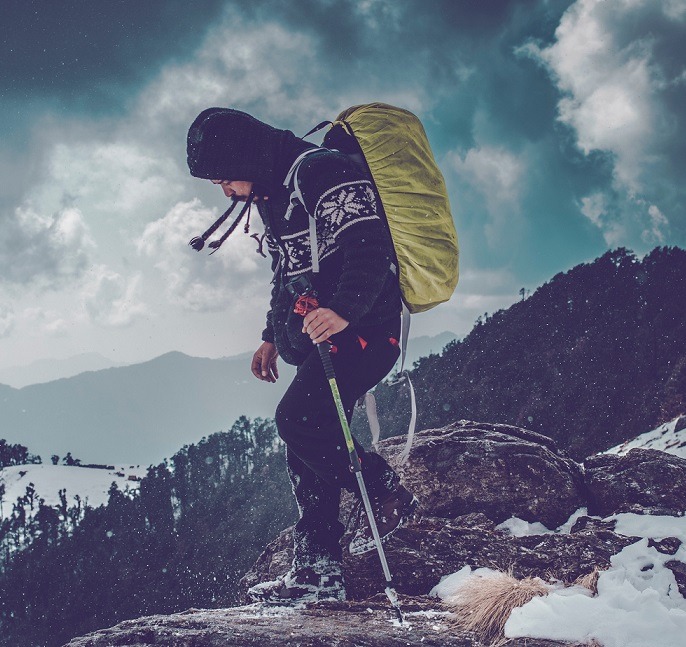 Most of the hiking backpacks equipped with a rain cover which can be placed in a dedicated slip within the backpack. This is a very ideal backpack accessory because you can expect a rainy situation anytime during your trekking or camping. Only a rain cover can save you from wearing wet clothes under a wet climate. If your favorite backpack does not include this gear, you must buy a rain cover separately to save your stuff inside.
Nowadays many backpack companies claim their backpacks are fully waterproof, but still, I suggest you keep an extra rain cover for those too, which may require anytime.
Removable day pack
Many backpacks come with a removable top lid which is very useful for your day trips. In your day trip, you can disconnect the removable part from your backpack and convert it to your hip belt and pack only the essential gears in that smaller pouch. Removable day pack allows you to avoid carrying the bulky backpack in your day hiking.
External attachment points
When you are heading for a camping or trekking you need to carry things like rolled up tents, ice axe, trekking poles or maybe a pair of skating (if you love adventure games). How will you carry all the gear? At least you can't block your hand to carry those.
Almost all the backpacks equipped with certain external loops and attachment points which are utilized to attach these gears. You'll get at least 2 pairs of such loops or straps in most of the backpacks. I must suggest you to check whether these essential loops are available in your selected backpack or not.
Dedicated strap for lifting your load
When you hiking through the trail your backpack should be attached properly in your back to avoid any excess pressure in your shoulder. Sometimes the backpack gets loose and you may fill pressure in the shoulder. The dedicated load lifter strap helps you to make your backpack closure to your back and disperse the load properly.
Get your Backpack fitted well
Unless your backpack fits well to your body dimension correctly (especially the torso length), your journey will not be comfortable. Let's focus on the experts' suggestions in selecting a backpack with the right fit.
Try the following measurements in home before you order a hiking backpack.
Measure your Torso length
First, find out your upper and lower torso and then measure the length in between.
Upper torso: Stand straight, look at the forward direction and locate the base of your neck (C7). That's it.
Lower torso: Find out your hip bones, imagine an arbitrary straight line between both hip bones. That's it.
Now with the help of someone else, measure the straight length between C7 and the lower torso to get your torso length.
In the market, you'll get several length options. Some backpacks come in multiple sizes, from extra small to extra large. The length option varies by gender. So select the right one which fits you properly.
Alternatively, you'll get backpacks with an adjustable strap which helps you to change the length of the backpack depending upon your torso length.
For the men who are not getting right fit: If you are shorter, slimmer or younger, and men backpacks are not fitting with your torso length, you can try women-specific hiking backpack. External designs don't vary too much with gender variation, but the torso dimension is shorter in women-specific backpacks. These might be fitted well to a man under certain circumstances.
For the females who are not getting the right fit: There are youth-specific backpacks in the market which a relatively smaller and comes with adjustable suspension. In case, you are a shorter or slimmer lady you can try these.
Get torso length adjustable top hiking backpacks HERE.
Measure your waist/hipbone length
Once again locate your hipbones and measure the edge to edge length. Most of the backpacks featured with an attached hip belt, and the size of the hip belt varies from mid 20″ to mid 40″. You need to choose the backpack with the right hip belt size that fits you, because most of the load should be supported by your hip, and if the hip belt will get loose you may face problems on the road.
---
That's all… Let's hike with a perfect backpack
---
That's all you have to check before purchasing a Camping and Hiking Backpack. Always remember these tips before you order a new backpack.
If you have any further query feel free to ask, just post your question in the comment box below, I'll be more than happy to help you out.
If you find this article helpful, social sharing would be highly appreciated.
Happy hiking!
Please follow, like, and share us: